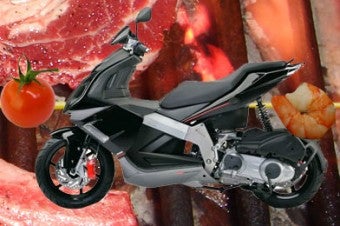 Everyone has a different idea of what the perfect scooter would be. Mine as you can well imagine involves power, speed, cutting edge looks and vast amounts of ludicrously overpriced carbon fiber kevlar composite super turbo techno de spanglerators (they're not out yet, but just you wait, you'll want them). Seriously though, I do have a very good idea of what the perfect performance scooter would be for people like me and if a smart manufacturer was to make it….they would sell millions. Here it is…
"The Slippery Shiskebab"
(Okay the names a bit kack, but you get the idea)

Engine: 400cc four cylinder supercharged four stroke or Oribital's incredible two stroke motor with low emissions. Whatever works best with the lowest weight and the longest service intervals. Long life is paramount. Power output must exceed 60hp. (N.A.400cc motorcycles have had more than 60hp since the 80s, it's idiotic that current scooters only make 30-40hp in the same engine size). This enables the bike to be used for long distance rides and replaces the need to own a separate motorcycle. Include dual engine maps, one for dry riding and another for wet weather. Wet weather map will have far slower throttle response.

Weight: Low weight is vital; a scooter in predominantly used in urban locations so has to be extremely light. This aids stopping, turning…everything. Maximum weight is 149kg…wet. Not dry; this means the bike must way approx 120kg dry as it will have a 18 liter fuel tank. Yes 18 liters, anything less is a joke. If you've used modern sport bikes you'll know how annoying their constricted ranges can be.

Brakes: Twin discs up front like modern sports bikes, at least twin pot calipers. Single disc on the back wheel but give it at least dual pistons so it is up to repeated heavy stopping.

Transmission: CVT ; because nothing else makes sense once you've used a good one. Simply has to be twist and go.

Wheels: Best compromise appears to be 15ich in diameter. Front tire a 130 width for a larger contact patch and a rear 190 tire to give the bike the aggressive look it needs to sell in the showroom; regardless of how much this may slow down the turn to turn speed.

Notable Features: Windscreen must be power driven so it can be raised when doing high speed or during wet weather. (Current touring bikes and some scooters have this already) Seat height must be user adjustable at least to some degree. People vary in height…yes it's true. Manufactures somehow don't seem to realize this. Storage for at least one full size helmet is vital. A lockable front storage area is also a given. Both these storage areas need to be accessed remotely off the key fob and off handle bar mounted switches when the bike is running.

Style: Most importantly it needs to look like something out of a sci-fi movie that's so high tech it hasn't even been filmed yet. This thing needs to be so cutting edge it scares people. I want a bike so DAMN COOL LOOKING that when mere mortals see it they simply gasp, twist and fall instantly to the ground…stone dead. This could cause a few issues I guess, however it's not my problem as I'm the one riding it. Oh and obviously I'll walk up to it blindfolded…a glimpse could wipe me out too.

So that's it, that's what I want. Build it please…someone. You've got at least one customer in me.

Email us you're perfect scooter with some sort of drawing/image and we'll publish the top three, on top of that we'll send a prize out to the overall winner regardless of where you are in the world…get writing.
Comments
(5)


Subscribe to this comment's feed
Last Updated ( Sunday, 29 June 2008 14:41 )