Welcome to the first in a series of rambling stories about scooter cities of the globe. Today we look at Madrid, the capital of Spain. A city of approximately 3 million scooter mad Spaniards, both new and imported.  Our intrepid travel photographer Peter Sterling recently stumbled into Madrid and began snapping pictures. No matter where he pointed his lens it was filled with every size, shape and color of scooter. Ancient Vespas and Lambrettas, modified late model Japanese machines, modern sports scooters from the likes of Gilera and Aprilia right down to rusted, unidentifiable hulks left to return to nature.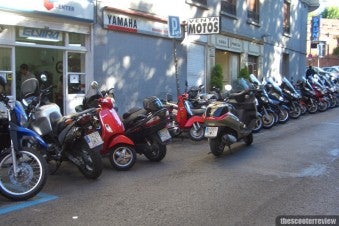 Madrid is one of those cities that were always going to become scooter central. A large population base has been bolstered over the years with immigrants from all over the planet. Madrid also boasts quite spectacular weather. Low rainfall and generally balmy temperatures combine to create a "Shorts and Tee Shirt" riding culture. Summer time brings average temperature up into the 40's (100+F) and winter, although occasionally bringing snow, stays at a temperature that allows well-covered scooterists to ride virtually all year long.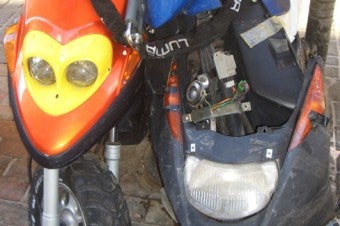 It would appear that you cannot turn a corner in Madrid without your senses being over run with the buzzing of scooter exhausts and the occasional puff of two stroke smoke. The population of Madrid clearly take their scooters seriously… it is not unusual to see two scooters chained together to a tree or lamp post, one of these a shiny, just of the showroom floor model that is clearly a regularly used commuting machine… Chained alongside this beauty is a dilapidated, no doubt less than functional wreck of a machine… No longer serviceable but still loved. As far as I can tell these old bikes are simply left to slowly rust into the pavement. Their owners too attached to send them to the scrap heap would prefer to watch them melt into the sidewalk like a glacially disintegrating artwork.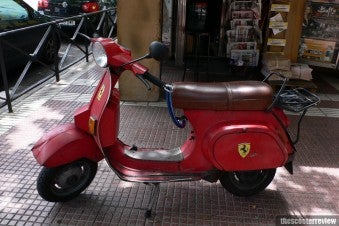 I was a little bit concerned looking at the photographs Peter supplied, it would appear that as in many cities around the globe… Italian ones especially… scooters are ridden without a lot of respect to the large meat and bone objects perched atop them. In other words, the riders don't tend to pay a lot of heed to protective clothing. Shorts, Tee shirts and sandals appear to be the sum total of protective gear. I suspect this lends itself to relatively unpleasant crash damage statistics as you see in Italy. I can see how this becomes the culture, with short journeys and balmy weather it seems a waste to put on ballistic armour, I would however recommend a little more protection to visiting scooter riders.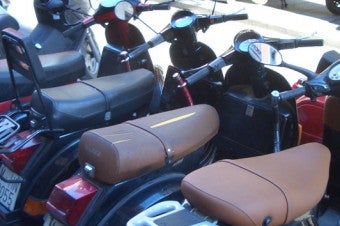 The local geography and architecture all lend themselves to slow meanderings. This is true not just in Madrid but in all of Spain and it's surrounds. This beauty leads people to do incredibly interesting things… like ride to Portugal on a 50cc Honda Today. From what I have seen both in videos and photographs Madrid is high on my list of places to do some scooter touring. If you find yourself there, rent a scooter, go for a ride and soak in the atmosphere you will not regret it.
Comments
(1)


Subscribe to this comment's feed
Last Updated ( Friday, 04 July 2008 12:04 )