There are a lot of labels to describe the niche that Suzuki's Burgman aims to fill: Touring scooter. Maxi-scoot. Super scooter. But there's one brand that the Burgman 400 ABS should wear with pride: car replacement. Bigger scoots like the Burgman always defy classification – especially stateside – because they're not a motorcycle and they're not a scooter, but they offer a heaping helping of what's to like about both those categories.
Scooters are always a tough sell in America. We only seem to really want them when we're either sporting fat wallets and are desperate for the next recreational toy, or when we're broke and desperate to save gas money by any and all means possible. It's the plague of every scooterist's existence: you pull up at a gas station and Joe Blow either strikes up a conversation about whether you need a motorcycle certification because "man that looks like a hoot," or he grills you on gas mileage as the read-out on his pump relentlessly ticks upward faster than the national debt. (And when Joe Blow doesn't say anything, then you can pretty much assume the economy is calmly sitting in the balance between boom and bust cycles — call it the two-wheel economic indicator.)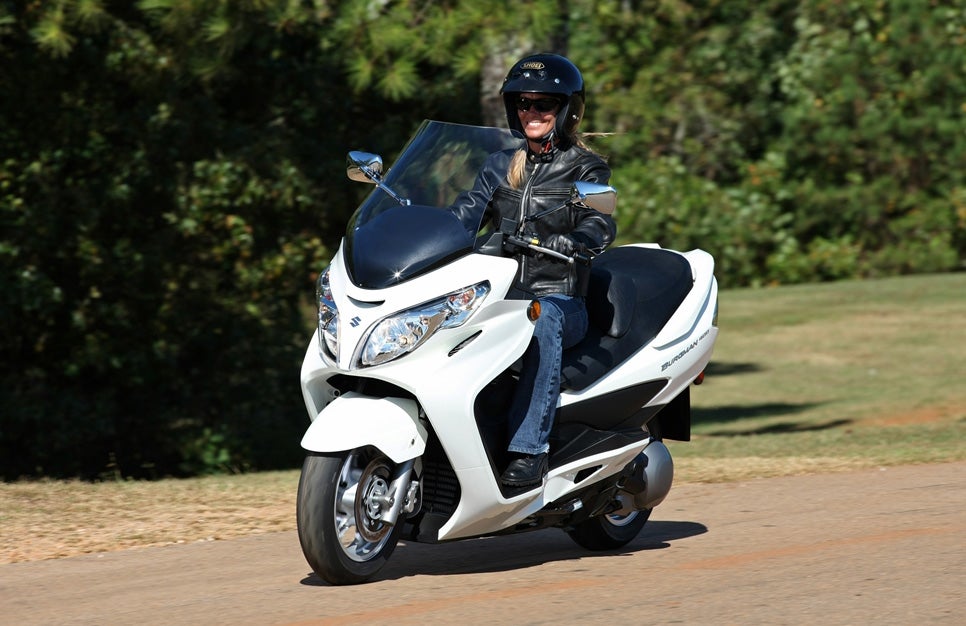 The bottom line is that Americans usually fail to see the value proposition of a two-wheeler that seems to be some sort of weird compromise between big bike and tiny scooter. Chalk it to car culture. Chalk it up to the stigma scooters have in a country where nearly every TV show about motorcycles involves someone building a billet-laden V-Twin with a jaw-dropping paint job and an unconquerable rake.
Whatever the reason, Suzuki's Burgman 400 ABS is a scooter that can change that perception. Why? Because it delivers — a lot. The scooter appeals to both the sense of fun that many prospective riders seek from a two-wheeler, while simultaneously dealing out a healthy dose of practicality.
And that's not a new idea for larger scooters. In fact, it dates back to 1950s and 1960s Germany. While Southern Europeans were buzzing through tight city traffic on smaller Vespas and Lambrettas, German manufacturers such as Heinkel, Maico and Zündapp were building larger scooters with larger displacements and bigger wheels to serve a different set of needs. Riders in more spread out, more suburban Northern European areas needed something that could get them longer distances to work, as well as let them hit the road on for some weekend traveling. If anything what the Germans sought to accomplish with scooters a half-century ago, is exactly what today's max-scooters deliver: two wheel transportation that is a true alternative to a car.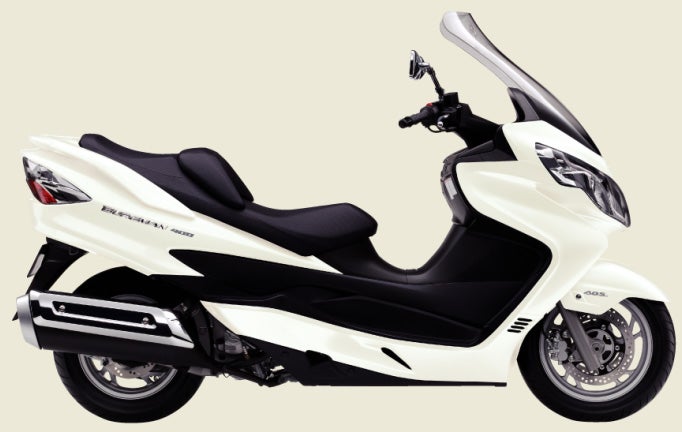 Spend a day on the Burgman 400 ABS and you'll come to see exactly what those German manufacturers had in mind. The scooter provides an ample amount of power, handling, mileage and, strangely enough, storage space to make you forget four-wheel transportation exists.
Starting with the ride, the Burgman offers a mixed, but overall positive package of riding characteristics. The 400cc DOHC thumper offers up plenty of power. In fact, a surprising amount of power given the scooter's 490 pounds. Paired with the CVT transmission the scooter has surprisingly quick take off from the line — even uphill — and has enough power at any position in the throttle to get you free from traffic or trouble. The phrase twist-n-go definitely applies.
And it's important to note the ride is surprisingly smooth as well. Even when being remorselessly flogged, the Burgman serves up a steady ride with minimal vibration or noise. The result is that, the combined smoothness and the CVT results in the scooter riding fine cruising at any speed. Faster travel on the freeway to standard city speeds, the scooter always seems to be comfortably cruising. It's not until you approach redline that you really loose that sense of comfortable cruising.
In terms of handling the scooter carves nice, graceful curves and is a joy in sweepers. It's not until you start hitting tighter corners and declining radius turns that the Burgman's handling feels a little more ponderous. That's most likely attributable to the scooter's weight combined with a wheelbase that is longer than your everyday city scooter. Suffice it to say that the Burgman just isn't flickable like other, smaller scooters. You're not going to throw it around as much, but that's not necessarily a downside. I'd rather call it a limitation inherent in most maxi-scoots.
Also, it should be noted that because of the Burgman's size, I found myself holding off on much filtering in lane-splitting friendly California. The Burgman is just wide enough that the prospect of wiggling between rearview mirrors seems more like a chore than a short cut. That size can also be a downside in the wind. A couple romps in some fairly strong cross winds made me wonder why I was feeling the buffeting like I was, and the only conclusion I could draw was there's a whole lot of plastic body panels there to get pushed by strong gusts.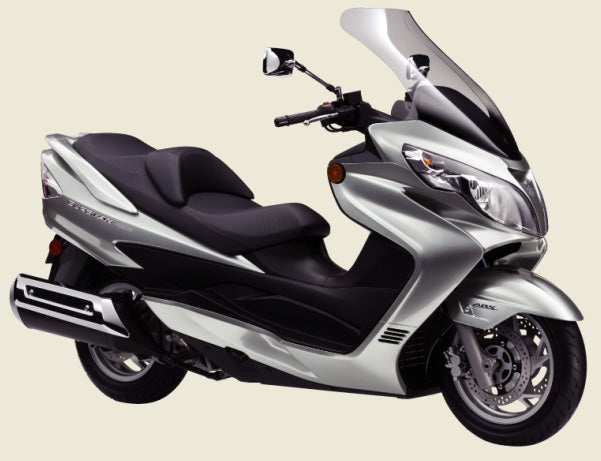 But of course the braking is what's special about the 2011 edition of the Burgman 400, and the anti-lock braking is exactly what this scooter needs. Because of a heavier weight being carried by smaller tires, grabbing handfuls of brake means those smaller diameter tires risk getting overwhelmed and losing traction. Anti-lock braking just plain makes sense for the Burgman. In application, the Burgman's ABS proved itself very handy on a couple of occasions during this review. Using the ABS, the stopping power of the 260mm front and 210mm rear discs was instantaneous with no juddering or traction loss in a hard, short stopping. Rather, the ABS delivers a very rapid yet smooth stop that doesn't leave the rider frazzled.
The front forks' 110 mm of travel graciously accepts any hard braking with zero dive, and paired with the rear monoshock, the suspension evens out the road nicely, but still gives a rigid enough ride that cruising on the Burgman never feels disconnected from the road.
In terms of styling, I actually prefer the Burgman 400 ABS to the Burgman 650 Executive. Because it doesn't offer the power mirrors, larger, powered windscreen, or the seat backs of the 650 the 400 looks more sporty and aggressive. The fact that the 400's signal lights are incorporated into the main light clusters, as opposed to the 650's mirrors adds to that more streamlined and motorcycle-like appearance.
Color-wise the 2011 Burgman 400 ABS comes in a metallic gray and a metallic white. White is an odd vehicle color. Some vehicles looks perfect in it and some do not, and when they do not, they can look pretty darn cheesy. In this case, the white finish truly complements the Burgman's lines. The gray looks great, but the white has a slight metal flake to it that actually winds up looking classy indeed.
But you can't talk about the Burgman's ride without talking about its utility, and it's in its cargo capacity where the Burgman really stands out. All in all, the scooter offers roughly 16 gallons of storage space. Up front, the scooter sports a decent-sized glove box and two smaller storage compartments near the instrument panel. Under the seat is where the real storage is.
In fact, that underseat storage space is somewhat of a revelation. Starting out the day, the storage happily accepts a cover, a laptop bag and a lunch bag while offering plenty of room for more stuff. Get to work, and you can remove those items, and replace them with your helmet, jacket/commuter suit and gloves. (In fact, you can actually stow two full-face helmets if you need to.) The result is that no matter where you go, you don't have to walk around dressed like a Power Ranger, and you don't have to endure looking like a high school student by having to constantly wear a backpack or messenger bag.
And when you want to hit the road and go for a trip, the Burgman's storage capacity really proves its worth. For years, I used to scooter camp on old Vespas and Lambrettas with all my gear bungied to front and rear racks. The resulting visual was that of a two-stroke gypsy. By comparison, you'd never know whether a Burgman was packed to go camping or not. The scooter's trunk happily gobbled up a compact summer sleeping bag, an ultra-light tent, an air mattress, an overnight bag, a backpacking stove and small pot, food and some other small camping essentials. A small fuel-bottle and some other odds and ends went in the front glove box with room to spare. Packing the scooter took less time and trouble than setting up camp.
Maybe the compromise between motorcycle and scooter offered by larger scooters such the Suzuki Burgman 400 ABS is a tough concept for some folks to grasp. Then again, if they had even a few days of saddle time on the Burgman 400 ABS, they'd realize pretty quick that compromise can be pretty eye-opening — and a hell of a lot of fun.
AUTHOR BIO: A career magazine editor and journalist, David Kopf has been an avid scooterist since the age of 16, and continues to ride, repair and restore scooters. He is the founder of one of the oldest continuously running scooter clubs in the United States, and has served as the program manager for the Motorcycle Industry Council's Aftermarket Committee. If it has a step-through frame and small wheels, there's a good chance that he wants to ride it.
Comments
(11)


Subscribe to this comment's feed
Last Updated ( Saturday, 29 October 2011 08:54 )