Page 1 of 3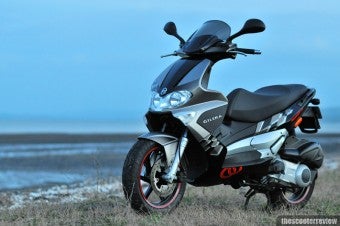 Forecast…cold, rain and thunderstorms in the area with winds gusting up to 50kph (30mph). Sounds like the perfect time for a camping trip. Really that's what I did. I loaded up my trusty backpack, squeezed my camera gear into the Runner and headed off into the wild. Now you're probably wondering why on earth I chose to do this now. Well we only have most test bikes for a fairly limited time and in this case the weather had been and was going to continue to be…crap (That's the technical term). So it was now or never. The reason I chose camping was I really wanted to see if the Gilera could function similarly to a fully fledged motorcycle.
My ride would take me a total of about 250kms (155miles) on city streets, winding secondary roads and some motorway travel on the way home. Not a ride I would normally take on a scooter. The Gilera Runner VXR is not however a normal scooter. The Runner is kind of a hybrid scooter/motorcycle; its unusual frame means there is no step through convenience but it more than makes up for it with its added rigidity. I'm also very familiar with the Gilera Runner as I have owned a few of them over the years. I haven't however ridden the new four stroke version. The older 2 stroke version is a fantastic bike and is still one of the most popular performance scooters.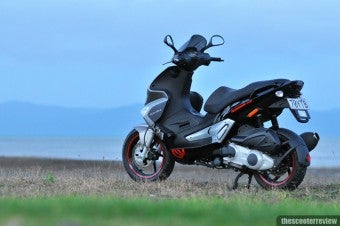 So this new four stroke Runner has a lot to live up to…so did it? Well there's a bit of yes and a bit of no. First off the yes. Damn the new Runner is one cool looking scooter. If you're like me and like modern sporty looking machinery then it is likely you'll dig how the Runner looks. Gilera certainly seem to be hitting their stride in the styling department of late. Like most Gilera's the VXR is built to a very high standard with quality parts and quality workmanship. I must say however that I did notice a few rusty screws on the Runner. Strange because it's not something I've seen on a Gilera before. Hopefully it was a one off.
Last Updated ( Thursday, 27 November 2008 15:33 )