Page 1 of 3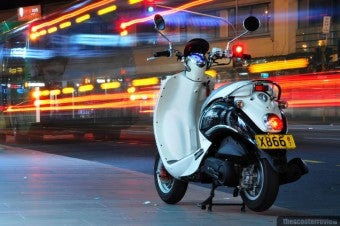 If you go to Sym's website the Mio 100 page begins with the tagline "The ultimate urban scooter", strange because I thought all scooters were by definition "urban", anyway…after poking some fun at Sym I rode the Mio 100 the next day and you know what, they're not entirely wrong. Let's say urban to Sym means; no motorway usage and no distances greater than about 15km, then I'd have to agree with Sym. For some people this could be the ultimate urban scooter.
Here's the rub. The Mio 100 is small…very small. Smaller and lighter than some 50cc scooters actually. It weighs in at around 87kg which makes it very manageable for people of small stature or low body weight. Now this may sound like I'm trying not to be sexist and avoiding simply saying "good for girls"…well yes that is true. Women love this scooter, it's great looking and very very easy to maneuver. However, I AM A MAN and…well I like this scooter too. I have no problem with its slightly feminine retro looks: I think it looks damn cool: okay it's certainly not very gangster but we're talking scooters here and really, none of them are very gangster.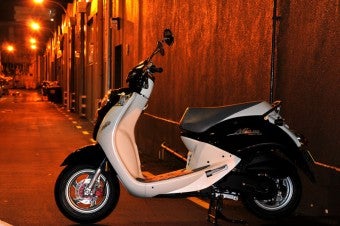 The 100cc Mio is straight up fun to ride, its light weight means you can aggressively throw it into turns and generally carve up city traffic. The 100cc engine is nice and torquey, pulling away from traffic lights with surprising swiftness. Its 0-50kph time of seven seconds flat is quite brisk for a 100cc machine and quicker than some 125cc. scooters. The engine also makes a rather nice sound for a 100cc, a bit lower and more serious sounding than one would expect from such a small machine. The front disc brake is of about average strength, while lever feedback is good giving you reasonable confidence under brakes. The rear drum brake is like most drum brakes…junk. One day many years from now scooter manufactures will include dual disc brakes on all models…one day.
Last Updated ( Thursday, 07 August 2008 19:28 )