Page 1 of 2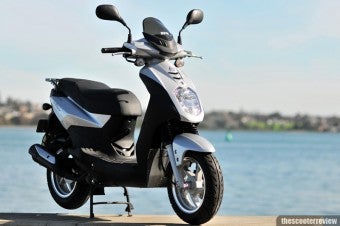 I find it a bit tough now after writing many reviews to write about a scooter that is well… a scooter. You see after a while unless something stands out as being decidedly remarkable about a machine it is very easy for said machine to fade into the background. This is to some degree the case with the Orbit, or it should have been… It really isn't particularly profound, I couldn't with any degree of seriousness espouse this bikes charms. For the most part because it isn't very charming.
I had high hopes for the Orbit, virtually every other SYM scooter we have tested to date has been a top notch machine… fun to ride, comfortable, good looking etc, etc. The Orbit is none of these things. For a start it is very high and very narrow, the high seat and centre of gravity makes the bike feel like it is ready to topple over at the slightest gust of wind. Now normally with the weight high like this the bike would be very good in corners and this one is no exception. The problem is that it does not instil any confidence whatsoever while cornering… this was the opinion of everyone who rode it. Now I managed to get a pretty handy time around our test track on the Orbit but I spent a vast amount of the lap thinking I was about to die. Contrast this with the Honda Forza which I track tested the same day… now the Forza is a big heavy maxi that should have felt like a tank on the track, however compared to the Orbit the Forza felt refined and composed at all times. I cannot explain what the problem was… but there was definitely a problem.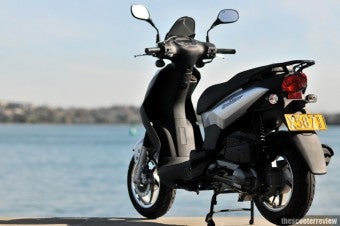 The styling is the first thing you will notice about the Orbit, the front has very narrow "leg guards" and decidedly modern styling. However the trimming of the guards doesn't make the bike any narrower… taking into account the standard width handlebars. So what is the point? There is less weather protection for no apparent benefit; I am not sure of the reasoning behind this design. Throw your leg over the high seat and fire the Orbit up, it sounds ok, twist the throttle and acceleration is average, no better or worse than most 125cc machines. It is easy to move around and the storage was adequate although squeezing a medium sized helmet under the seat was only achieved with some brute force and ignorance i.e. quite a bit of manhandling to get the seat latched. The bike had good headlights, nice and powerful they were not mounted on the bars howevever so when cornering the lighting was not always optimal. The dash was well laid out and easy to read.
Last Updated ( Wednesday, 13 August 2008 12:01 )