Page 1 of 3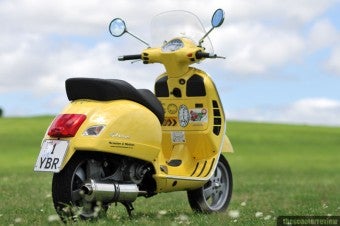 Vespa's flagship model the 2007 GTS IE is a smooth number, whether you are cruising along in the summer sun, battling the traffic to work or on a weekend road trip on the open road. The 21hp, fuel injected, 4stroke motor is the most powerful engine that Vespa produce; it has strong consistent power perfect for overtaking and will easily out accelerate most four wheeled transport. The GTS also sits effortlessly at the speed limit on the open road. At idle it has a gentle lumpy throb due to the large single cylinder motor.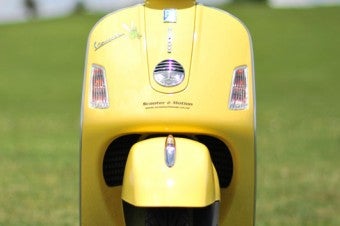 What this scooter has in spades is style. Almost everything has little touch of Italian flair. There is a tasteful use of chrome harking back to Vespa's origins; the chrome accents include the mirrors, badges, and a few small trim parts. The 21st century however has not been forgotten; many modern touches such as, the digital tachometer, fuel gauge and the engine have been subtly integrated into the retro design and were created using the latest technology. One detail that truly stands out is the pillion passenger foot pegs, these are works of art, even the action of extending them has style, it has to seen.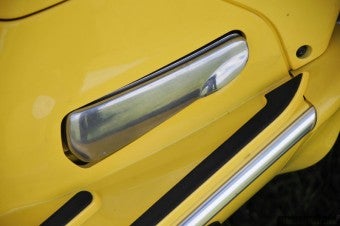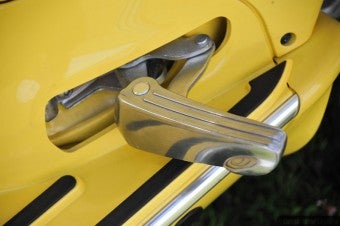 On the road you know you're on a big scooter, although compared to the average maxi scooter it's quite light at around 150kg. The weight settled it nicely on the open road, only when weaving through traffic did it feel a little cumbersome in comparison to a smaller bodied machine.
You'll notice the weight compared with the smaller cc scooters, but you will also notice another thing. THE POWER! While reviewing this scooter, we ran our 0-50kph test. The GTS performed very well, with a time of only 3.9sec, that is fast currently the fastest we have tested to date (12/2007), and it will do these numbers all day long thanks to the CVT automatic transmission.
Last Updated ( Wednesday, 18 February 2009 21:42 )