Page 1 of 3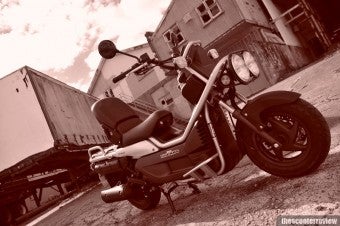 Perhaps the designers at Honda were bored. Perhaps there was a military contract they were trying to attain; I can just picture it now, the phone call from a ranking officer to the poor schmuck who handles the new equipment contracts "We need a new vehicle for Iraq… Its gotta be big, and made of pipes, and it has to able to pull a tank out of a ditch… and don't forget it has to look like a truck. Oh yeah and make it big… really big, yes indeedy, make it huge!"
Probably not… maybe they had just run out of plastic at the factory and had huge piles of steel pipe lying about all over the place. I don't really know how the Big Ruckus came about, all I know is that when I rode this… um… contraption the following words came unbidden into my poor, addled brain.
Get your motor runnin' head out on the highway. Lookin' for adventure, and whatever comes our way. Yeah nothings gonna make it happen, take the world in a love embrace. Fire all of your guns at one time… explode into space.
The words aren't mine, and the accompanying imagery of long deserted roads stretching to a big, blue sky that they conjure in your mind are nothing to do with me either. However the opening scene of the 1960's film "Easy Rider" does a good job of wrapping up my initial feeling on the Honda Big Ruckus. Not to mention the fact that I had that very song stuck in my head for hours after I first rode the Ruckus away from Honda.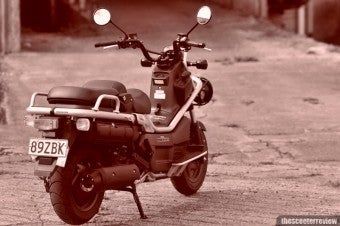 What on earth does a movie that features big American Harley Davidson Motorcycles have to do with a 250cc Japanese scooter? On paper, there is very little correlation at all. However, when you ride the Ruckus the riding position and overall feeling that the bike conveys is more closely related to a big cruising motorcycle than a conventional scooter. It's a big, long, low slung, heavy device that is so unconventional looking as to be, to put not too fine a point on it… bloody ugly. One person asked if I had crashed a Harley into a mobility scooter! I just laughed, because you see this bike is so ugly it's cool. If any scooter can be described as macho this is the one, other scooters are cool. The Big Ruckus has a hairy chest. If John J Rambo where to ride a scooter… this would be it. In fact in a fight, the Ruckus would roundhouse kick Chuck Norris.
Last Updated ( Wednesday, 06 August 2008 15:31 )