Page 1 of 3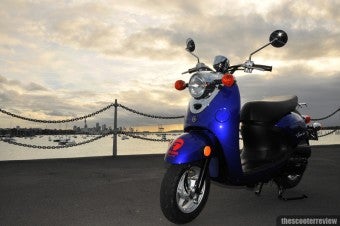 Sometimes, the decision of which 50cc scooter to buy is an emotive rather than logic driven procedure. The problems arise when there are many choices and most of them fit the list of necessary criteria. What are those criteria… 50cc engine, small, and lightweight, frugal? Check, check, check and check… so what does the choice boil down to then?
Design! It really always comes to this in the end, and that is why Yamaha sell the Vino. The little Vino was the Pimp Daddy of our 50cc Super Battle it has plenty of chrome and is literally dripping style.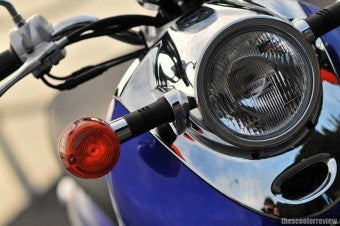 The Vino is probably the most well known of the retro style Japanese scooters available today. It really does blow the competition away in this particular genre, it manages retro without looking dated and that is far from an easy balance to achieve. Further to this it is built incredibly well right down to beautiful paint in your choice of blue or white. Details like the big cushy seat add both to the overall aesthetic and to the comfort of the ride. Further to this there are the obvious details that hark back to scooters from the '50's and '60's such as the huge chrome headlight and the indicator housings and mirrors.
Last Updated ( Friday, 20 February 2009 11:25 )