I wonder if the PGO engineers had a major disagreement about the development of PMX scooter. Half of them wanted a 50cc motorcross bike, one that could rip up the dirt, one that you could do a back-flip over a car on. While the other half insisted that it be more normal main-stream, road going, scooter. After a few street-fights, guns at dawn and few rounds of paper, scissors, rocks the team at PGO agreed to compromise, at produced a hybrid of the two extremes.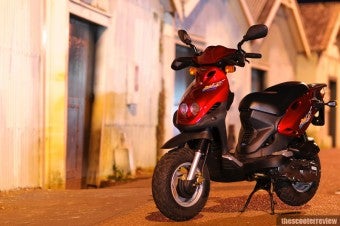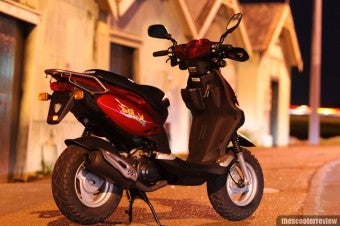 It's a big 50cc scooter, running big wheels and a big seat. The PGO engineers must agreed that having a big scooter was a good idea, and I agree it can easily hold someone 6-foot tall. There is a definite market for bigger 50cc scooters, as the uptake of scooters increases around the world.

The styling is…confused, There are 'token' plastic hand protectors taken from a motor-cross bike, that do absolutely nothing. They would break instantly in the crash, provided no protection - not even from the wind, and the look quite cheap too, manufactured in low quality matt-black plastic. There are semi knobbly tyres which add to the off-road look, but don't help PMX's on-road ability. But, if your morning trip to work takes you on a gravel road and a river crossing, then it would be an advantage.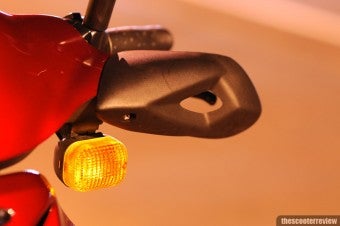 The PMX may look a bit confused, but in a straight line there is no confusion, it's a rocket. With a top speed of 74kph (46mph) it is the fastest 50cc scooter tested to date (1/6/08). It doesn't get there is record time though, in fact it around tight city street it felt quite heavy, cumbersome and slow off the line. When the PMX was raced around our track it managed a 47.0sec, which wasn't the fastest. Click here to see the full results. Our test rider, Hollywood, believed that the big wheels and the large size of the scooter bogged it down, and the straight wasn't long enough to hit the higher top speed. In the braking and cornering department the PGO PMX is well sorted, running a hydraulic disk up front, and firm shocks front and rear, producing predicable handling.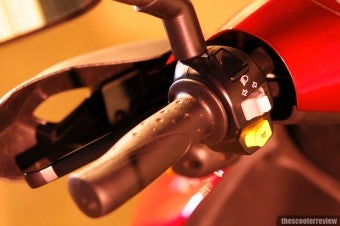 The storage capability of the PMX is great. It gobbles up a full-face helmet under the seat and has a small open glove-box.

The PGO PMX is the perfect 50cc scooter for high-speed gravel runs. But, if you're not planning on doing that, then there is better scooters out there. If your morning commute features long 60+kph runs then the PMX would be a good choice. Seriously though, with a crazy fast top speed and good storage, construction for the taller person in mind the PGO PMX had some good features.
Comments
(1)


Subscribe to this comment's feed
Last Updated ( Tuesday, 31 March 2009 00:26 )