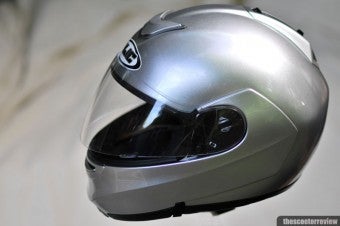 The HJC FS-MAX helmet looks like another 'normal' helmet until you dig a little deeper.Then you discover that HJC have added all kinds of neat features. The front section of the helmet features a 'flip-lid' , which means you can actually talk to someone without having to shout through the helmet. It can be opened and locked down with ease, even with a single, gloved hand. On closing, there is a positive, loud click to confirm that it has definitely locked.
HJC have obviously done their homework and looked into what scooter and motorcycle riders want out of a helmet. Top of the list for many riders list is good visibility through the visor, in answer to this HJC created a very clear visor, with almost no strange reflections, its almost too clear… if there can be such a thing. The visor is also treated with an anti-fog coating, which, a few months into wearing it, is still working perfectly.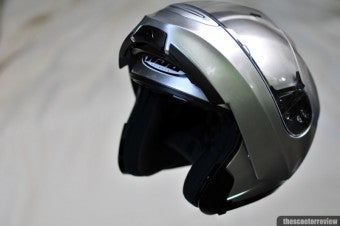 Almost the entire inner lining is removable and washable – very useful for the occasional clean. The clips that attach the lining to the helmet look like they'll last the life of helmet. Even if they don't, you can purchase all the parts separately.
The FS-MAX features a built in internal 'sun visor' in addition to the standard visor, this operates via the top of the helmet, there is a slider that brings the sun-visor down and a spring-loaded button that retracts it in an instant. It removes the need to push sunglasses into the helmet once it is on your head. Personally, I think it looks a bit "Top Gun" but it is such a good feature on a helmet I can with live with looking perhaps a little 'fighter pilot wannabe'.
The helmet is made from the standard fibreglass/spectra/Kevlar mix, and come in sizes XS to XXL, with the colour options of silver or black. All in all a great bit of kit that I would gladly recommend.
Comments
(1)


Subscribe to this comment's feed
Last Updated ( Monday, 20 July 2009 13:15 )