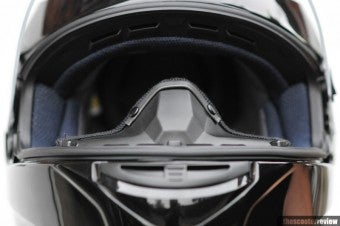 The helmet I am riding with currently is HJC's CL-ST in solid black. This thing is pretty super really; it has a feature list as long as your arm. The noticeable and useful features are the Clearview visor… which is eerily clear… almost like you can see better than normal through it.
The helmet also has a very good anti fog visor and 7 point ventilation system comprising various vents and mesh and other gizmos. It also has a quick release buckle with attached D ring (so you can hang it on a helmet hook) along with Nylex anti - Allergic/bioceramic lining which apparently resists the formation of smell and bacteria". The inner pads are Replaceable and washable.
Most importantly however is the removable breath and chin guard. The chin guard does a very good job of stopping wind going up into the helmet from under your chin. The Breath guard probably has a very important function… I don't care it makes you feel like the pilot of a fighter jet, and that is all that matters… just call me Maverick!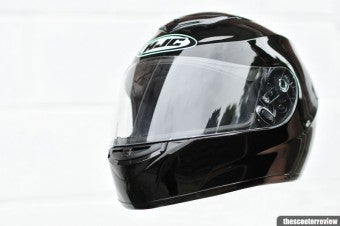 Downsides, very few actually; it could be a bit lighter but isn't overly heavy at 1600gms, the main issues are with the buckle… the strap loosens off quite quickly as is normal with non D-ring type designs and the added D-ring/loop does rattle a bit while riding. I can live with this for the added convenience. And don't forget… you look like a fighter pilot… and when you are travelling at supersonic speeds on your scoot you can lock the visor down so it doesn't blow open… a very useful feature I think!
Polycarbonate construction.
Quick release visor system.
Anti-fog visor.
Removable lining.
Removable chin guard.
Removable chin curtain.
7-point ventilation.
Safety standard ECE22.05.
ACU Gold standard for use on the track.
Comments
(0)


Subscribe to this comment's feed
Last Updated ( Monday, 20 July 2009 13:16 )