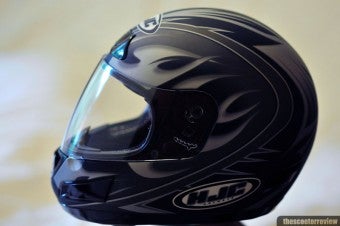 First off let's get something straight, what is the single most important design aspect of a helmet…right you got it, LOOKS. Well they may not be entirely true. It seems in the modern world we're definitely moving towards it; if we aren't already there. Thankfully the HJC CS-12N Session is covered in the looks department as the cool grey tribal pattern actually looks pretty cool, which is saying something as I normally prefer standard boring old black. When I opened up the box I was simply amazed at the quality and features you get on a helmet costing so little. How bout this list: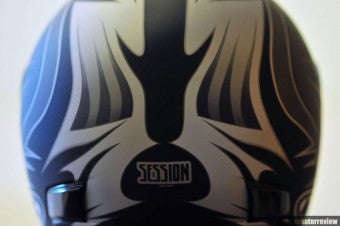 Injection molded thermoplastic shell that's both lightweight and aerodynamic with extra large eye-port for greater visibility.
Flow-through ventilation system with adjustable chin bar, forehead and front side vortex vents along with two lower back and neck roll exhaust vents.
Anti-fog system incorporates adjustable front-side vortex vents that draw heat and moisture out of the face shield area.
Removable pre-formed air guard directs breath away from the shield
Shield also features 8- position positive lock ratchet and tool-less shield removal
Comfortable interior features Nylex interior liner with sewn-in top pad and wrap-around neck roll.
Quick and easy tool-less shield removal
100% protection from harmful UV rays
Built-in communication system speaker pockets
DOT certified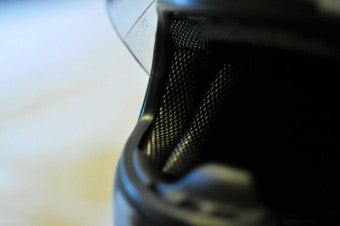 Does it all work…well yes. The shield is incredibly large and clear; in fact it's as good as any helmet I've used inc some that are ten times dearer, I actually kept thinking the visor was up it was so clear. The fit is firm by comfortable and the helmet seems to resist fogging slightly better than most entry level models. Best of all the uncomplicated design means the CS-12N only weighs in at a low 1400grams. All in all it's almost impossible not to love this helmet. It really does make you wonder why anybody would spend more money. There simply isn't a better value helmet on the market today. I imagine that is why HJC are the worlds biggest helmet brand. We consumers know what we want…we want the bling and we want it cheap.
Comments
(1)


Subscribe to this comment's feed
Last Updated ( Monday, 20 July 2009 13:19 )