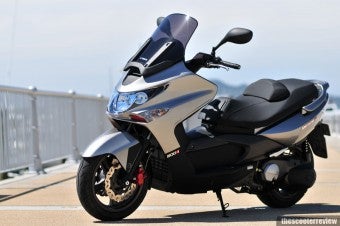 First off let's clear something up. I'm not a huge maxi scooter fan. I do enjoy them to varying degrees but like most scooter riders who also ride motorcycles I often find them somewhat underpowered, overpriced and vastly overweight. With that negativity out of the way let's move onto the Kymco Xciting 500i R, well immediately Kymco have solved one of my major problems with maxi's, price. Now price may not be everything to most people; hell look at all the Porsche's sold each year, multiple thousands of people are dumb enough to buy a car four times the price of a competing model and actually justify their purchase. Obviously we can all delude ourselves into justifying any stupid thing we waste our money on. Hey, I do it every time I buy myself a new nuclear ballistic missile for home protection. It sure keeps the neighbors friendly; I just sit there on my front steps with my finger hovering over the big red button. When I go next door for a cup of sugar…they give me the whole bag. BOOYA….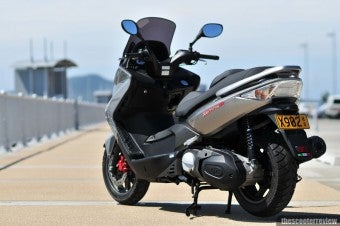 The Xciting arrived at the perfect time; I'd just finished the review on the Yamaha T-Max so I was perfectly able to compare apples with oranges. The T-Max is in some ways the benchmark for Maxi's so makes the perfect comparison in my mind. Before I risk angry emails and possible death from the hordes of T-Max fans I'll make it clear…yes the T-Max is a better maxi scooter than the Xciting. The problem my T-Max loving friends is this; how much better is it? Well, not that much really. The T-Max makes a few miserable horsepower more and is a little quicker in straight line; it isn't however much of a difference. Certainly not worth any real price increase. Braking performance on the Kymco is quite solid with big wavy discs on both wheels and linked brakes off the right lever. The T-Max however runs some of the best brakes in scooter land so takes the win here too.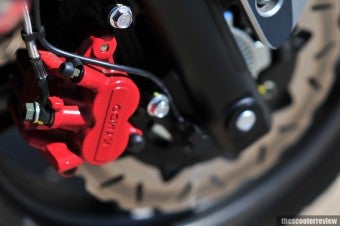 The suspension on the Kymco does an adequate job hustling you around town or cruising out on the freeway and generally feels well sorted. Yamaha's T-Max certainly feels superb in the suspension department and combined with its low weight and superior chassis the Yamaha will carve up the Xciting through a fast twisty section of roads. So the Yamaha is quicker when really pressed, how much faster? Probably not enough to make any noise about; there's no way you're writing a letter home to mum about it. 'Dear mum, wow…I rode a scooter today and it was about two percent better that this other one I rode…riveting'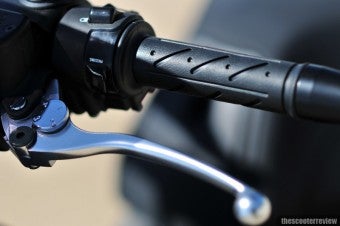 Ease of use is about average for a maxi scooter. There's a reasonable amount of under seat storage and a convenient switch to access it and the fuel filler off the ignition barrel. Fuel consumption was just over 47MPG which is un-surprising…average for a maxi scooter. The bikes high weight makes it a fair pain to put on the center stand but thankfully there's also a side stand for convenience. It's hard to comment on build quality other than what's immediately apparent. Kymco certainly make some high quality scooters for very good prices and the Xciting is the same. You get a well made and surprisingly cool looking scooter that should perform faultlessly for many years. It's not quite the measure of say a Gilera Nexus, but then again it's not far off it either.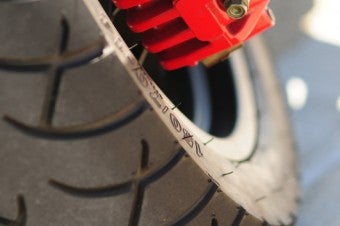 The bad bits. As I said at the beginning of the review, one of the reasons I dislike maxi's is there lack of any meaningful horsepower and the Xciting R is no different. It's 498.5cc single-cylinder engine is claimed to produce 27.5kW (37bhp) at 7500rpm with 37.1Nm of torque at 5000rpm; which is about standard for a 500cc maxi. It's enough to move you around at a reasonable speed but certainly 'not' Xciting. Luckily for Kymco its competitors all suffer the same problem. When will maxi scooter manufactures ever figure this out…for crying out loud they have these things called motorcycles. They should ride one. They'd probably get off and go, 'hmmmm, hey if we put a nice engine like this in our maxi scooter it would actually be exciting…ah, no screw it I can't be bothered, just bolt in the normal lawn mower engine'. To be honest, other than a viby engine at idle, the bikes high overall weight and general awkwardness to move around there's not really much else wrong with the Xciting.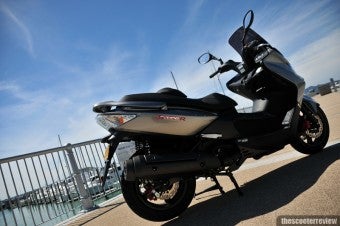 Here's the rub. I often find this whole comparison thing amusing. In the modern world many products are becoming much of a muchness. With computer aided design and boring and utterly un-unique thinking many products are just weak imitations of each other. Occasionally there are game changers; someone with a brain and some creativity that hasn't been beaten out of them in their many years of schooling actually creates something new and unique. The Kymco Xciting R is a bit like that. It's not ground breaking; it's just a solid and generally well designed maxi scooter that is much like…well, other maxi scooters. It is however a LOT less money in most markets. In some countries it is literally many thousands of dollars less than bikes like the Yamaha T-Max. Is the Yamaha T-Max many thousands of dollars better…ah hell no. Not in a million years. If you want to pay top dollar and ride around in smug comfort that you've blown the most money possible on a maxi scooter, buy the T-Max. If you want to save thousands of dollars and use the saved money for say…ten years of running costs including fuel…yes really. In some countries the price difference would be about five to ten years in fuel bills. (Think about it…that's a hell of a long time not paying for fuel.) Then buy the Kymco. The Kymco Xciting isn't the best 500cc maxi scooter in the world however it's probably the best value 500cc scooter in the world. It just comes down to this, how much do you value your hard earned cash?
 
Price
UK £4299 AUS $7,990 USA $5999 NZ $8495
0-50km/h
4.5 Seconds
0-100km/h
10.4 Seconds
50-80km/h
3.5 Seconds
Lap Time
---
Fuel Economy
3.8L/100kms - 47MPG
Speedo Accuracy

50kph displayed = 42kph actual - 100kph displayed = 86 actual

---

Pros:
Great pricing
Cons:
Heavy, weak engine, bit viby


---

Handling
Performance
Fuel Consumption
Value for money
Ease of use
Styling
Build quality

---

Overall Score

76%
Manufacturer Specifications
| | |
| --- | --- |
| Max power at shaft | 27.5kW (37bhp) at 7500rpm |
| Max torque | 37.1Nm of torque at 5000rpm |
| Engine Type | Single cylinder Liquid cooled 4-stroke |
| Cylinder Capacity | 498.5 cc |
| Seat height | 780 mm (30.7 inches) |
| Dry weight | 215.0 kg (474.0 pounds) |
| Kerb weight | --- |
| Fuel tank capacity | 15 litres |
| Starting | Electric |
| Transmission | "Twist and Go" Automatic Transmission (CVT) |
| Storage volume | n/a |
| Cooling | Water cooled |
| Bore X stroke | 92.0 x 75.0 mm (3.6 x 3.0 inches) |
| Compression ratio | 10.5:1 |
| Chassis | CF (Controlled Fill) die cast aluminium frame |
| Front suspension | 110 mm (4.3 inches) Telescopic fork |
| Rear suspension | 100 mm (3.9 inches) Double Swingarm |
| Front brake | Single disc 260 mm (10.2 inches) |
| Rear brake | Single disc 240 mm (9.4 inches) |
| Front wheel/tyre | 120/70-15 |
| Rear wheel/tyre | 150/70-14 |
| Length | 2,250 mm (88.6 inches) |
| Width | 815 mm (32.1 inches) |
| Wheelbase | 1,570 mm (61.8 inches) |
| Max speed (km/hr) | --- |
| Type approval | Euro3 |
| Consumption (ECE applicable text cycle) | --- |
| Consumption @km/h - km/l | --- |
| Audible Indicator | no |
| Full helmet storage | yes |
| Glove box | no |
| Fuel Guage | yes |
| Trip Meter | yes |
| Seat release (via remote control) | no |
| Seat release (remote, ignition/switch) | yes |
| Alarm | no |
Comments
(8)


Subscribe to this comment's feed
Last Updated ( Tuesday, 20 January 2009 10:41 )