Page 1 of 2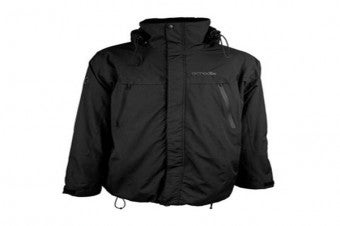 I have been eagerly anticipating testing some Armadillo Scooter Wear, I have long been intrigued by its combination of urban style and protective properties... Finally, just the other day a package arrived on the doorstep of TSR HQ containing a City Rider Jacket and the Armadillo Hoodie, as much as I wanted to run away with both of them I decide to delegate some responsibility so Ant (Spanner) will be trying out the Hoodie and I have the City Rider. The timing couldn't have been better as the weather was complete and utter... well let's just say it wasn't much good to keep it G rated. And when a jacket is marketed as Water Proof and Windproof it would be wrong not to abuse it until these claims are proved or disproved. When the forecast says "Weather Bomb" I normally crawl under the covers and set the alarm for a week from now, but for YOU, our faithful reader I waited till the middle of the night (colder that way) and ventured out into the pouring rain for a 40 minute round trip wearing just the City Rider with a grey cotton tee underneath. Yes I wore pants too but that isn't really relevant to the story?
I am very happy to report that the City Rider more than exceeded my expectation I remained warm, dry and very happy. I can say that I did not trial the impact absorption  properties of the d3o™ armour or the abrasion resistance of Taslon outer because fortunately I didn't crash however from everything I have seen both should be spectacular
 
The d3oâ"¢ armour is one of the coolest materials on earth, it has incredible properties including impact absorption and flexibility, the raw material, which the jacket came with a pot of to play with is absolutely unbelievable, it flows and is malleable and soft yet retains its shape perfectly transferring the force when hit... INCREDIBLE! Armadillo describe it thus:
"Under slow rates of movement, the d3oâ"¢ CE certified (EN1621-1) pads provides maximum comfort through softness and flexibility, but when impacted at high speeds d3oâ"¢ displays excellent shock absorption as the Intelligent Molecules inside lock together, spreading the force over the whole pad.d3oâ"¢ completely conforms to your body and remains almost invisible within your garment, but provides excellent shock absorption when you need it."
Essentially an armoured jacket that doesn't look like an armoured jacket, you can even straighten your arms!!!
 
Last Updated ( Friday, 21 January 2011 00:05 )