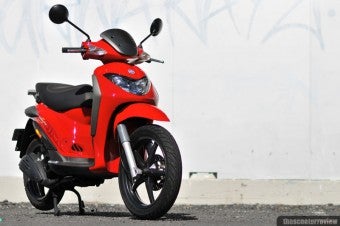 A HUGE man walks out of a tattoo parlor; his fresh and bleeding tribal tattoo encircles one gigantic bicep. He looks tough… very tough. This is precisely what he wants you to think… it is all about image. Although this massive, weight lifting, steroid shooting freak looks like a hard man, he is slow, painfully slow and not in the least bit maneuverable so not the bad-ass brawler that the look would suggest. The tattoos and muscle are there for show he may not even know that the tough guy act is to make people afraid and intimidated, in actual fact to prevent any chance of a brawl happening in the first place. In this search for domination/respect Tattoo boy is trying desperately to win by default… 'I am scary! Do not even try to take me on'
So, why all this talk of tattoos and steroid abuse? Well that is quite simple when you notice that this is the approach Piaggio have taken with the face lift Liberty 200 S. Even though it is a machine who's dimensions appear to be spot on for our more female population, the decoration is as much muscle man as it is track athlete. So why the 'S' tacked on to the name then?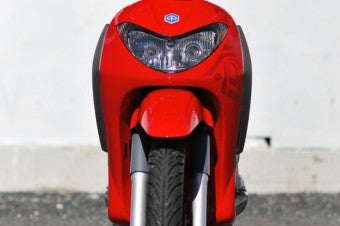 In this instance the "S" stands for "Sport" and this facelift Liberty fails, in my eyes at least, to back up the "Sport" moniker. Well, let me clarify that statement, it looks the part, with its tribal tattoo styled graphics package and racy paint and contrast seat stitching. Handling wise I would happily describe it as… fairly sporty. However, in my (not so?) humble opinion the most important factor in a sport model is the engine… It has to go fast. Now I know this is a scooter, and designed to be a commuting vehicle so I didn't expect the neck-breaking, sonic boom inducing acceleration of a 1000cc super-sport motorcycle. Hell I didn't really even expect the solid pickup of a maxi scooter. I did however expect that the 200cc Liberty "S for sport" would feel quick… well at least noticeably quicker than my long term, bargain basement Suzuki 125cc Address….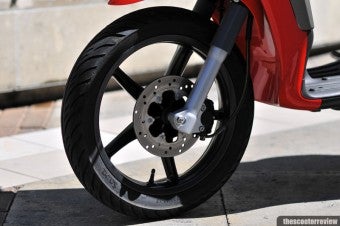 Unfortunately it felt much the same as the Suzuki at least when it comes to acceleration. Our test results confirmed my seat of the pants conclusion that this Piaggio's engine is fairly uninspiring; it felt like there hasn't been any engine development in quite some time. A 200cc engine should make noticeably more power than a 125cc; 12.5hp is just not good enough. The engine feels solid and reliable and quite 'grunty' in that it is not actually slow, it will do 100kph without complaining although it takes a long time to get there, and will put you in front of most cars at the traffic lights. It just isn't very lively or exciting or dare I say it… 'sporty?'
I am not actually dumping on the Liberty even though it may sound that way. In many other respects this is a truly solid vehicle. The large 16" front and 14" rear wheels mean that this bike rides uneven road surfaces with aplomb and combined with good suspension makes for seriously good handling, smooth and comfortable. This doesn't suffer the excessively slow change in direction that many larger wheeled bikes suffer; I can only put this down to the Liberty's relatively skinny tyres.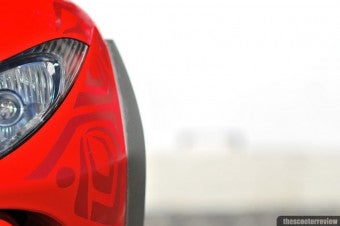 The riding position is very upright and very forward toward the handlebars and the footboard is very narrow. Overall it feels like this machine was designed with a fairly short rider in mind… with all respect and with an unusually un-politically correct remark I would suggest that this particular bike was built with 'the ladies' in mind. This was an opinion that was echoed by pretty much everybody I spoke to that rode it. This is not a bad thing in any way shape or form, just a heads up to the lads, if you are considering buying one take it for a reasonable test ride before you buy and make sure it is comfortable.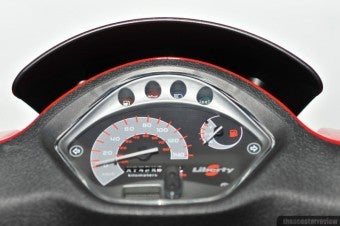 Ease of use is a mixed bag, the Liberty is very easy to move around and is easy to get on and off the centre stand despite its 110kg dry weight. It does not come with a side stand, which is a shame. Storage is, well, to be honest it is fairly terrible. The under seat storage is tiny… I doubt you would fit most open face type helmets in there… I would suggest if you decide to buy the Liberty you would want to budget for an aftermarket top box. There is a small lockable glove box to add a little storage space for small items. The lack of any kind of remote release for the seat struck me as a bit strange, as did the fact that the lock for the seat is on the right hand side which felt odd for some reason. The Liberty has a good dash with multiple displays including a fuel gauge, unfortunately the needle drops fairly quickly due both to the small fuel tank and uninspiring consumption figures.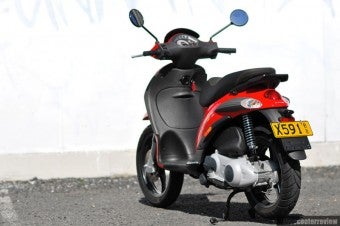 My overall impression of this bike is that it is OK, it doesn't do anything particularly badly or especially well… it just sort of… is, if that makes any sense. The Piaggio Liberty 200s would be easy to live with as your main vehicle for commuting, especially if you are of relatively compact dimensions. It will travel fine on the motorway at 100-110km/hr and handles beautifully. Unfortunately the brakes are just all right and the storage is very, very average, as is the fuel consumption. This machine does look very good and is put together well with beautiful detailing as one would expect from the Piaggio stable. Unfortunately it is just not very interesting to ride, the power from the 200cc engine was just too low. Unless you are doing a lot of Motorway/Highway riding I would be inclined to buy Piaggio's 125cc Fly instead and spend the change on a holiday, or a couple years gas, or some good gear etc, etc, etc.
Price: NZ: $5990, Australia: $4990
0-50km/h
5.1 Seconds
0-80km/h
17.9 Seconds
50-80km/h
10.7 Seconds
Fuel Economy
4.5L/100kms - 52MPG
Speedo Accuracy

50kph displayed = 46kph actual - 80kph displayed = 73 actual

---

Pros:

Handling, big wheels, good stand, well built, looks great

Cons:

Average performance, terrible storage, poor fuel economy, ordinary brakes

---

Handling
Performance
Fuel Consumption
Value for money
Ease of use
Styling
Build quality

---

Overall Score

66%
Manufacturer Specifications
| | |
| --- | --- |
| Max power at shaft | 9.32 Kw (12.5 HP) at 6,750 rpm |
| Max torque | 14.6 Nm at 5,000 rpm |
| Engine Type | Single-cylinder air cooled 2-valve 4-stroke |
| Cylinder Capacity | 197.99 cc |
| Seat height | 805mm |
| Dry weight | 110kg |
| Kerb weight | --- |
| Fuel tank capacity | 6 litres |
| Starting | Electric |
| Transmission | "Twist and Go" Automatic Transmission (CVT) |
| Storage volume | n/a |
| Cooling | Air cooled |
| Bore X stroke | 72 mm x 48.6 mm |
| Compression ratio | --- |
| Chassis | Steel tube with reinforced plates |
| Front suspension | 32 mm telescopic hydraulic fork - 76mm travel |
| Rear suspension | Hydraulic monoshock, 4 position spring preload, 73.5mm travel |
| Front brake | 220 mm disc, calliper with opposed pistons |
| Rear brake | 140mm Drum |
| Front wheel/tyre | Die-cast aluminium alloy, 16"x 2.15" Tubeless 100/80-16" |
| Rear wheel/tyre | Die-cast aluminium alloy 14' x 2.75"/Tubeless 120/70-14" |
| Length | 1930 mm |
| Width | 740 mm |
| Wheelbase | 1325 mm |
| Max speed (km/hr) | 98 kph |
| Type approval | Euro 3 |
| Consumption (ECE applicable text cycle) | (ECE applicable text cycle)28 km/litre |
| Consumption @km/h - km/l | --- |
| Audible Indicator | no |
| Full helmet storage | yes |
| Glove box | yes |
| Fuel Guage | yes |
| Trip Meter | no |
| Seat release (via remote control) | no |
| Seat release (remote, ignition/switch) | no |
| Alarm | no |
Comments
(0)


Subscribe to this comment's feed
Last Updated ( Wednesday, 06 August 2008 15:08 )