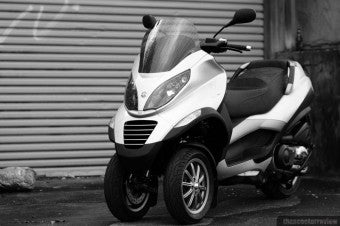 Comparisons between dissimilar items always struck me as an odd concept. In theory comparing apples with oranges is a bit pointless… however what if these different items happen to achieve similar ends? Can you compare them then? I hope so because that is precisely what I am about to do:
What am I comparing? Ferrari's all singing, all dancing "Enzo" supercar and Piaggio's MP3 400ie. Why on earth would I do this… I mean they have nothing in common… or do they? Well on the face of it… NO. The Ferrari is a four wheeled supercar that accelerates from 0 –100 km/h in 3.4 seconds. While being designed as a formula one styled race car for the road it also manages to drain your bank account by somewhere approaching a million dollars. In comparison the MP3 is a 3 wheeled contraption that only manages the 0 – 100 sprint in around 13 seconds and will cost you around a hundredth the price.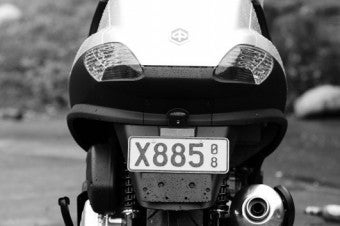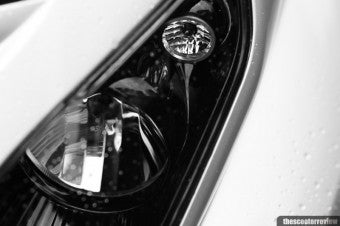 However there are rather a lot of similarities between these two apparently unrelated vehicles. They are both Italian for a start, they both have an engine and they both are somewhat specialized in the way they achieve the aim of going from one place to another. The most important and initially perhaps less obvious way they are similar is the fact that they both have a magnetic personality… or to be more blunt; they get a LOT of attention. And everyone knows that the only reason a man (94% of Ferrari's customers are men) will buy a Ferrari is to get noticed, I could have said get "laid", but that would be impolite … childhood dreams aside, that is their only real purpose. So why spend hundreds of thousands of dollars when for a 100th the price you can attract as much attention as setting yourself aflame and running down the high street, without the pain inconvenience of 3rd degree burns.
I couldn't actually believe it, I couldn't park or even stop without at least a few people meandering over to have a chat… "what is that bloody thing?" "why has it got the training wheels at the front?" "how the hell does it work?" If you like to make friends and influence people just buy an MP3.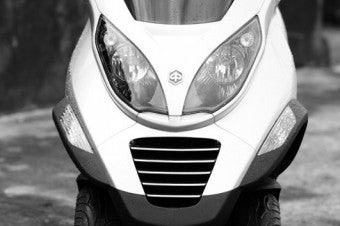 So how is it then? Well very similar to the 250 we tested earlier really. Piaggio have made some refinements to the MP3 by adding a more powerful engine, unfortunately they have also loaded on rather a bit more weight… and I thought the 250cc version was a bit of a tank. You get the usual high Piaggio build quality, along with more acceleration and noticeably better highway performance. The MP3 400 has a larger rear wheel than its 250cc sibling, which improves yet again on the already hugely stable 250. Most of the time I spent with the 400 was in torrential rain and slippery roads and it inspired great confidence…it was forgiving in a way a two-wheeled device would not be. I made the mistake of accelerating way too hard on a very slippery piece of tarmac, the rear wheel spun and stepped to the left however with the very stable front set-up on this bike a small amount of counter steer quickly rectified what could have been a costly error on a conventional bike.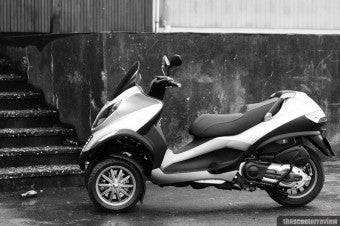 I am not really sure what job the MP3 is best suited for. It would be a gem for regular motorway commuting,especially in high precipitation areas, so long as you didn't have to do too much urban traffic warfare and had a good sized parking area available. Then again if you want to make some new friends the MP3 400ie may just be the perfect machine. One final distinct similarity between these two unusual Italians is that they attract very polar opinion; people either love or loath this futuristic looking alien/bug styled contraption. Unfortunately it would seem that the females seem to be opposed to it as a rule which didn't help me too much… although one wonderful young lady (who I think I will marry) thought it was terribly "cute". Perhaps that is where the Ferrari will work in your favor?
If you would like a more detailed description click here for the MP3 250 review, the bikes are very similar bar the changes noted above.
Price: United Kingdom £5,049.00: USA $8,699.00:, Europe €7,100.00:, NZ $13,990.00
0-50km/h
4.8 Seconds
0-100km/h
13.1 Seconds
50-80km/h
4.8 Seconds
Fuel Economy
5.2L/100kms - 45MPG
Speedo Accuracy

50kph displayed = 45kph actual - 100kph diplayed = 90kph actual

---

Pros:

Very stable, fantastic confidence in the wet, comfortable, excellent stopping, loads of storage space, remote unlocking of storage areas, gets tons of attention, totally unique

Cons:

Heavy, hesitation off the line, gets tons of attention, expensive

---

Handling
Performance
Fuel Consumption
Value for money
Ease of use
Styling
Build quality

---

Overall Score

73%
Manufacturer Specifications
Max power at shaft

34 bhp (25 Kw) at 7,500 rpm

Max torque

37 Nm at 5000 rpm

Engine Type
Single-cylinder, liquid-cooled fuel-injected four-valve 4-stroke
Cylinder Capacity

398.9 cc

Seat height
785mm
Dry weight
---

Kerb weight
244KG
Fuel tank capacity
12 litres
Starting
Electric
Transmission

'Twist and go' automatic CVT, torque server

Storage volume
n/a
Cooling
Water cooled
Bore X stroke
85.8 x 69 mm
Compression ratio

10.5 :1

Chassis
Twin cradle:

T

ubes in high tensile steel
Front suspension

Parallelogram composed of four aluminium arms supporting two steering tubes, cantilevered suspension – Travel: 85 (mm)

Rear Suspension

Two dual effect hydraulic shock absorbers and adjustable spring preload – Travel: 110 (mm)

Front brake

Two stainless steel disks, Ø 240 mm and floating calliper with two pistons, Ø 30 mm

n
Rear brake

Stainless steel disk, Ø 240 mm and calliper with opposite pistons, Ø 30 mm

Front tyre
Tubeless 120/70-12"

51P
Rear tyre
Tubeless 140/70-14"

62P
Length
2180 mm
Width
745 mm
Wheelbase
1550 mm
Max speed (km/hr)
142 km/h
Type approval
Euro3
Consumption (ECE applicable text cycle)

(

ECE applicable text cycle

)

18

km/l
Consumption @km/h - km/l
---
Audible Indicator
no
Full helmet storage
yes
Glove box
no
Fuel Guage
yes
Trip Meter
yes
Seat release (via remote control)
yes
Seat release (remote, ignition/switch)
yes

Alarm
immobiliser
Comments
(1)


Subscribe to this comment's feed
Last Updated ( Wednesday, 06 August 2008 15:11 )