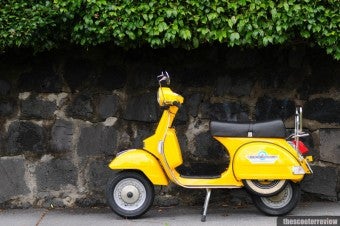 Now before we get into this lets get a few things cleared up. If you're looking for the most economical, most cutting edge hyper super maxi turbo piping hot like a fried jalapeno kind of scooter…then move on. Hit the reviews link again and have a look at the new Ultra Max, Double Max…Rodent Edition 'Goes like a cut weasel' model….I'm sure you'll like it. If however you're the kind of person who thinks a 60s Aston Martin is cool…then read on because you clearly know your style and the Belladonna RV150 could be exactly your bag…baby.
The Belladonna is the New Zealand and Australian branded version of the Indian built Vespa PX called the LML…in the USA it's called the Stella and it's called various other names globally depending on the country. In Uzbekistan its marketed as the Qaraqalpaqstan Xorazm, which when carefully translated form Uzbek to English means "scooter of lumpy pimple" (this may not be entirely true)...anyway far be it to just call it an LML in all markets…that would be way too simple.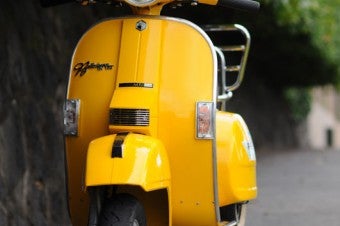 Back in 1984 LML began a technical collaboration agreement with Piaggio of Italy and a scooter project was set up. In 1986, the LML NV was launched. The LML Select followed in 1993; featuring new technology and aesthetics; it became an instant success. LML's joint venture with Piaggio ended in 1999, however LML continued to manufacture the Star; the classically styled steel-bodied scooter with twist-shift 4-speed manual transmission and 150cc two-stroke engine; basically the bike you see before you.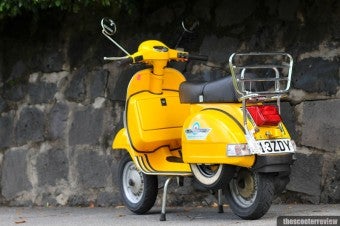 If you've ridden a post 1998 Vespa PX then the Belladonna RV150 will feel like…well a PX, given that they're near identical. The Belladonna does have a few small changes worth mentioning. First off the engine is Euro 3 compliant so will remain legal to sell in most countries for many years to come. The 150cc engine also features a reed valve induction system and five port design in comparison to the Vespa's more conventional rotary induction system. Another subtle difference is…well you can still buy the RV150. Vespa have discontinued the PX200 and are only doing a limited number of 125 PX's before the model is also going the way of the dodo.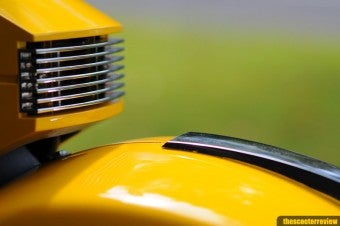 It's awfully difficult reviewing a bike like this as you just can't compare it to a modern scooter; they are very different things. A 1967 Ford Mustang is a very cool car; it was when it came out and it still is. Obviously in comparison to a modern Mustang it is a slow, gas guzzling low tech lump of lard. However…the 67 Mustang is without any doubt light years better looking than the current models. It's almost like most modern designers are suffering some sort of mass brain fade. As soon as they bring pen to paper they come up with same dead boring designs. Worse still, the only answer they have lately is to actually copy older designs…hilarious really. Scooters are exactly the same; the style and downright coolness of the older designs simply hasn't been touched in decades.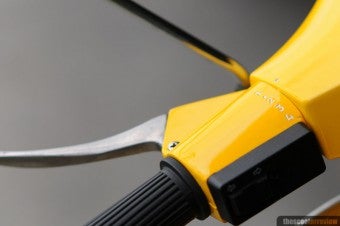 So that's it; that's the reason you by a Belladonna; you like the style. You probably also appreciate the simple design, the lack of complicated electronics and the decades of servicing information; virtually any good scooter mechanic will be able to quickly and easily repair an RV150. The price you pay for all this style is a really just a few sufferings in the ease of use department. The scooter has no under seat storage so you'll be carrying your helmet; up front there is a large glove box that will hold a surprising amount of items so things aren't too bad. Obviously you're also going to have to change gears. This is both a blessing and a curse depending on how you look at it. Sometimes it's just a pain in the ass; other times it's great fun. It really does depend on what you like and how you intend to use the scooter. If you're an inner city courier…this probably isn't your bike. If you're commute involves long trips on B-roads without lots of traffic lights…then the Belladonna would be killer.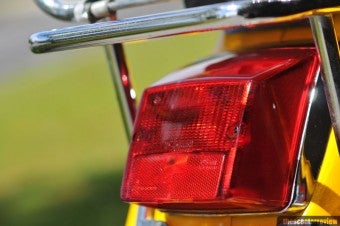 Being an older design you'd immediately expect the Belladonna to be a poor performer; you'd be wrong. The RV150 has slightly shorter gear ratios than the PX so it tends to hold speed up long inclines slightly better, and the 150cc engine makes just enough power to make the bike motorway friendly. Handling wise the Belladonna is a bit of a surprise; the suspension is surprisingly good and the front disc brake is actually quite solid. The brake lever however is somewhat hard to use as it flares out towards the end making it quite a stretch for those with small hands. There's also the tried and true rear drum which you use via the floor mounted pedal. This is a bit foreign for people coming from modern scooters but you quickly adapt. It won't carve up the city streets like a modern super turbo hyper scooter but all in all it's actually a surprisingly solid performer. Things really haven't changed all that much over the years.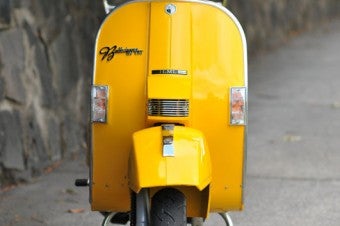 Summing up the Belladonna is complex…it's like someone trying to justify why they bought a Versace shirt over say something from The Gap. They both do the same job; and in many cases The Gap product will actually be superior…however what kind of person are you? Regular; run of the mill sort of person…or are you something a little more unique…something maybe, a bit…cooler. To really nail it home; get this, the Belladonna is actually priced well too; it's a significantly less money than the Vespa equivalent so it's not really rocket science, if retro's your style…the Belladonna RV150 is definitely your bag…baby.
0-50km/h
n/a

0-100km/h
n/a

50-80km/h
n/a
L/100kms
3.2L/100kms - 74MPG


---

Pros:
Classic style, easy to repair, abundant parts supply, manual gears

Cons:
Manual gears, no helmet storage, performance compared to modern bikes

---

Handling

Performance

Fuel Consumption
Value for money
Ease of use
Styling
Build quality

---

Overall Score

62%




Manufacturer Specifications
| | |
| --- | --- |
| Max power at shaft | 8.5hp at 5,500 rpm |
| Max torque | n/a |
| Engine Type | Single cylinder air cooled two stroke |
| Cylinder Capacity | 149.56 cc |
| Seat height | 820 mm |
| Dry weight | 109 kg |
| Kerb weight | n/a |
| Fuel tank capacity | 8 litres |
| Starting | Electric |
| Transmission | 4 Speed constant mesh |
| Storage volume | n/a |
| Cooling | Air cooled |
| Bore X stroke | 57.8 x 57 mm |
| Compression ratio | 9.0:1 |
| Chassis | Pressed steel sheet, monocoque structure |
| Front suspensions | Hydraulic dampers |
| Suspensions | Helical spring, hydraulic damper |
| Front brake | Grimeca disc brake |
| Rear brake | Drum |
| Front tyre | 3.5"x10" |
| Rear tyre | 3.5"x10" |
| Length | 1760 mm |
| Width | 695 mm |
| Wheelbase | 1235 mm |
| Max speed (km/hr) | 100 km/h |
| Type approval | Euro 3 |
| Consumption (ECE applicable text cycle) | n/a |
| Consumption @km/h - km/l | n/a |
| Audible Indicator | yes |
| Full helmet storage | no |
| Glove box | yes |
| Fuel Guage | yes |
| Trip Meter | no |
| Seat release (via remote control) | no |
| Seat release (remote, ignition/switch) | no |
| Alarm | no |
Comments
(2)


Subscribe to this comment's feed
Last Updated ( Thursday, 27 November 2008 15:13 )