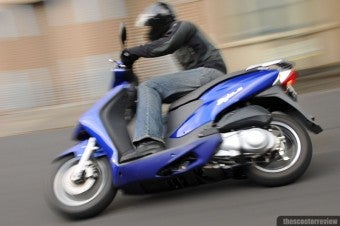 Sparks flying, plastic exploding, the brand new Honda Dylan converts into a high speed crayon drawing a long metallic blue line on the damp tarmac.
This is the vision flashing in my brain as I sign the insurance forms at my local Honda distributor while glancing out the large plate glass window at rain, slick road and kamikaze car drivers intent on demolishing the Dylan like a hungry redneck at 'all you can eat rib night'. Why the panic… well you see the Honda Dylan 150 looks good, a far cry from bikes that I own, my bikes tend to end up on the ground soon after pickup, usually not intentional but I never worry, you see. To me a scooter is a Tool, not a work of art; once it has some scratches on it I cease worrying about the thing and just use it.
This is where we get back to the Honda Dylan 150. It looks good, with it's high tech angles, multifaceted lights and beautiful metallic paint… it looks like a modern maybe even futuristic version of, well, of a scooter.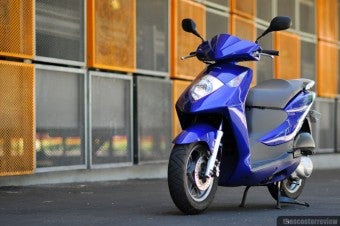 Fortunately looks are not the end of the Honda Dylan tale. After riding this scooter for a few days I concluded that as far as tools go this one is certainly fit for the job, even if it is pretty. Let me give you some background; The Honda Dylan was designed by Honda's European design team and built in Italy to compete with the likes of Vespa, in an age old "if you can't beat 'em, join 'em" scenario. I was genuinely expecting a lot of show and very little go… the opposite was almost true. The Dylan 150 stood up to the rigorous test of suburban commuting very well indeed. The 13 inch alloy wheels initially felt like they turned the bike into some sort of boat, slow to react and hard to throw around. However if you ride it more like a traditional 'motorcycle' i.e. push the bars a bit and use your body weight, the bigger wheel proved a hard act to follow. The Dylan feels upright and stable in all conditions and will lean into a corner and hold fast if your inner racer comes out. More importantly, if your daily commute includes motorway/highway riding this scooter will do the job admirably.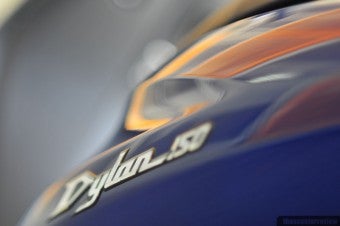 You will note I said suburban rather than urban commuting. Although the Dylan 150 performs admirably in tight traffic and around town with a good turning circle, a slightly lighter/smaller wheeled scooter will do a better job if your commute is limited to inner city use. This scooter does feel quite large, it isn't especially but it feels it. The weight is not excessive although the 9 litre fuel tank brings the running weight up around the 130kg mark. Thank you by the way to Honda for providing a tank that allows me to bypass the occasional fuel station. Anyway, the weight and the big wheels combine to make the Dylan feel heavier than it is.
Now I said that the Form over Function equation that I was expecting was reversed. That is not to say that the Honda Dylan looks bad, quite the contrary; from a distance this machine looks quite stunning. Unfortunately some of the materials used and fit and finish don't stand up quite so well to a closer inspection. It isn't so much that they are bad, it is just that with a little more effort this bike could have been very, very good. A few examples, just in case the Honda design team are reading. Foot pegs; the pillion foot pegs are effective but look and feel cheap when extended. The plastics used inboard could have been higher quality, darker, rubberised perhaps just something that didn't look quite as cheap. The same goes for the seat fabric, dash surround and handlebar grips. Don't get me wrong none of these are especially horrible but when you are competing with the Italians you need to get the details right. In most markets the Dylan is priced very competitively which offsets these minor complaints.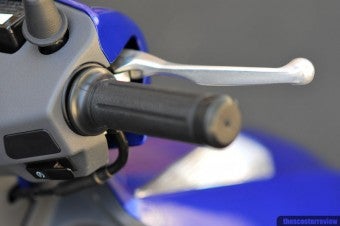 In saying all that, to me at least it is the ride that is the most important factor and this machine rides very well. Power is good, what I would expect (but seldom receive) from a 150cc 4 stroke and the torque is solid. By some miracle the Honda manages all this while returning very good fuel economy. Suspension works well with twin shock rear and hydraulic, telescopic front fork. The front is set up a bit softer than the rear providing a nice comfortable ride over uneven road surfaces.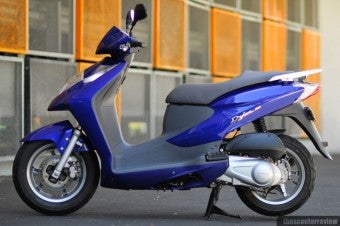 Braking is excellent, the front is strong and overall stopping is surprisingly good, especially considering that a disc has yet to replace the rear drum. Honda have used a combined braking system where the left brake lever controls both front and rear brakes to give balanced braking performance. This combined braking system works well and would be a godsend in an emergency braking situation where you only manage to grab the left lever.
The storage bin under the seat is a good size, swallowing my full-face helmet without any trouble. There is also a lockable miniature glove box in the front panel. The only other small complaints I have is the lack of an audible clicker on the turn signals, a small issue again but one of those things that make the riding experience a bit safer. Also I would have expected a side stand as standard, especially as a smaller person may have a bit of trouble getting this bike on it's centre stand.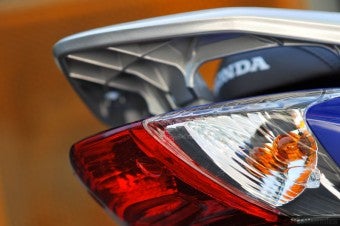 All in all Honda have built an imminently capable commuting machine in the Dylan 150. It is a scooter that is targeted at, and should appeal to a more "grown up" market of professional people. This machine's minor negative points are almost irrelevant, because remember this is a tool, and for a combination of motorway and urban riding a superb tool for the job. I guess the proof of the pudding is in the fact that I really don't want to give the test bike back I have grown very attached to it! Most importantly I avoided turning it into a road crayon or a plate of BBQ ribs.
0-50km/h
5.0 Seconds
0-100km/h
20.2 Seconds
50-80km/h
6.9 Seconds
Fuel Economy

2.8L/100kms - 84MPG
Speedo Accuracy

50kph displayed = 46kph actual

80kph displayed = 76kph actual

100kph displayed = 94kph actual

---

Pros:
Great power, handles very well, inner city and highway capability, looks great, good storage, excellent fuel economy, large fuel tank.
Cons:

Very few really, minor details could be better, weight a bit high.

---

Handling
Performance
Fuel Consumption
Value for money
Ease of use
Styling
Build quality

---

Overall Score

80%
Manufacturer Specifications
| | |
| --- | --- |
| Max power at shaft | 15.55 HP (11.4 kW)) @ 8500 RPM |
| Max torque | 14.20 Nm (10.5 ft.lbs) @ 7000 RPM |
| Engine Type | Single cylinder four stroke |
| Cylinder Capacity | 153.00 ccm (9.34 cubic inches) |
| Seat height | 795 mm (31.3 inches) |
| Dry weight | 120.0 kg (264.6 pounds) |
| Kerb weight | --- |
| Fuel tank capacity | 9 litres (2.38 gallons) |
| Starting | Electric |
| Transmission | CVT "Twist and Go" |
| Storage volume | --- |
| Cooling | Liquid Cooled |
| Bore X stroke | 58.0 x 57.8 mm (2.3 x 2.3 inches) |
| Compression ratio | 11.0:1 |
| Chassis | --- |
| Front suspensions | 33mm hydraulic telescopic fork, 88mm axle travel |
| Suspensions | Dual damper unit swingarm, 75mm axle travel |
| Front brake | 220mm hydraulic disc with dual-piston calliper and sintered metal pads |
| Rear brake | 130mm leading/trailing drum |
| Front tyre | 110/90 56L (tubeless) |
| Rear tyre | 130/70 57L (tubeless) |
| Length | 1,940 mm |
| Width | 700 mm |
| Wheelbase | 1330 mm |
| Max speed (km/hr) | --- |
| Type approval | --- |
| Consumption (ECE applicable text cycle) | --- |
| Consumption @km/h - km/l | --- |
| Audible Indicator | no |
| Full helmet storage | yes |
| Glove box | yes |
| Fuel Guage | yes |
| Trip Meter | yes |
| Seat release (via remote control) | no |
| Seat release (remote, ignition/switch) | yes |
| Alarm | no |
Comments
(5)


Subscribe to this comment's feed
Last Updated ( Wednesday, 06 August 2008 15:34 )