Page 1 of 2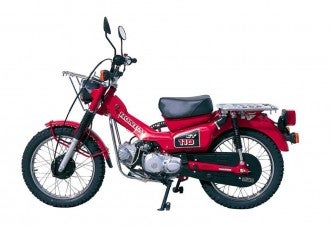 An adventurous team of Honda bike riders will get the green flag on 26 March, as they rev up their Honda CT110 "Postie Bike" engines to complete the challenging 1300km fundraising journey from Cape Reinga to Wellington – the first ever Postie Bike Challenge to take place in New Zealand.

Hoping to raise sponsorship to support Camp Quality NZ and its energetic calendar of fun-filled activity programmes for children battling cancer, organiser Glenn Groves, and his dozen Postie Bike riding companions, will be rallying for donations as they cruise down the west coast of New Zealand, in just six days. The riders will make well-deserved pit-stops en route, to stretch their legs and enjoy the hospitality and support of Honda dealerships throughout the Island, where it is hoped local customers and passers-by will drop in to chat and contribute to the Camp Quality charity kitty.

So If you are nearby one of the North Island Honda dealerships on route drop in, say gidday and drop a donation for this worthy Charity.

Further information on Page 2.