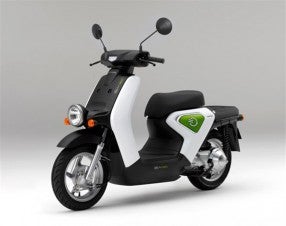 But why?

Honda have been focusing on their clean, green, economical image for a while now and this 50cc equivalent scooter seems to be targeted at the delivery segment of the market with its "load" area behind the seat and whatnot. I am concerned however that the range " Over 30km (at 30km/h on a flat road" (presumably much less at proper speed with a hill and a fatty, or cargo on board) is a bit pointless and with a 4 hour charge time I can't really see it being a feasible option for the local pizza (or beer... their pic not mine...) delivery guy... buy hey maybe things are even more different in Japan than I thought they were... and at this stage the EV-Neo should be released in Japan (only) in December of this year...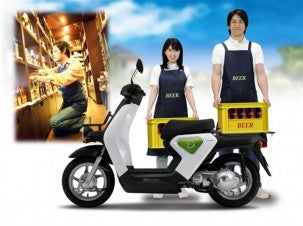 For my money the Econogo "Yogo" SEE HERE makes marginally more sense although it doesn't have the "massive" load bearing area in back...
Full Press Release on Page 2
Honda Plans to Begin Sales of Commercial Use Electric Scooter, EV-neo, in December 2010
//

TOKYO, Japan, April 13, 2010 - Honda Motor Co., Ltd. revealed the latest prototype of the EV-neo electric scooter and announced plans to begin lease sales in Japan in December 2010 to businesses and individual business owners who provide mainly delivery services.
Honda developed the EV-neo, an electric scooter designed to provide the durability necessary for business use, envisioning a wide range of uses by businesses such as delivery services. Equipped with a lithium-ion battery and a brushless motor, EV-neo realizes excellent environmental performance with zero CO2 emissions in use. The battery is rechargeable using a household power source with attention given to the range per charge. Moreover, EV-neo provides performance equivalent to that of mass-market under-50cc gasoline engine motorcycles realizing a powerful ride even with cargo by leveraging the characteristics of a high-torque motor even at a low speed ride.

Under the key words of "quiet and clean" Honda held the world premier exhibition of the EV-neo concept model (under the name EVE-neo) at the 41st Tokyo Motor Show in 2009 as one of Honda's new-generation personal mobility products which will contribute to the realization of a low-carbon society while transporting people and cargo. The mass-market model of EV-neo is currently under development.

Honda will continue providing products with excellent environmental performance to more customers in order to contribute to global CO2 emission reduction efforts.

[ Key specifications of EV-neo Prototype ]
| | |
| --- | --- |
| Dimensions (L×W×H) | 1,820×693×1,066 (mm) |
| Range | Over 30km (at 30km/h on a flat road) per charge |
| Battery type/make | Lithium-ion battery manufactured by Toshiba |
| Charge performance | charged in approximately 4 hours (100V power source) |
 
Comments
(3)


Subscribe to this comment's feed