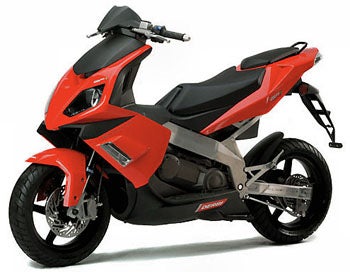 Derbi's began life as a small bicycle workshop in the village of Mollet near Barcelona. It was founded in 1922 by Simón Rabasa i Singla. The focus remained the repair and hire of bicycles until May 1944 when Singla formed a company named Bicicletus Rabas with the aim of manufacturing bicycles.
The venture proved successful and in 1946, supported by its profits, work began on a motorised version. More moped than motorcycle, this first model, the 48cc SRS included plunger rear suspension, and a motorcycle type gas tank and exhaust system. The SRS proved so successful it prompted a change in the company's direction, and on November 7, 1950, the company changed its name to the Nacional Motor SA. Just prior to this, at that summers Barcelona Trade Fair, the company unveiled its first real motorcycle, the Derbi 250.[1]
Unlike contemporary companies, Derbi successfully met the challenges that followed the Spanish transition to democracy and Spain's entry into the European Community. Simeó Rabasa i Signla passed away in 1988 but the company remained independant until 2001, when it was acquired by the Piaggio group.
The name Derbi is an acknowledgement of the companies history and is an acronym for DERivados de BIcicletus (derivatives of bicycles).