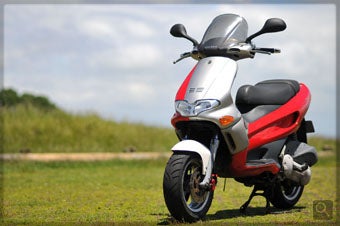 Gilera is an Italian motorcycle manufacturer founded in Arcore in 1909 by Giuseppe Gilera.

In 1935 Gilera acquired rights to the Rondine four-cylinder engine. This formed the basis for Gilera's racing machines for nearly forty years. From the mid-thirties Gilera developed a range of four-stroke machines. The engines ranged from 100 to 500cc. The most famous of which was the 1939 Saturno.

After World War II, Gilera dominated Grand Prix motorcycle racing, winning the 500cc road racing world championship 6 times in 8 years. Facing a downturn in motorcycle sales due to the increase in the popularity of automobiles after the war, Gilera made a gentleman's agreement with the other Italian motorcycle makers to quit Grand Prix racing after the 1957 season as a cost cutting measure.

In 1969 the company was purchased by the Piaggio & Co. SpA

In the 1980s a new single cylinder four stroke engine with dual cam distribution was produced, first in standard 350 and 500 cc versions and then in a 600 cc version. This was a winner twice in its class at the Paris-Dakar rally and overall champion at the Pharaohs rally. Gilera's 125cc novelties included the avant-garde powerful "SP O2" and the "CX 125".

In the 1992 and 1993 seasons it returned to Word Championship status in the 250cc class. Then in 1993 production was transferred to Pontedera and the Gilera brand began to develop sport scooters such as the Runner, an innovative scooter-motorcycle hybrid. In all, nearly 700,000 Gilera branded vehicles have been produced since 1993. Gilera is one of the most forward thinking scooter manufactures and is continually blurring the distinction between motorcycles and scooters. If you're in the market for performance scooter then most likely you'll end up on a Gilera. They're that good.