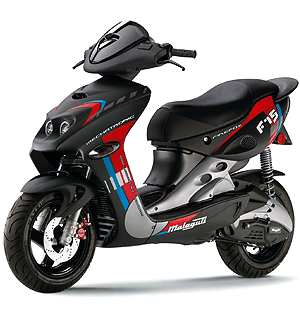 The Malagutti Company started as a simple bicycle shop in 1930 and has grown over the past 75 years or so a large company with two large factories in the Bologna area of Italy, with an annual turnover of over a hundred million Euros.

Until the end of World War II Malagutti had to stop production while Italy was invaded and later on when its owners were hiding in the mountains from the retreating Germans.

In the 1960s and 1970s, Malagutti would benefit from another war -- the Vietnam War where over 70% of its first scooter was exported. The first 50cc Malagutti scooter was called the Saigon 50cc

Malagutti was originally imported into the United States during the OPEC oil embargo. At one point the small factory in Bologna had up to three daily flights sending mopeds to its five different importers. Sales skyrocketed as it sent thousands of mopeds to California and other states to help Americans survive during the months of the embargo.

By the late 1990s only a handful of companies remained who had converted to scooters to take advantage of the scooter boom. The main scooter makers were Beta, Benelli, Italjet, Aprilia, Malagutti, and Piaggio. Malagutti at this time and for much of the late 1990s was ranked as third based on sales and production for Italian owned factories for small displacement scooters
Currently Malagutti is classified as Italy's second largest scooter manufacturer and it is still family owned and operated something of a rarity in the power sports business world and in Italy for this sector. The grandson of the founder, Antonino Malaguti II, now runs the company now that Learco Malagutti has retired.

The Malagutti Moto now extends over 4 factories, just outside Bologna, Italy. Four hundred people are directly employed and a 1999 turnover of 155 million Euros place Malagutti among the best companies in its region.

Today's Malagutti ranges meet the market requirements, as has been confirmed by the expansion of this motorcycle factory. A scrupulous attention to every phrase of constructions, and a continuous quality control on the assembly lines ensure long life, reliability and safety.