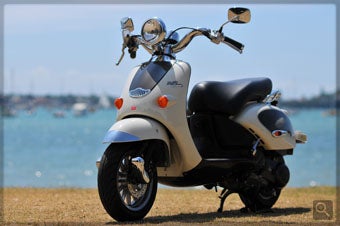 Alberto Beggio founded Aprilia as a bicycle manufacturer in Italy in 1945. In 1968 Alberto's son Ivano took over running of the company and along with a few collaborators built a 50cc motorcycle. The first production Aprilia mopeds stemmed from this machine. The first production Aprilia mopeds were named Colibrì, Daniela and Packi.

Aprilia may have started as a bicycle and moped manufacturer, but has more recently come to be known for its race-winning sports motorbikes. Most recently for its flagship 1000 cc V-twin Super bike, the RSV Mille.

In the 1990s, Aprilia entered the scooter market starting in 1990 with Italy's first all-plastic scooter, the Amico. In 1992, Aprilia introduced the Amico LK. In 1993 Aprilia launched a scooter utilizing large diameter wheels and recycling the Scarabeo name, The new Scarabeo was armed with a four-stroke, four-valve engine. Later Aprilia launched additional scooters such as the Leonardo, the SR and the Gulliver, to name a few. In 2001 Aprilia launched the 50 cc DiTech (Direct Injection Technology) two stroke engine for scooters which provides high mileage and low emissions.

As of 2004, Piaggio & C. SpA acquired Aprilia forming the world's fourth largest motorcycle group with €1.5 billion in sales, an annual production capacity of over 600,000 vehicles, and a presence in 50 countries.