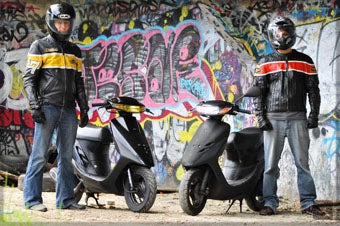 For some people there comes a point in the ownership of any scooter when you simply must go faster. It's like a calling from some deep set genetic code of man…"thou must go faster or suffer forever damnation" at least it's like that for me. Some people probably hear something more like "please don't tune your scooter you cannot handle anymore power, you are a small furry animal, curl up and die" those people leave their scooters standard. Hell even I wouldn't tune my scooter if I became a Gerbil…you never know where you might end up. Imagine if it said that in the warranty card. "Do not tune your scooter; warranty will be voided and you will be a Hamster". You know what…there'd probably be a lot of Hamster's riding very fast scooters. Why tune your scooter?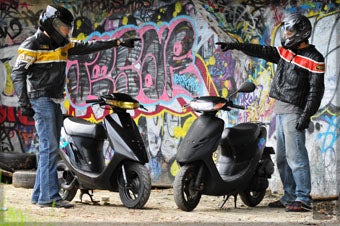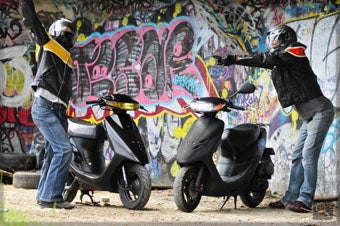 Simple really…your scooter will go faster, handle better, stop quicker and generally look more bling. Case in point, we took two standard 1995 Honda Dio ZX AF-18 50's and set up a mini battle. The goal; make the tuned scooter faster than the standard scooter. See 50cc scooters are great, but really they are massively underpowered to be truly practical in some cities. A subtle power-up is sometimes all you'll need to keep up with faster moving traffic.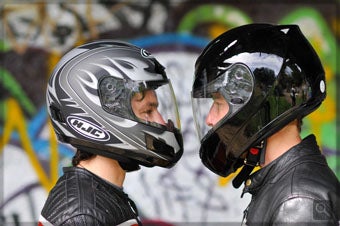 Here's the list of tune ups inc the cost and time to complete them:
21mm PWK racing performance carburetor. Price: NZ$135.00 .5hr

Full intake for Honda, Kymco, SYM, Peugot. Price: NZ$145.00 .5

Honda triple exhaust port big bore kit 72cc. Price: NZ$330.00 1hr

Variator kit for Honda. Price: NZ$124.99 1hr

Performance pod filter 50mm foam Price: NZ$34.99 .5

Sports chamber for Hondas and SYM DD50 NZ$129.00 .1hr

Rear spring/damper unit Price: NZ$116.00 .5hr


Total $NZ 1014.98
5hrs+ fitting
1 hr misc - removing oil unit..etc..
1 to 2hrs tuning
All tuning work can be completed by somebody reasonably proficient in repairs or add approx $400 for labour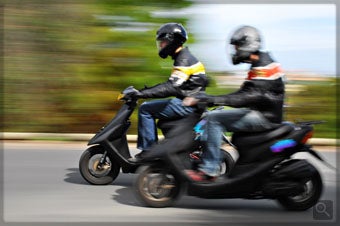 As you can see, apart from the rear shock upgrade this round of modifications were targeting a straight performance increase…and they worked, big time. The standard derestricted Dio hit 50kph (31mph) in 11.4 seconds and went onto a top speed of 62 kph (38mph). Our project Dio hit 50kph in 5.5 seconds and punched out an impressive 95kph (59mph) top speed. It certainly wasn't any kind of race; the photos are a complete have. The tuned Dio simply disappeared down the road never to be seen again. The bike is a total riot to ride now too, it's retains it's ultra low 50cc weight but now has the power of a 125cc four stroke. Wheelies at launch are a given.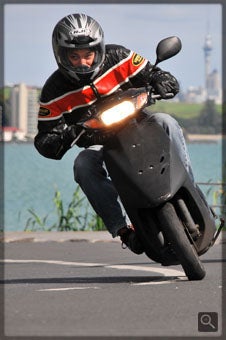 Summing up; tuning your scooter will certainly deliver the results you're looking for. It really comes down to what you like. Total cost of the modifications was $1014 (NZ) or about the purchase price of a used Dio. Now add in the hours spent to get everything fitted and the tune-up working correctly, plus the fact that the Dio is now technically illegal as it's registered as a 50cc machine. Next factor in that you've got to pre mix the fuel and tune the bike more often and the option of simply buying a 125cc bike to begin with seems more and more logical.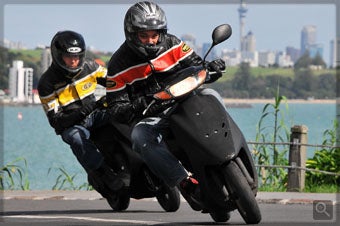 On straight performance the tuned Dio compares quite favorably to a bog standard Suzuki Address 125. The Dio is slightly quicker to 50kph due to its lighter weight but the more powerful Suzuki edges out the Dio with a top speed of 102kph…let's call them about equal. So basically it comes down to what you like. If getting your hands dirty adding new parts is your bag then definitely get tuning as it's a lot of fun; if that all sounds too hard then just plonk a bit extra cash down and buy a bigger cc bike from the get go. Remember this though...all bikes can be tuned. So there's nothing stopping you tuning that 125cc machine as well. Sometimes it just makes sense becoming a Hamster.

We'll attack the braking and handling of the project Dio next and see how it compares in a multiple bike track battle. Stay tuned…

Last Updated ( Tuesday, 08 April 2008 09:38 )