Page 3 of 3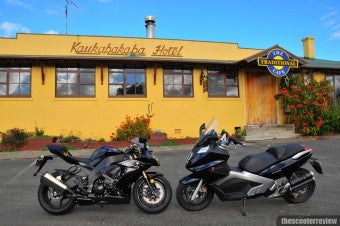 Long distance riding. This barely needs to be said, the GP800 wins hands down in this department. Combine the far more comfortable riding position with much better weather protection and you have a bike which will cover vast distances while keeping the rider in supreme comfort. If you had 500 miles of freeway riding ahead of you there's no way on earth you'd want to be on the 10R. The GP800 is a serious contender for touring motorcycles as it really is very good at the job.

Finally lets have a look at ease of use. Both bikes are a pain to move around. The Gilera is vastly overweight so has to be carefully moved around at low speed. It does however have a much smaller turning circle so is slightly better than the 10R overall. The Kawasaki's high seat and horrible steering lock make it a real pain to move around at low speed. Expect to do significantly better fuel consumption on the GP800 too. The 10R struggles to do 40MPG when ridden gently. When ridden in anger the 10R's fuel consumption turns really ugly, expect to do approximately 25MPG or about 100 miles per tank full. It's worse than most modern cars and very annoying if you're traveling long distance. Finally the GP800 will cost you about 3-4K less to purchase and will be less to insure. So ease of use wise it's another win to the GP800.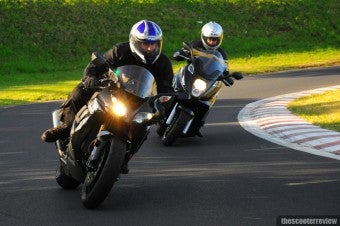 So which is better? As much as I didn't want to write these words it's the only sensible answer. There is no winner. Both bikes excel at different things. Obviously based on ease of use and sensible decision making the Gilera is the hands down winner. However, if it's about ultimate handling and sheer excitement the Kawasaki is light years ahead. The really interesting bit is this…imagine the future. The GP800 is the first superscooter ever made and it's already giving lesser motorcycles a run for their money, very soon we're going to see an entirely new market segment. Picture this, a genuine 1000cc superbike engine mated to a high performance CVT transmission. Combine this with aggressive weight reduction and things will be very different. You're talking about a 190hp, 170kg fully automatic superscooter. Probably the fastest accelerating two wheeled vehicle on earth…and it's coming sooner than later. You heard it here first.
Comments
(14)


Subscribe to this comment's feed