General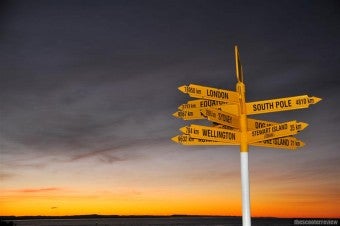 Now it may seem just a wee bit odd that a small island hanging off the southern tip of New Zealand, yes that's correct... the Southern end... the end making a desperate lunge for Antarctica, would be a strange location for a scooter destination. If I told you there were a grand total (total, every side street and dirt road included) of 26km (about 16 miles) of road it would probably seem stranger still. Well these facts are indeed accurate, yet this place provided some of the most fun scootering I have enjoyed in ages.
Last Updated ( Thursday, 03 September 2009 01:38 )
Welcome to the first in a series of rambling stories about scooter cities of the globe. Today we look at Madrid, the capital of Spain. A city of approximately 3 million scooter mad Spaniards, both new and imported.  Our intrepid travel photographer Peter Sterling recently stumbled into Madrid and began snapping pictures. No matter where he pointed his lens it was filled with every size, shape and color of scooter. Ancient Vespas and Lambrettas, modified late model Japanese machines, modern sports scooters from the likes of Gilera and Aprilia right down to rusted, unidentifiable hulks left to return to nature.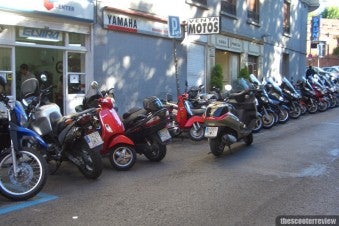 Last Updated ( Friday, 04 July 2008 12:04 )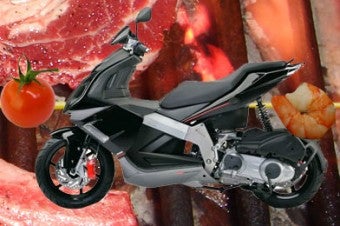 Everyone has a different idea of what the perfect scooter would be. Mine as you can well imagine involves power, speed, cutting edge looks and vast amounts of ludicrously overpriced carbon fiber kevlar composite super turbo techno de spanglerators (they're not out yet, but just you wait, you'll want them). Seriously though, I do have a very good idea of what the perfect performance scooter would be for people like me and if a smart manufacturer was to make it….they would sell millions. Here it is…
Last Updated ( Sunday, 29 June 2008 14:41 )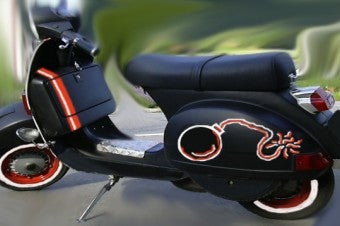 A colleague of mine posed this question today… "If a manufacturer came to you and told you they were going to build your ideal scooter, what would it be?" well to give you a hint he is the guy who's perfect scooter was named something along the lines of the "greased mongoose chasing a cobra up an oily pole while screaming I am a golden god and you cannot catch me ever" which struck me as kind of a long name… oh well each to their own.

Last Updated ( Sunday, 29 June 2008 14:40 )