Page 1 of 3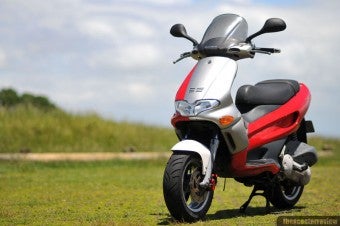 Back in the day two strokes were the only way to go if you wanted a quick scooter and the Gilera Runner 180 SP was the king of the hill, the big enchilada, the scooter other scooters were afraid of. Riding around on the Runner sent other regular scooters scurrying off like frightened rabbits. Run wee rabbit…run.
Summing up the Gilera is a relativity amusing process because it doesn't really make much sense on paper. Its hybrid scooter/motorbike design makes it look a bit weird, not ugly…just a bit weird. You certainly get to like it but it takes a little while. It's definitely not economical to run compared to most modern four strokes and it's not the most reliable of scooters, oh and doesn't really handle all that well either.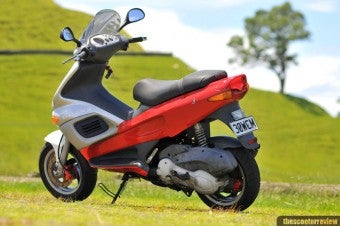 However…IT DOES GO FAST and as any real man or woman knows, that's all that really matters. Well at least to idiots like me…and there's plenty like me. People like me disregard all practical considerations in the desperate pursuit of more and more power. Funnily enough it comes to a whopping total of 21 horsepower which is a lot in scooter land but…well pretty crap in any other terms. However, this is scooter land and 21 horsepower is KING. While other scooters are struggling up a hill or drifting away from the traffic lights the 180SP is bending time itself and warping it's rider into a another space time dimension. Well…not really, actually that never happens…not once. Why did I even write it? Let's just ignore it and move on, pretend it never happened. The simple fact is that the Gilera Runner 180 SP was one of the fastest conventional sized scooters available and still is: which is why it continues to be so popular.
Last Updated ( Thursday, 27 November 2008 15:36 )