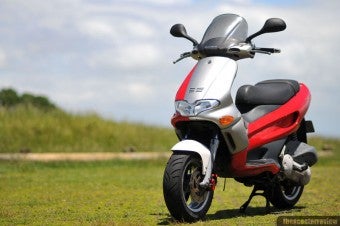 Back in the day two strokes were the only way to go if you wanted a quick scooter and the Gilera Runner 180 SP was the king of the hill, the big enchilada, the scooter other scooters were afraid of. Riding around on the Runner sent other regular scooters scurrying off like frightened rabbits. Run wee rabbit…run.
Summing up the Gilera is a relativity amusing process because it doesn't really make much sense on paper. Its hybrid scooter/motorbike design makes it look a bit weird, not ugly…just a bit weird. You certainly get to like it but it takes a little while. It's definitely not economical to run compared to most modern four strokes and it's not the most reliable of scooters, oh and doesn't really handle all that well either.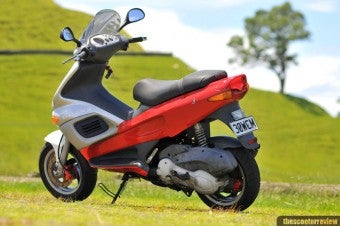 However…IT DOES GO FAST and as any real man or woman knows, that's all that really matters. Well at least to idiots like me…and there's plenty like me. People like me disregard all practical considerations in the desperate pursuit of more and more power. Funnily enough it comes to a whopping total of 21 horsepower which is a lot in scooter land but…well pretty crap in any other terms. However, this is scooter land and 21 horsepower is KING. While other scooters are struggling up a hill or drifting away from the traffic lights the 180SP is bending time itself and warping it's rider into a another space time dimension. Well…not really, actually that never happens…not once. Why did I even write it? Let's just ignore it and move on, pretend it never happened. The simple fact is that the Gilera Runner 180 SP was one of the fastest conventional sized scooters available and still is: which is why it continues to be so popular.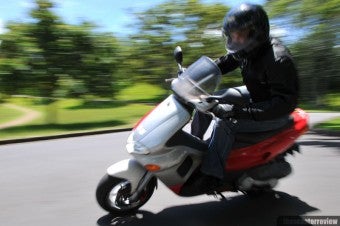 This is what to expect from owing a Gilera 180 SP. It will most likely spend a fair amount of time at your local Scooter shop in various states of disassembly. If you have a back up scooter this will not be too painful, however if you don't, you may want to kill yourself as it can become somewhat frequent. Now don't get me wrong, some owners who ride slowly and carefully (pointless if you own this scooter) will probably have just a few small problems. However, if it is ridden in anger as it should be, it will break…a lot. The best advice I can give is simple, make sure this is not your only transport option as they are quite old now and really suited as a second project scooter for fun. They are a bit like the AH-64 Apache helicopter which often needs two donors to maintain one operational unit.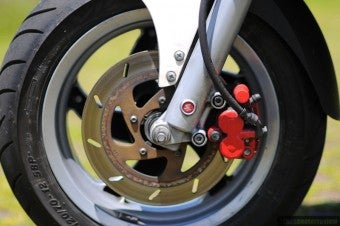 What will break? Here's a few problem areas. Transmissions will break a lot as they really aren't built to handle the power, the small sub fuel tank is known to crack and sometimes cause fires and like some older Italian models the electrics can be somewhat erratic. You may also have a problem with the front headlight mounting brackets as they are prone to cracking. On a positive note the brakes are some of the best examples on any scooter and are both strong and reliable. In fact the Gilera Runner 180 feels like it stops faster than any motorbike I've ever ridden, this is something we'll test in the future. The suspension is also top notch with modern upside down forks up front on later models. The Runner is also generally well put together and its build quality is somewhat higher than most scooters. The overall impression when riding is one of strength because of the unique frame design giving the scooter more torsional rigidity.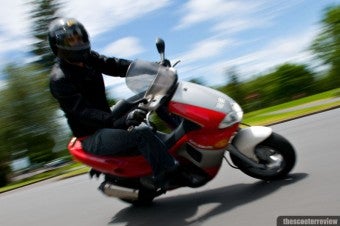 Fuel consumption is actually not as bad as one would imagine. Sensible riding will normally return approximately 6L/100kms or about 40MPG which is still around twice as good as the average car in normal city driving. A modern four stroke scooter will do better, but certainly won't do it as quickly. Runner 180 owners are the Ferrari drivers of the scooter world. Hate us if you like but you certainly won't catch us….run little rabbit.
Testing was carried out on 2003 model with 24,000 kms on the clock.
Price
---

0-50km/h

0-100

4.9 Seconds

12.5 Seconds

50-80km/h

Lap Time

4.8 Seconds

---

Fuel Economy
5.9L/100kms - 40MPG
Speedo Accuracy

50kph displayed = 43kph actual

---

Pros:

Fast, Comfortable, Awesome dual disk brakes, Unique styling,

incredibly easy to wheelie

Cons:

Thirsty, Some reliability issues, Parts becoming harder to source,

Tidy examples getting hard to find.

---

Handling
Performance
Fuel Consumption
Parts Availability

Tuning Potential
Styling
Build quality

---

Overall Score

67%
Manufacturer Specifications
| | |
| --- | --- |
| Max power at shaft | 15kw (21hp) @8000 Rpm |
| Max torque | [email protected] |
| Engine Type | Single cylinder 2 Stroke |
| Cylinder Capacity | 175.8cc |
| Seat height | 815mm |
| Dry weight | 107kg |
| Kerb weight | 116kg |
| Fuel tank capacity | 12litres |
| Starting | Electric and Kickstart |
| Transmission | CVT |
| Storage volume | --- |
| Cooling | Liquid |
| Bore X stroke | 65.6x52mm |
| Compression ratio | 9.8:1 |
| Chassis | --- |
| Front suspension | Telescopic fork with 30mm upside down shafts 73mm stroke |
| Rear suspension | Single arm with hydraulic double effect damper and adjustable Helical spring. |
| Front brake | Disc, twin piston |
| Rear brake | --- |
| Front wheel/tyre | 120/70 x 12" |
| Rear wheel/tyre | 130/60 x 13" |
| Length | 1780mm |
| Width | 720mm |
| Wheelbase | 1303mm |
| Max speed (km/hr) | --- |
| Type approval | --- |
| Consumption (ECE applicable text cycle) | --- |
| Consumption @km/h - km/l | --- |
| Audible Indicator | No |
| Full helmet storage | Yes |
| Glove box | No |
| Fuel Guage | Yes |
| Trip Meter | No |
| Seat release (via remote control) | No |
| Seat release (remote, ignition/switch) | No |
| Alarm | No |
Comments
(3)


Subscribe to this comment's feed
Last Updated ( Thursday, 27 November 2008 15:36 )