Page 1 of 3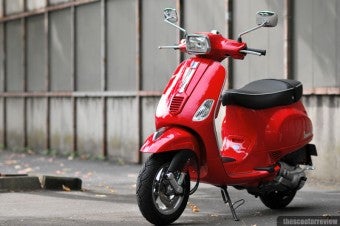 Imagine this…it's a beautiful sunny day and you cruise briskly by the seaside. Small puffy clouds hang motionless above the beautiful azure sea and the sun glistens off the tranquil water. As you gently weave around the coast your speed sends a rush of cool fresh air over your entire body. This is living. You're riding the new Vespa S 125 and its stunning red paint glistens in the sun light. People turn their heads and smile as you pass by, they wave and cheer at your sheer amazingness.
Some people begin to run into the street and yell in unbridled joy; it's almost like you're Valentino Rossi after a win in his home grand prix. Everybody loves you. Women begin to rip their clothes off and run naked after you. If you're blessed to be a women, then its glistening Spartan warriors in all their naked splendor that pursue you. You are a golden god. You ride more swiftly now as you turn inland and begin to climb a gigantic mountain. As you pass through the clouds and approach the summit God himself waits for you at the summit. Gently you park your mighty steed as God walks/floats towards you. God looks at you and then takes in the surrounding foothills. Millions of people surround the mountain; they stretch as far as the eye can see in every direction. God turns to you and the masses of people are suddenley hushed in expectancy. God says "Can I ride it?"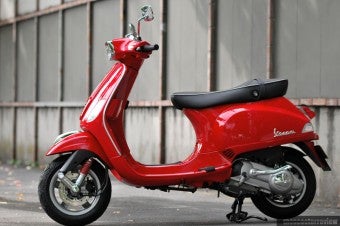 This is about sums up the Vespa S press release, or at least it's my take on it. They stop short of saying the new Vespa will offer you eternal life but everything else is verbatim. When I first heard about the Vespa S, I must admit I was a tad excited as I initially thought it was a complete re design. Unfortunately that wasn't the case as the Vespa S is really more of re styled Vespa LX to target different buyers than a completely new bike. The slimmer design with many styling cues from Vespa's popular 1960-70s Vespa S and Vespa Primavera is hoping to retain the "unbroken link between Vespa and the younger generation". Really it says that in the press release. Who writes these things? More importantly who actually believes this stuff? Here's a question; if the Vespa S is targeted at the younger generation why is it styled after bikes built before this younger generation were even born? Seems to me they should be targeting the mid lifers who want to re live their miss spent youth.
Last Updated ( Wednesday, 18 February 2009 21:14 )