Page 3 of 3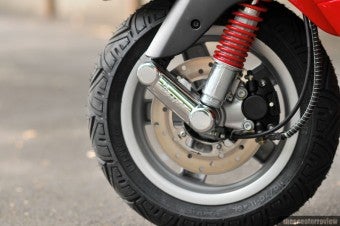 Apart from the two stroke PX and the GTS 250 I've never really been a fan of Piaggio's scooter engines. It seems they're so hell bent on achieving low emissions and good fuel economy they engineer any fun out of the engines. The 125cc motor in the Vespa S seems to have just a little more character than normal. It only makes 7.6 Kw (10.3 hp) which is a bit weak considering some 125s make upwards of 15hp nowadays, however it seems to function better than it's specifications read. Vespa clearly got the transmission take up and torque curve lined up near perfectly as the S accelerates quicker in real life than it should on paper. The initial take off is a little slow but as the engine hits its stride there's a solid burst of speed to about 80kph (50mph). We got 6.7 seconds to 50kph (31mph) and 50-80kph (31-50mph) in 10.8 which are solid numbers for a 125cc machine. Combine this with the rather cool sound the scooter makes and the Vespa S is great fun around town. The bike also works quite well on the freeway at reasonable speeds. Top speed is somewhere in the region of 100kph (62mph) so just enough to cruise in the middle lane.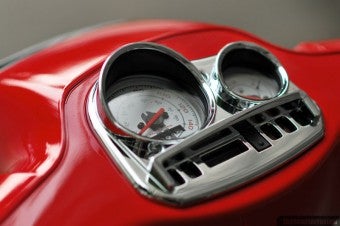 Ease of use is pretty solid with the Vespa S as well. The under seat storage will just take a small full face helmet; which is an improvement over most Vespa's. There are also twin open storage areas up front and a bag hook for the extra groceries. Some early owners are already complaining that the front storage pockets should be lockable and I'd have to agree with them, it's much more useful if you can actually leave valuables locked in the storage areas. Of special note is the vastly improved center stand, its superior design makes it almost too easy to get on and off the stand. It's probably the best I've used to date and means smaller riders will have no problem using the center stand. Considering the bike weighs a reasonably heavy 110kg it's a solid achievement.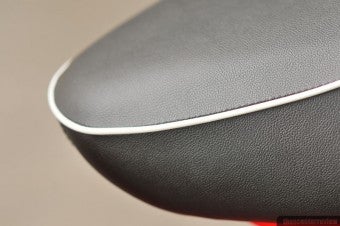 I do have one serious gripe though. When on earth are Vespa going to add a remote seat release? Come on get with the program already. Pulling the key out of the ignition every time you want to open the seat is a complete joke. It's the year 2008, just add a remote release for the seat on the key fob and ignition. It's a very simple stuff; $1500 50cc scooters have it crying out loud. Given that Vespa's are becoming more and more overpriced you'd think the extra money would buy you some modern conveniences.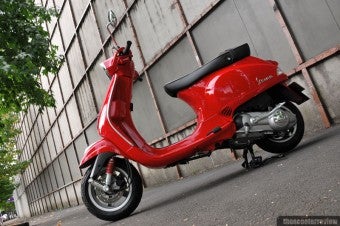 Summing up the Vespa S 125. If you ignore the high entry price the Vespa S 125 is definitely one of the best 125cc scooters on the market, simple as that. If you factor in the price (Which you have to, as you've got to shell out the money at some point) it's still a good buy as Vespa's really do hold their value, although I really do think Vespa or the importers in some countries need to sharpen their pricing pencils as in some markets the current Vespa pricing is getting a tad ridiculous. (Australia and NZ being the best example) The Vespa S 125 is nearly twice the price of some high quality 125cc bikes. It's a fantastic bike but it's not twice as good as any modern bike from a quality manufacture. That's a fact. However…if money isn't a concern then I wholeheartedly recommend the Vespa. I simply enjoyed riding it and it preformed faultlessly. If Vespa added a few modern conveniences and sharpened the pricing they'd definitely have a total home run. If you're in the market for a 125cc scooter you simply have to book in a test ride of Vespa S 125 regardless of what you want to spend, it's that good.
Price
AUS $5990 USA $4099 NZ $6490 UK £2,649
0-50km/h
6.7 Seconds
50-80km/h
10.8 Seconds
Fuel Economy
3.2L/100kms - 74 MPG
Speedo Accuracy

50kph displayed = 45kph actual - 80kph displayed = 74 actual

---

Pros:

Awesome styling, fantastic build quality, great features.

Cons:
Needs more power...

---

Handling
Performance
Fuel Consumption
Value for money
Ease of use
Styling
Build quality

---

Overall Score

76%
Manufacturer Specifications
| | |
| --- | --- |
| Max power at shaft | 7.6 Kw (10.3 hp) at 8,000 rpm |
| Max torque | 9.6 Nm at 6,000 rpm |
| Engine Type | Single-cylinder air cooled 4-stroke |
| Cylinder Capacity | 124 cc |
| Seat height | 785mm |
| Dry weight | 110kg |
| Kerb weight | --- |
| Fuel tank capacity | 8.6 litres |
| Starting | Electric |
| Transmission | "Twist and Go" Automatic Transmission (CVT) |
| Storage volume | n/a |
| Cooling | Air cooled |
| Bore X stroke | 57 mm x 48.6 mm |
| Compression ratio | --- |
| Chassis | Sheet steel with welded reinforcements |
| Front suspension | Single arm with coil spring and dual effect single shock |
| Rear suspension | Coil spring with adjustable preload and dual effect hydraulic single shock |
| Front brake | 200 mm hydraulic steel disk |
| Rear brake | 110 mm mechanical drum |
| Front wheel/tyre | Die-cast aluminium alloy 2.50x11" Tubeless 110/70-11" |
| Rear wheel/tyre | Die-cast aluminium alloy 3.10x10" Tubeless 120/70-10" |
| Length | 1800 mm |
| Width | 740 mm |
| Wheelbase | 1280 mm |
| Max speed (km/hr) | 95kph |
| Type approval | Euro3 |
| Consumption (ECE applicable text cycle) | --- |
| Consumption @km/h - km/l | --- |
| Audible Indicator | no |
| Full helmet storage | yes (small size only) |
| Glove box | yes |
| Fuel Guage | yes |
| Trip Meter | no |
| Seat release (via remote control) | no |
| Seat release (remote, ignition/switch) | no |
| Alarm | no |
Comments
(11)


Subscribe to this comment's feed
Last Updated ( Wednesday, 18 February 2009 21:14 )