Page 1 of 4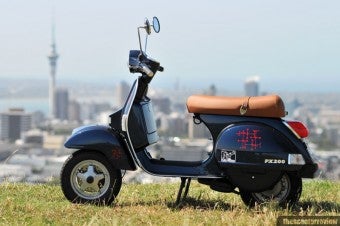 1979; Disco fever, Apocalypse Now, 3 Mile Island, The Deer Hunter and of course the release of the iconic Vespa PX series of scooters. This series of Vespa scooters are the pinnacle of perfection to many die-hard Vespa enthusiasts out there… the very altar to which they pray.
Before I meander too deep into this retro inspired rant I must point out that although the PX came out in 1979, the one I had the job of testing was a 2007 model.
What is my point? Well, I'm not entirely sure, however when it came time to review such an iconic machine I had a bit of a hard time with how to proceed. You see this is a scooter that epitomises "scootering" when any regular person envisions a scooter; this is the machine they see. In it's various guises it has sold over two million units! Why so difficult to review then? I will tell you. If I were to write a review about an unknown scooter, new to the market that had a MANUAL transmission, you would laugh. What is the advantage of a scooter with a manual gearbox in place of the simple, convenient CVT and with virtually no storage space? Simple, there is no advantage.
However I am not writing about a new unknown brand, I am talking about an Icon, the originator of what we recognize as a scooter, if I had been writing about a 1970's model I would have been able to say that it was revolutionary, and it was. This was motorised transport for the masses, cheap to buy, cheap to run, and a hugely fun device to get around on. However time has progressed and the Vespa PX 200 is a bit harder to heap praise upon after riding such gems as the 250 GTS from that same Vespa stable. So this is a new version of an old bike, not a reworked, modified, modernised version but actually a new, old bike if that makes any sense.
Last Updated ( Wednesday, 18 February 2009 21:40 )