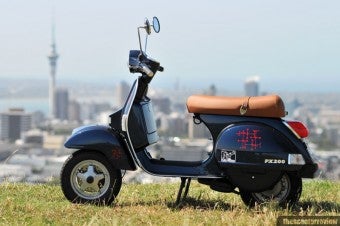 1979; Disco fever, Apocalypse Now, 3 Mile Island, The Deer Hunter and of course the release of the iconic Vespa PX series of scooters. This series of Vespa scooters are the pinnacle of perfection to many die-hard Vespa enthusiasts out there… the very altar to which they pray.
Before I meander too deep into this retro inspired rant I must point out that although the PX came out in 1979, the one I had the job of testing was a 2007 model.
What is my point? Well, I'm not entirely sure, however when it came time to review such an iconic machine I had a bit of a hard time with how to proceed. You see this is a scooter that epitomises "scootering" when any regular person envisions a scooter; this is the machine they see. In it's various guises it has sold over two million units! Why so difficult to review then? I will tell you. If I were to write a review about an unknown scooter, new to the market that had a MANUAL transmission, you would laugh. What is the advantage of a scooter with a manual gearbox in place of the simple, convenient CVT and with virtually no storage space? Simple, there is no advantage.
However I am not writing about a new unknown brand, I am talking about an Icon, the originator of what we recognize as a scooter, if I had been writing about a 1970's model I would have been able to say that it was revolutionary, and it was. This was motorised transport for the masses, cheap to buy, cheap to run, and a hugely fun device to get around on. However time has progressed and the Vespa PX 200 is a bit harder to heap praise upon after riding such gems as the 250 GTS from that same Vespa stable. So this is a new version of an old bike, not a reworked, modified, modernised version but actually a new, old bike if that makes any sense.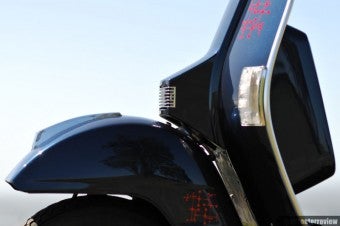 This is where the problems arise; there is no question that this is a beautiful machine, a classic design. To give an example slightly removed from the topic at hand the 1960's Porsche speedster is a classic, it is still beautiful today, however if Porsche made one now using original style components you could not compare it with a modern vehicle. Imagine that you have just driven the brand new, all singing all dancing Porsche GT, it becomes obvious that the beautiful 60's Speedster is old news, it still looks great but it is old, isn't particularly nice to drive, doesn't handle all that well, doesn't make much useable power and in comparison to it's modern equivalent it just doesn't do the job very well.
So back to the topic at hand…what is the job of a scooter? To me that job is to get me around the place conveniently and quickly, most Vespa's do that job admirably, they, more than just about any other brand, manage to get the job done while looking absolutely stylish. The problem with the PX is that it takes away the "convenience factor" of a scooter. To use the car analogy again you would not drive a vintage car with a crank start or a steam engine after driving a modern motorcar. So going from a zippy little auto scooter to this bike messed with my head a bit, ok maybe more than a bit… what is the advantage of a manual over a CVT… If you want to change gears and have that vintage feel, would you not buy an actual classic to tinker with? Don't get me wrong here, personally, I am a huge fan of unusual, old, or just plain unique motor vehicles, unfortunately classic, vintage style technology is not necessarily suitable as every day transport, when considering this bike you have to be very certain what you want in a scooter, this is very much an emotional rather than logical purchasing decision. That doesn't mean it would be illogical to buy this particular Vespa, it just means you need to think very hard about what job you want it to do.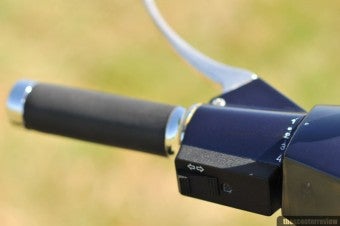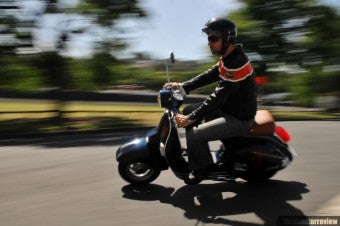 Ok so what does this bike do well? Quite a lot actually, it makes useful power and is comfortable to ride. It will overtake easily enough and has no problem going up hills. The handling is admirable although it could use a set of better tyres than the ones fitted to the test bike I rode. It also manages to stop fairly well with its disc front and drum rear. I must make comment that a bike of this price, retro styling aside should have discs front and rear. There are a few advances over the original version of this machine, the 2 stroke engine now pre mixes the oil using separate oil reservoir and there is a somewhat quirky but still functional electric start to compliment it's kick lever. The dash is easy to read and gives some useful warning lights and a fuel gauge. The detuned and air-cooled 200cc two-stroke engine sounds incredible and will chug along just about indefinitely. There are PX's out there with well over 100,000kms on the clock still getting around just nicely thank you.
The lockable front glove box is quite large and very useful. The indicator switching system could do with an upgrade, it works ok, but with a bit of refinement, like fitting a slider rather than an actual press down switch it would be much better. The Vespa PX200 definitely manages to look pretty damn cool; whether it is cooler than newer interpretations of this particular style is a matter of personal taste.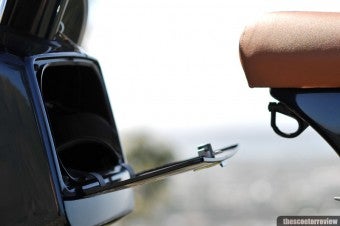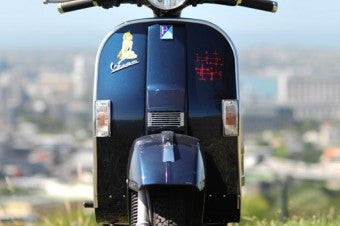 In short, if you are a fan of retro styled scooters and you want to own a genuine piece of history, that will serve you well and reliably for many many years but don't want to get your hands greasy with the restoration and repair that normally goes with owning a 20 year old machine of any type then the a newer Vespa PX200 is the bike for you.
It does the job it was designed for back in the '70s and does that job admirably. In light of the last 25 years of technology however there are many bikes that do that same job, and they do it better. If you want a tool, purely for transport and convenience, this is probably not the one to get.
However if you are looking for something with that genuine vintage feel and don't mind a slightly temperamental gearbox, manual choke and fuel tap then rush to your local Vespa stockist before it is too late… the Iconic Vespa PX200 with it's beautiful sounding 200cc two stroke engine, 4 speed twist grip gearshift and side mounted spare wheel has finally seen the end of it's marathon run. With problems meeting Euro3 emission standards this old girl has finally been discontinued. Whether you love or hate this particular machine you have to give it credit, 28 years is a pretty good run for a vehicle that remains virtually unchanged from the first day it rolled of the production line. A vehicle that just as a side note is the only scooter ever to have completed the arduous Paris Dakar Rally.
Please Note: Don't be offended by the rankings given on this bike. We understand the love affair with this style of bike, unfortunately we don't have a separate rating system for older bikes so the ratings are in comparison to a more modern machine hence the low scores for the likes of "ease of use" etc.
0-50km/h
6.5 Seconds
0-80km/h
14.7 Seconds
50-80km/h
9.2 Seconds
Fuel Economy
3.8L/100kms - 62MPG
Speedo Accuracy

50kph displayed = 43kph actual - 100kph displayed = 91 actual

---

Pros:

Classic styling, good engine, great sound, own a classic without having to get greasy fingernails, beautiful detailing,loads if parts available

Cons:
Old Technology, manual transmission, not much storage space, average fuel consumption, not especially practical as daily commuter

---

Handling
Performance
Fuel Consumption
Value for Money

Ease of Use

Styling
Build quality

---

Overall Score

64%
Manufacturer Specifications
| | |
| --- | --- |
| Max power at shaft | 11 HP @ 6250RPM |
| Max torque | --- |
| Engine Type | Single cylinder 2-stroke |
| Cylinder Capacity | 198CC |
| Seat height | 810mm |
| Dry weight | 97kg |
| Kerb weight | 108 |
| Fuel tank capacity | 8 litres |
| Starting | Electric & Kick start |
| Transmission | Four speed manual. Handlebar mounted clutch and shift mechanism |
| Storage volume | --- |
| Cooling | Forced Air Cooled |
| Bore X stroke | 57 x 66.5mm |
| Compression ratio | --- |
| Chassis | Load-bearing steel chassis with welded structural supports |
| Front suspension | Single-arm with dualacting hydraulic shock absorber and co-axial spring |
| Rear suspension | Helical spring with adjustable 4-position pre-load and dual effect hydraulic single shock absorber |
| Front brake | 200 mm ø steel disc with hydraulic twin piston calliper |
| Rear brake | 150 mm mechcanical drum |
| Front wheel/tyre | Tubed 3.50 - 10" on Steel rims |
| Rear wheel/tyre | Tubed 3.50 - 10" on Steel rims |
| Length | 1810 mm |
| Width | 740 mm |
| Wheelbase | 1260 mm |
| Max speed (km/hr) | 100 km/h |
| Type approval | Euro2 |
| Consumption (ECE applicable text cycle) | --- |
| Consumption @km/h - km/l | --- |
| Audible Indicator | no |
| Full helmet storage | no |
| Glove box | yes |
| Fuel Guage | yes |
| Trip Meter | no |
| Seat release (via remote control) | no |
| Seat release (remote, ignition/switch) | no |
| Alarm | no |
Comments
(0)


Subscribe to this comment's feed
Last Updated ( Wednesday, 18 February 2009 21:40 )