Page 1 of 3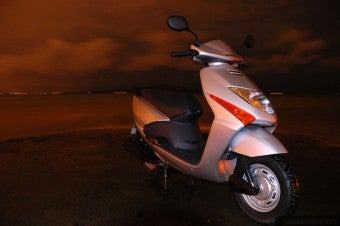 Things are going to get a bit whack…you'll need to hold on to your hats as there's a lot of stuff about to happen in this review and virtually none of it has much to do with any kind of reality. Call it blow out…it happens about once every ten reviews, I simply fruit out. The last time I ended up in Suzuki's head office tied to a vibrating chair shaped like a Burgman…that however is another story for another day.
My name is Lead, I am a scooter I'm small silver and pretty average looking. Most people don't notice me as I tend to just blend in. I'd make a fantastic getaway vehicle; you could rob a bank in front of 1,800,000 very attentive people and when questioned later the best the police would get was "well it was like, you know sort of well a scooter…yeah just a scooter". What color was it? "Oh, ahh, scooter color, you know the normal one". If six hundred naked people rode past screaming at the top of their lungs riding me you'd still be wondering what you were going to have for lunch and whether you were going to risk hitting on that cute secretary at work…you know the one. She looks innocent enough but everybody at the office knows the truth…she's a freak.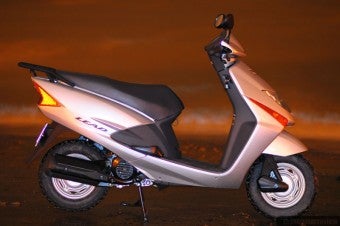 Time for a test…can you see the recurring theme in the following items. A Toyota Corolla, a Bic ballpoint pen, a box of matches, a plank of wood, a plain white t-shirt, a light bulb, a roll of toilet paper and a ratchet. And your guess is? Man made…well yes I guess so, but that's not what I was looking for. The theme I was heading towards was more along the lines of what I like to call a "Tool" these items simply work as advertised and are incredibly useful. Now take the plain white t-shirt for example; buy one that fits and…well you're done. You could hunt down a more exciting and vastly more expensive Versace plain white t-shirt…but really it does the same job; has done for many years and will do for many more. This is the Honda Lead 100 in a nutshell. It's a plain white t-shirt.
Last Updated ( Friday, 08 August 2008 13:17 )