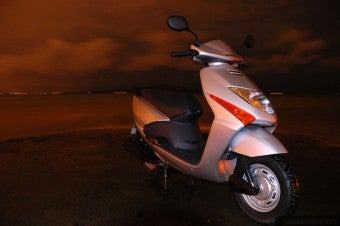 Things are going to get a bit whack…you'll need to hold on to your hats as there's a lot of stuff about to happen in this review and virtually none of it has much to do with any kind of reality. Call it blow out…it happens about once every ten reviews, I simply fruit out. The last time I ended up in Suzuki's head office tied to a vibrating chair shaped like a Burgman…that however is another story for another day.
My name is Lead, I am a scooter I'm small silver and pretty average looking. Most people don't notice me as I tend to just blend in. I'd make a fantastic getaway vehicle; you could rob a bank in front of 1,800,000 very attentive people and when questioned later the best the police would get was "well it was like, you know sort of well a scooter…yeah just a scooter". What color was it? "Oh, ahh, scooter color, you know the normal one". If six hundred naked people rode past screaming at the top of their lungs riding me you'd still be wondering what you were going to have for lunch and whether you were going to risk hitting on that cute secretary at work…you know the one. She looks innocent enough but everybody at the office knows the truth…she's a freak.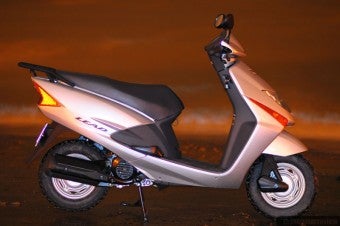 Time for a test…can you see the recurring theme in the following items. A Toyota Corolla, a Bic ballpoint pen, a box of matches, a plank of wood, a plain white t-shirt, a light bulb, a roll of toilet paper and a ratchet. And your guess is? Man made…well yes I guess so, but that's not what I was looking for. The theme I was heading towards was more along the lines of what I like to call a "Tool" these items simply work as advertised and are incredibly useful. Now take the plain white t-shirt for example; buy one that fits and…well you're done. You could hunt down a more exciting and vastly more expensive Versace plain white t-shirt…but really it does the same job; has done for many years and will do for many more. This is the Honda Lead 100 in a nutshell. It's a plain white t-shirt.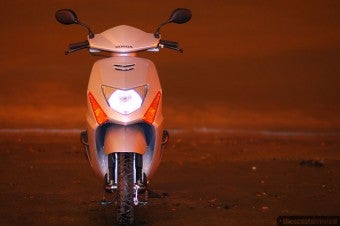 There's nothing flash about the Lead; there's no neon lights, no turbo boost button and certainly no carbon fiber time phase de friblerators (This is a bit of a shame as they are a lot of fun, sadly I can't tell you what they actually do as it's a state secret…really, Google it.) The Lead is a scooter, well yes I'm sure you know that from looking at the pictures but I'm trying to make a point here. It's just a scooter, it's not a fashion statement and it's certainly no penis extension. Honda should really have named it "The Chameleon". You really do blend in on the Lead. I certainly didn't have any kids pointing and remarking about how cool my scooter was, most people just didn't know they'd even seen me. Anonymity is a good and bad thing depending on your perspective. If you like attention then the Lead 100 is certainly not your bag, go and buy a Lamborghini. If however you see a scooter as a device to get you from A to B then the Lead could be the ultimate scooter.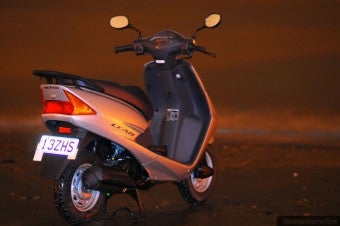 The good bits. First off the Lead is cheap, it's basically the same price as a 50cc scooter; It doesn't take a brain surgeon to work out that buying a 50cc scooter instead of a 100cc Lead for near the same price is well…stupid. The Lead also handles surprising well considering its low price; it soaks up most bumps well and is generally well sorted when it comes to cornering. As a bonus fuel economy is brilliant; in fact it's currently in our top five bikes...period. Like most Honda's one would also expect the Lead to be totally reliable. I'd beat that you could probably just change the oil and tires and the Lead would still be running exactly the same in 8 million years. I guess you'd probably have to do the brakes as well at some point otherwise you'd be what's sometimes called….dead. Stopping can be important. Especially when you're approaching a large heard of wild hairy cave dwelling wildebeest's…happens all the time down here in New Zealand.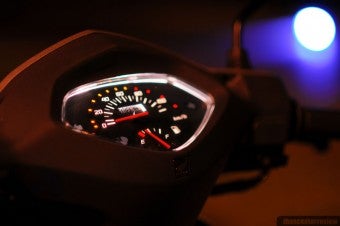 The bad bits. The Lead has drum brakes front and rear, this is in fairness, a bit of a joke. It's 2008, disc brakes work better and have more stopping power. I realize the Lead is designed to a price but a disc up front should be the bare minimum. That being said the Lead isn't a sports scooter and the drum brakes do work reasonably well. It's just a faith issue…I don't have much in drums. The under seat storage area is also a tad too small and won't fit a full face helmet which means you're either leaving it on the bike, carrying it or wearing a face grinder. Oh and the Lead isn't the fastest 100cc scooter in the world. It's certainly not motorway material. The engine is clearly tuned for long life and low emissions and only makes 6.9 horsepower. Imagine the Lead rides as a 50cc scooter "should" ride. It is however powerful enough to get most normal sized riders around town at a reasonable speed.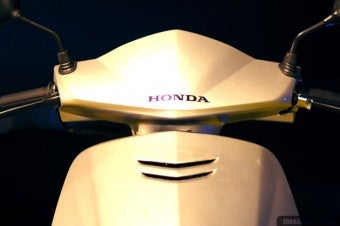 Summing up the Lead 100. If you don't need to use freeways, you want a "scooter" that just works and is remarkably affordable…then it's pretty simple. Just buy a Lead. The money you save using it daily would be enough to run a small country given today's fuel prices. Now if you want something with more panache than I recommend either A; buy a Lamborghini like all the other desperately clutching at youth sorts or better yet buy a Lead and spend your vast fuel savings on a massive neon sign you can wear while you ride. The sign should read "Please notice me, I'm very cool and I could have bought a Lamborghini…and I have a huge penis…really"
Price
NZ $2395 (UK and Europe model is different, testing soon)

0-50km/h
8.5 Seconds
50-80km/h
A long time
Fuel Economy
2.8L/100kms - 85MPG
Speedo Accuracy

50kph displayed = 49kph actual

---

Pros:

Very affordable, great fuel consumption, Honda build quality

Cons:
Not the quickest 100cc, drum brakes,

---

Handling
Performance
Fuel Consumption
Value for money
Ease of use
Styling
Build quality

---

Overall Score

73%
Manufacturer Specifications
| | |
| --- | --- |
| Max power at shaft | 5 Kw (6.9 HP) at 7,500 rpm |
| Max torque | 7.5 Nm at 5,500 rpm |
| Engine Type | Single-cylinder 4-stroke |
| Cylinder Capacity | 102.10 cc |
| Seat height | 765mm |
| Dry weight | 100.5kg |
| Kerb weight | --- |
| Fuel tank capacity | 6 litres |
| Starting | Electric |
| Transmission | "Twist and Go" Automatic Transmission |
| Storage volume | n/a |
| Cooling | Air cooled |
| Bore X stroke | 50 mm x 52 mm |
| Compression ratio | --- |
| Chassis | --- |
| Front suspension | Oil-damped leading-link, 80mm axle travel |
| Rear suspension | Single-damper unit swingarm, 71mm axle travel |
| Front brake | 130mm leading/trailing drum |
| Rear brake | 130mm leading/trailing drum |
| Front wheel/tyre | 90/100-10 53J |
| Rear wheel/tyre | 90/100-10 53J |
| Length | 1825mm |
| Width | 710mm |
| Wheelbase | 1235 mm |
| Max speed (km/hr) | --- |
| Type approval | --- |
| Consumption (ECE applicable text cycle) | --- |
| Consumption @km/h - km/l | --- |
| Audible Indicator | no |
| Full helmet storage | no |
| Glove box | no |
| Fuel Guage | yes |
| Trip Meter | no |
| Seat release (via remote control) | no |
| Seat release (remote, ignition/switch) | no |
| Alarm | no |
Comments
(3)


Subscribe to this comment's feed
Last Updated ( Friday, 08 August 2008 13:17 )