Page 1 of 3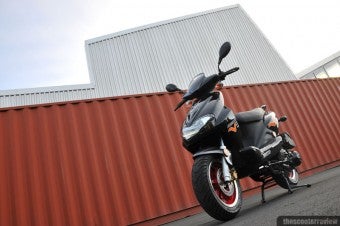 I spent a long time trying to come up with a comparison of the VMoto Monaco 125 to something in other industries, something that would give readers a better and more unique angle of where the bike sits in comparison to other scooters. I thought long and hard, I very nearly quit, then they hit me…here are some examples. In the car world the Monaco is the 1990s Mitisbishi GTO, in clothing it's a Versace shirt, in fruit it would be a cumquat, in electronics…definitely an Apple product and in condoms it's got to be the equivalent of a ribbed glow in the dark model. You following the theme here? It's all about flash, style, and lots of high tech but not really entirely necessary features.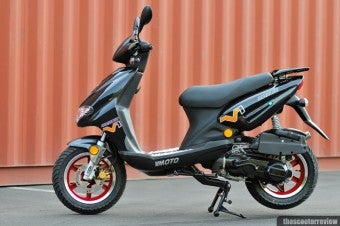 The Monaco is a lot of bike for the money…certainly a lot of gizmos and fake carbon fiber for your dollar spent. There's no question that the target market are going to love the cool extra features and the flash racing looks, however are they going to like everything else? Well yes and no. Like most scooters it really depends on where you buy it; see in some markets the VMoto is very well priced and in others it's not so well priced and up against some pretty stiff competition.

Here's the good bit. The VMoto Monaco 125 is a very cool looking bike if you're into modern sporty looking bikes; if you're into manual retro bikes from the 1960s then chances are you'll want to smash it with a large hammer…or more likely you aren't even reading this as you're in the garage covered in grease trying to repair a faulty carburetor. The team from VMoto certainly went all out to get the bike looking sporty, even adding a fake carbon fiber look to the front mudguard, windshield and instrument surround. They also used quality fabrics for the seat and other surfaces so the bike generally looks well detailed.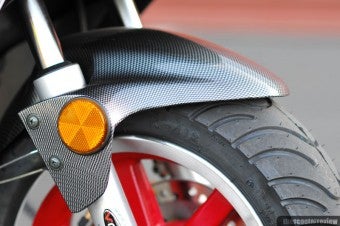 The Monaco has some very cool features for a bike of its price…hell it's got cool features for a bike of any price. Does your scooter have remote start? Does your car? Does the space shuttle? I thought not…the Monaco does, oh and an alarm. Yep as you walk up to your bike you simply hit the button on the key fob and wammo…the bike starts. This is probably not something you thought you needed…until you've had it, then you need it. It's a great party trick at the very least. The Monaco also has a rather useful alarm activated off the key fob and to top it off there's also a digital clock on the dash and an adjustable rear shock. It's not often you find these sort of features on a 125cc scooter. It's also not often you'll find a 125 that's so slow.
Last Updated ( Friday, 08 August 2008 07:56 )