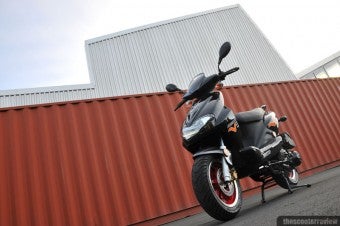 I spent a long time trying to come up with a comparison of the VMoto Monaco 125 to something in other industries, something that would give readers a better and more unique angle of where the bike sits in comparison to other scooters. I thought long and hard, I very nearly quit, then they hit me…here are some examples. In the car world the Monaco is the 1990s Mitisbishi GTO, in clothing it's a Versace shirt, in fruit it would be a cumquat, in electronics…definitely an Apple product and in condoms it's got to be the equivalent of a ribbed glow in the dark model. You following the theme here? It's all about flash, style, and lots of high tech but not really entirely necessary features.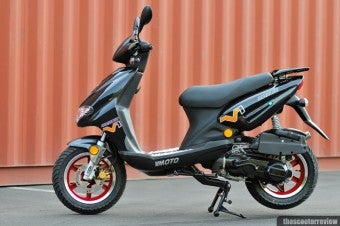 The Monaco is a lot of bike for the money…certainly a lot of gizmos and fake carbon fiber for your dollar spent. There's no question that the target market are going to love the cool extra features and the flash racing looks, however are they going to like everything else? Well yes and no. Like most scooters it really depends on where you buy it; see in some markets the VMoto is very well priced and in others it's not so well priced and up against some pretty stiff competition.

Here's the good bit. The VMoto Monaco 125 is a very cool looking bike if you're into modern sporty looking bikes; if you're into manual retro bikes from the 1960s then chances are you'll want to smash it with a large hammer…or more likely you aren't even reading this as you're in the garage covered in grease trying to repair a faulty carburetor. The team from VMoto certainly went all out to get the bike looking sporty, even adding a fake carbon fiber look to the front mudguard, windshield and instrument surround. They also used quality fabrics for the seat and other surfaces so the bike generally looks well detailed.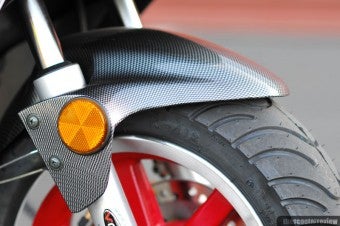 The Monaco has some very cool features for a bike of its price…hell it's got cool features for a bike of any price. Does your scooter have remote start? Does your car? Does the space shuttle? I thought not…the Monaco does, oh and an alarm. Yep as you walk up to your bike you simply hit the button on the key fob and wammo…the bike starts. This is probably not something you thought you needed…until you've had it, then you need it. It's a great party trick at the very least. The Monaco also has a rather useful alarm activated off the key fob and to top it off there's also a digital clock on the dash and an adjustable rear shock. It's not often you find these sort of features on a 125cc scooter. It's also not often you'll find a 125 that's so slow.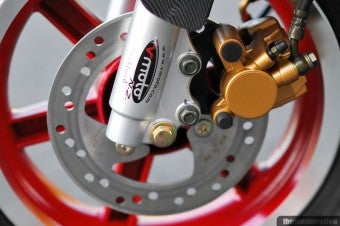 It appears VMoto spent all of their money on gizmos and none on the engine. Okay that's a bit harsh; the Monaco gets along just fine and will even work on the motorway provided you don't go near the fast lane. It's just that in direct comparison to other 125cc bikes it's definitely on the slow side. To give you an idea, we got 8.9 seconds to 50kph on our test bike which is only a second quicker than a 50cc 1988 Yamaha Jog …ouch. Given the sporty looks I was expecting similar performance to the Suzuki Address 125. Hopefully VMoto will up-spec the motor on future models as a 125cc bike really needs to run around 11hp to be competitive nowadays and given the way the Monaco looks it should be much quicker. Stopping wise I was expecting a lot as the Monaco has a rather large front caliper, sadly it didn't seem to bite very well so the braking was a little on the weak side. Our test bike was brand new so I imagine as the pads bed in this would improve. The rear drum brake was to put it politely…really just an imitation of a brake. Not much use at all.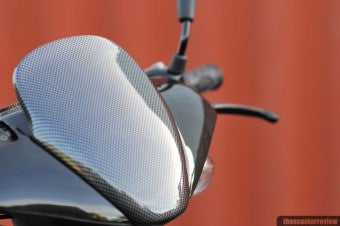 Handling wise the Monaco is about middle of the road, it's got fairly firm suspension to match its sporty looks, however it is negatively affected by a very poor seat design. If you're of normal height and sit on the Monaco's normal forward seating position your knees will be under the handle bars, this you can imagine is not conducive to comfortable riding in anyway. If you sit further back to get a normal riding position you end up on the crease separating the rear pillion section of the seat, this is even more uncomfortable, finally you can always try sitting way back on the rear section if all else fails. Put simply the Monaco's forward sloping seat needs to be angled back and better yet moved further back in general. On inspection it's clear they've opted to have the fuel filler exposed which is great except it means the seat is way too far forward. How about a separate rear pillion seat section which opens off a button to expose the fuel filler, wouldn't that be a better option? With that small modification the Monaco would immediately be a far superior bike.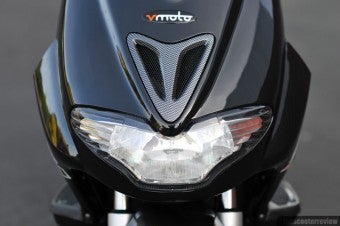 Ease of use is a bit below average too, there's no glove box up-front and the under seat storage area won't take a large full face helmet. On top of that there's no remote seat release which is surprising given they've added a remote start. I think the designers have watched too many James Bond movies and simply not ridden their own product enough to know that a remote seat release is probably the most useful feature on a scooter after an engine. So picture this…I can start my bike from thirty feet away…great, then I have to take out my keys to open the damn seat to get my helmet…hang on my helmet doesn't fit under the seat…where is my helmet? Ah, it's been stolen as I had to leave it on the bike. It's all about priorities; get the simple things right before adding Turbo Boost.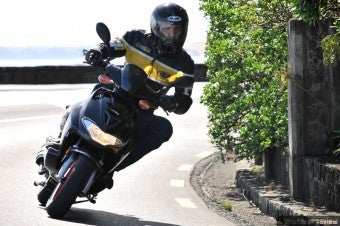 Summing up the VMoto Monaco; VMoto certainly got the styling right with the Monaco and I'm sure that combined with its cool features they will sell many a bike. For male customers it will be very hard to pass up as it's clearly targeted at us. Sadly the fact that it's slow and has an awkward riding position makes it hard for me to recommend it whole heartedly. I've ridden other bikes in the VMoto range and am a huge fan of the Milan JX50, so I know they can make a great scooter. Hopefully they can make a few changes to the Monaco and match its performance to its style.
0-50km/h
8.9 Seconds
0-80km/h
23.1 Seconds
50-80km/h
16.5 Seconds
Fuel Economy
3.1L/100kms - 76MPG
Speedo Accuracy

50kph displayed = 49kph actual

---

Pros:

Cutting edge features, great styling.

Cons:
Poor seat design, slow, bit hard to get on center stand, tall seat height

---

Handling
Performance
Fuel Consumption
Value for money
Ease of use
Styling
Build quality

---

Overall Score

64%
Manufacturer Specifications
| | |
| --- | --- |
| Max power at shaft | --- |
| Max torque | --- |
| Engine Type | Single-cylinder 4-stroke |
| Cylinder Capacity | 124 cc |
| Seat height | --- |
| Dry weight | --- |
| Kerb weight | --- |
| Fuel tank capacity | 5.2 litres |
| Starting | Electric |
| Transmission | Automatic Transmission (CVT) |
| Storage volume | --- |
| Cooling | Air Cooled |
| Bore X stroke | 52.5 mm x 57.8 mm |
| Compression ratio | --- |
| Chassis | Steel Tube |
| Front suspension | Telescopic hydraulic fork |
| Rear suspension | Swing arm |
| Front brake | Disc |
| Rear brake | Drum |
| Front wheel/tyre | 120/70-12- 4PR |
| Rear wheel/tyre | 120/70-12- 4PR |
| Length | 1770 mm |
| Width | 680 mm |
| Wheelbase | 1304 mm |
| Max speed (km/hr) | --- |
| Type approval | --- |
| Consumption (ECE applicable text cycle) | --- |
| Consumption @km/h - km/l | --- |
| Audible Indicator | no |
| Full helmet storage | no |
| Glove box | no |
| Fuel Guage | yes |
| Trip Meter | no |
| Seat release (via remote control) | no |
| Seat release (remote, ignition/switch) | no |
| Alarm | yes |
Comments
(0)


Subscribe to this comment's feed
Last Updated ( Friday, 08 August 2008 07:56 )