Page 1 of 2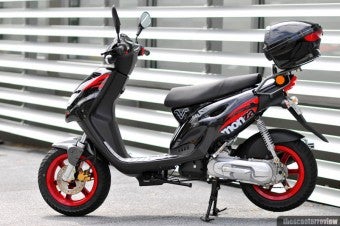 Now if you google "Monza", the first result returned is a Wikipedia reference to a town to the north of Milan, this town surprisingly enough is called Monza and is famous for basically only one thing…The Autodromo Natzionale Monza, or as we know it the racetrack that hosts the Italian Grand Prix. Now I can only assume that when VMoto named the Monza it was so there was a name association that was both sporty and Italian. The downside to this name association game is that were you to actually ride the VMoto Monza around Monza's Grand Prix circuit the lap would take you approximately 9.6 minutes assuming you didn't have to brake… this is in comparison to a modern F1 car which will do this very same lap in 1minute 21 seconds. In other words in a race the F1 car would overtake the VMoto approximately 8 times each lap… not really surprising but interesting none the less.
When the VMoto Monza arrived in our driveway at TSR-HQ I got a rather pleasant surprise, you see this machine looked pretty good in the photos on VMoto's website, unfortunately the images on manufacturer websites seldom reflect the quality of the machines in real life, the Monza had no such problems. It looks very, very good; this beast has much more presence than the majority of 50cc scooters and manages to look sporty and aggressive while standing still. With its carbon fiber style accents, mesh and air intakes it is a picture of racer style. It looks pretty big for a 50 and will appeal more to men than women based strictly on its larger size and higher seat.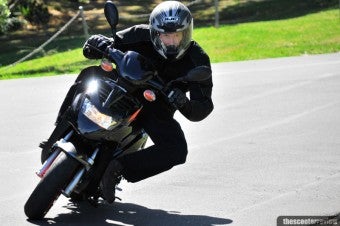 So, it looks racy but is it race material…well as far as a restricted 50cc scooter goes it isn't bad at all, in fact it's sister model the Matrix won the Queensland "Le Mins" 24hour scooter race in the production category. So yes it goes pretty well for a restricted 50. The Monza manages to make traffic work a breeze with peppy acceleration from a standstill. Hill work, which is always a downfall of restricted 50's, is surprisingly strong in the Monza. The bad news is that the restrictions are very difficult; some say impossible to remove however there is a performance upgrade kit, which gives the performance a much-needed lift and bypasses these restrictions.
Last Updated ( Friday, 08 August 2008 07:55 )