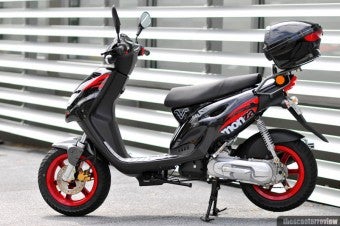 Now if you google "Monza", the first result returned is a Wikipedia reference to a town to the north of Milan, this town surprisingly enough is called Monza and is famous for basically only one thing…The Autodromo Natzionale Monza, or as we know it the racetrack that hosts the Italian Grand Prix. Now I can only assume that when VMoto named the Monza it was so there was a name association that was both sporty and Italian. The downside to this name association game is that were you to actually ride the VMoto Monza around Monza's Grand Prix circuit the lap would take you approximately 9.6 minutes assuming you didn't have to brake… this is in comparison to a modern F1 car which will do this very same lap in 1minute 21 seconds. In other words in a race the F1 car would overtake the VMoto approximately 8 times each lap… not really surprising but interesting none the less.
When the VMoto Monza arrived in our driveway at TSR-HQ I got a rather pleasant surprise, you see this machine looked pretty good in the photos on VMoto's website, unfortunately the images on manufacturer websites seldom reflect the quality of the machines in real life, the Monza had no such problems. It looks very, very good; this beast has much more presence than the majority of 50cc scooters and manages to look sporty and aggressive while standing still. With its carbon fiber style accents, mesh and air intakes it is a picture of racer style. It looks pretty big for a 50 and will appeal more to men than women based strictly on its larger size and higher seat.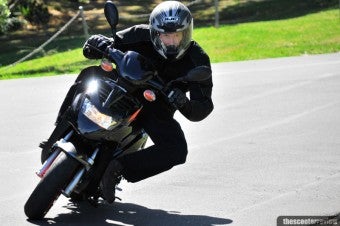 So, it looks racy but is it race material…well as far as a restricted 50cc scooter goes it isn't bad at all, in fact it's sister model the Matrix won the Queensland "Le Mins" 24hour scooter race in the production category. So yes it goes pretty well for a restricted 50. The Monza manages to make traffic work a breeze with peppy acceleration from a standstill. Hill work, which is always a downfall of restricted 50's, is surprisingly strong in the Monza. The bad news is that the restrictions are very difficult; some say impossible to remove however there is a performance upgrade kit, which gives the performance a much-needed lift and bypasses these restrictions.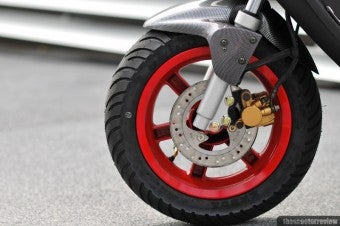 Handling is reasonably good although the very stiff suspension gives a fairly choppy and jarring ride. The suspension is adjustable but was set to its softest setting for the test. Cornering is solid; making good use of the 12 inch wheels that are a good compromise to give a stable ride yet retain an element of "chuck-ability". The stoppers on this bike are disc front and drum rear, which is pretty much standard fare in this price bracket. They do a pretty ok to ordinary job of pulling the bike up, I must comment though that the test bike was fresh out of a crate so the brakes were probably not bedded in fully and will no doubt improve with a bit of use.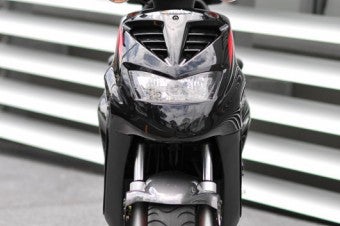 The Monza 50 is average to live with, the under seat compartment will not fit most full face helmets and neither will the optional top box so if you are a full face helmet kind of rider, you will be carrying it or trying to lock it to the bike somewhere. In saying that, if you have an open face helmet this will fit along with a few other bits and pieces. Along with the smallish under seat compartment there is a complete lack of a front glove box. The Monza does have a few high tech features including an alarm with activation from a key fob, modern dash with good warning lights, a turn signal clicker and fuel gauge. Unfortunately the cutting edge speedometer is near impossible to read at night…very cool looking but absolutely useless. A few other notable issues include no remote access to under seat storage and the rather hefty weight of this bike also makes it a bit tricky to get onto the center stand.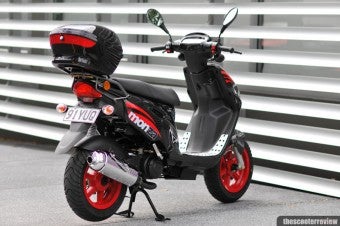 Over all the VMoto is a modern looking bike that goes well and (in most markets) compares favorably in the price bracket in which it sits. I would like to have seen a few things done better but you will look past these minor foibles if you fall in love with the styling and the price. The VMoto Monza 50 should serve well for day-to-day use and will handle a weekend blast to your local half strength, decaf, trim vanilla soy frappaccino, with a twist of lemon and no cinnamon…vendor.
Price
$1890 Australia, $2790 NZ
0-50km/h
15.6 Seconds
Top Speed
57
Fuel Economy
3.2L/100kms - 74MPG
Speedo Accuracy

50kph displayed = 48kph actual

---

Pros:

Well Priced, Solid handling, good effort made with styling, alarm, 12" wheels

Cons:

Won't fit full face helmet, heavy to put onto centre stand

---

Handling
Performance
Fuel Consumption
Value for money
Ease of use
Styling
Build quality

---

Overall Score

67%
Manufacturer Specifications
| | |
| --- | --- |
| Max power at shaft | --- |
| Max torque | --- |
| Engine Type | Single-cylinder 2 stroke |
| Cylinder Capacity | 49.8cc |
| Seat height | --- |
| Dry weight | 82kg |
| Kerb weight | --- |
| Fuel tank capacity | 5.2 liters |
| Starting | Electric & Kickstart |
| Transmission | CVT "Twist and Go" |
| Storage volume | --- |
| Cooling | Air Cooled |
| Bore X stroke | 40 x 39.2 mm |
| Compression ratio | --- |
| Chassis | --- |
| Front suspension | Hydraulic |
| Rear suspension | Adjustable Hydraulic |
| Front brake | Disc |
| Rear brake | Drum |
| Front wheel/tyre | 120/70-12" |
| Rear wheel/tyre | 120/70-12" |
| Length | 1830mm |
| Width | 653mm |
| Wheelbase | 1260mm |
| Max speed (km/hr) | --- |
| Type approval | --- |
| Consumption (ECE applicable text cycle) | --- |
| Consumption @km/h - km/l | --- |
| Audible Indicator | yes |
| Full helmet storage | no |
| Glove box | no |
| Fuel Guage | yes |
| Trip Meter | no |
| Seat release (via remote control) | no |
| Seat release (remote, ignition/switch) | no |
| Alarm | yes |
Comments
(1)


Subscribe to this comment's feed
Last Updated ( Friday, 08 August 2008 07:55 )