Page 1 of 2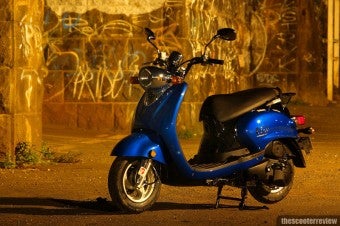 conundrum
/ku nun drum/
• noun (pl. conundrums) 1 a confusing and difficult problem or question. 2 a riddle.
To me the Vino 125 is exactly that… a confusing problem… a riddle. You see it is a bike that I should dislike intensely… and did initially… but now I don't. Why? Well… see way back in April when we tested the Vino 50 I liked the styling but it was let down by decidedly glacial acceleration. So I was actually looking forward to the 125cc version, if it made reasonable power it would be nigh on the ultimate mix of retro styling, convenience, performance and value.
But, and that is a big "BUT" the 125 shares it's smaller cousin's constipated caterpillar like pace. To put into perspective just how slow this bike is we had the Daelim Cordi 50cc at the same time… the Daelim shared virtually the same acceleration and top speed (around 70kph or 44mph) as the 125cc Vino. This is just plain bad. This lack of performance started to drive me insane… not just your regular padded cell and straight jacket insane…this was full on "stand in your local church's bell tower, naked other than gold paint and an AK47" insane. Then I started to relax… I started to treat the bike, as it needs to be treated, as urban transport. When I got my head around the fact that just because it is a 125 it doesn't need to be fast I began to enjoy the bike much more. For use around town the performance is just fine, the engine is tractable and will still stand you in good stead pulling away from traffic lights, and will hold adequate speed up most hills. The suspension although slightly on the hard side is responsive and will gladly accept a bit of a "thrash". The Disc and Drum brake combination was solid and had no issue with hard braking and stop start traffic.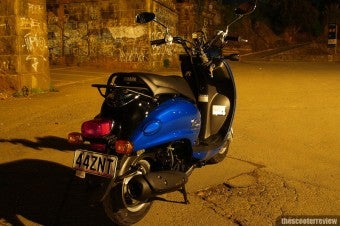 The Vino 125 is a bike that has clearly been designed as an alternative to a more expensive Italian machine. The retro styling along with great paint, bigger body and quality componentry combines to give a "grown up" scooter. This is a machine that would not look out of place outside the local café with the Vespa's or being ridden to the office. This is a bike that an adult could ride without feeling that people are looking at a pauper… and laughing. The performance could have been improved but if your riding doesn't include any freeways then it is perfectly adequate… and, to be fair… damn good fun. The handling belies the styling and if you just relax and live with the lack of power you can throw it around like a much smaller machine… then it's party time.
Last Updated ( Friday, 20 February 2009 11:22 )