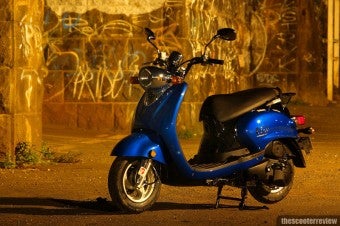 conundrum
/ku nun drum/
• noun (pl. conundrums) 1 a confusing and difficult problem or question. 2 a riddle.
To me the Vino 125 is exactly that… a confusing problem… a riddle. You see it is a bike that I should dislike intensely… and did initially… but now I don't. Why? Well… see way back in April when we tested the Vino 50 I liked the styling but it was let down by decidedly glacial acceleration. So I was actually looking forward to the 125cc version, if it made reasonable power it would be nigh on the ultimate mix of retro styling, convenience, performance and value.
But, and that is a big "BUT" the 125 shares it's smaller cousin's constipated caterpillar like pace. To put into perspective just how slow this bike is we had the Daelim Cordi 50cc at the same time… the Daelim shared virtually the same acceleration and top speed (around 70kph or 44mph) as the 125cc Vino. This is just plain bad. This lack of performance started to drive me insane… not just your regular padded cell and straight jacket insane…this was full on "stand in your local church's bell tower, naked other than gold paint and an AK47" insane. Then I started to relax… I started to treat the bike, as it needs to be treated, as urban transport. When I got my head around the fact that just because it is a 125 it doesn't need to be fast I began to enjoy the bike much more. For use around town the performance is just fine, the engine is tractable and will still stand you in good stead pulling away from traffic lights, and will hold adequate speed up most hills. The suspension although slightly on the hard side is responsive and will gladly accept a bit of a "thrash". The Disc and Drum brake combination was solid and had no issue with hard braking and stop start traffic.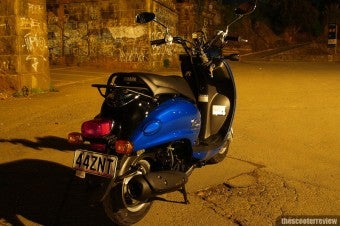 The Vino 125 is a bike that has clearly been designed as an alternative to a more expensive Italian machine. The retro styling along with great paint, bigger body and quality componentry combines to give a "grown up" scooter. This is a machine that would not look out of place outside the local café with the Vespa's or being ridden to the office. This is a bike that an adult could ride without feeling that people are looking at a pauper… and laughing. The performance could have been improved but if your riding doesn't include any freeways then it is perfectly adequate… and, to be fair… damn good fun. The handling belies the styling and if you just relax and live with the lack of power you can throw it around like a much smaller machine… then it's party time.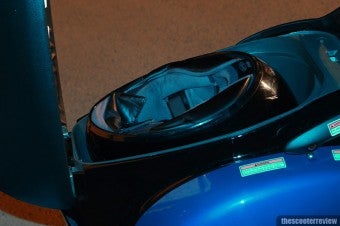 Yamaha's Vino 125 is fairly well set up with regard to day to day usability, the under-seat compartment will take a large full face helmet (just) and the upside down helmet placement means you can easily throw your gloves into the helmet, close the seat and walk away. One small complaint with the storage was the helmet hooks under the seat, there are two of them but they are so far forward that I couldn't get my helmet loop to hook onto them… this is an easily fixed problem… it would appear no one has ever tried to hang a helmet on them. Also there is no front glove box but this is pretty normal for retro styled machines. The seat is large and comfortable and I expect any sized rider would find it more than acceptable. The centre stand is easy to use and there is a side stand provided. The dashboard is easy to read, the one comment I would make is that the fuel gauge mounted low down on the left hand side of the steering column is a bit of a pain and I would like to see it up on the bars somewhere. While we are talking fuel… the tank is tiny… even with the better than average economy I seemed to spend an inordinate amount of time at "service" stations.
The headlights are less than inspiring with low beam being only just adequate… a bit dim and not ideally positioned. High beam is essentially a waste of time unless you are hunting for possums in the uppermost branches of roadside trees.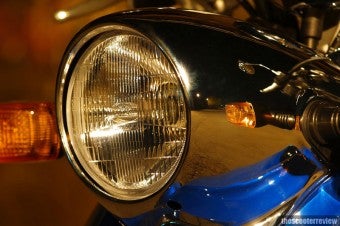 Overall the Vino 125 is a stylish, big bodied scooter designed to be a viable option for grown ups. If you are looking for an economical 125cc machine and your travel consists of urban, city based riding then the Vino is a real option. It is easy to move around and a lot of funs, especially on twisty roads and through traffic even if you take into account the horrendous lack of power. If Yamaha released this machine with 11 or 12hp it would be an absolute gem. Even as it is the Vino converted me… when I first stepped on board I hated how slow it was… then it grew on me just riding it back to Yamaha through peak hour traffic put a massive grin on my face. The fact that when it was parked outside my favourite caffeine dealer it got a lot of admiring glances may have helped just a bit too.
Price
NZ $3,999, US $2649,  Aus $3,999
0-50km/h
8.2 Seconds

0-100km/h
---
50-80km/h
Forever
Lap Time
---
Fuel Economy
2.9L/100kms - 81MPG
Speedo Accuracy

50kph displayed = 48kph actual

---

Pros:

Looks good, quality materials, affordable urban transport

Cons:
Slow, Slow... Poor headlights, Slow

---

Handling
Performance
Fuel Consumption
Value for money
Ease of use
Styling
Build quality

---

Overall Score

74%
Manufacturer Specifications
| | |
| --- | --- |
| Max power at shaft | --- |
| Max torque | --- |
| Engine Type | Single-cylinder, 2 Valve, 4-stroke |
| Cylinder Capacity | 124 cc |
| Seat height | 760mm |
| Dry weight | 104kg |
| Kerb weight | --- |
| Fuel tank capacity | 4.7 liters |
| Starting | Electric & Kick |
| Transmission | "Twist and Go" Automatic Transmission (CVT) |
| Storage volume | --- |
| Cooling | Air cooled |
| Bore X stroke | 51.5 x 60 mm |
| Compression ratio | 9.8:1 |
| Chassis | --- |
| Front suspension | Telescopic fork, 80mm Travel |
| Rear suspension | Single Shock, 65mm Travel |
| Front brake | 180mmmm Hydraulic Disc |
| Rear brake | 110mm Drum |
| Front wheel/tyre | 3.5 - 10" |
| Rear wheel/tyre | 3.5 - 10" |
| Length | 1755 mm |
| Width | 700 mm |
| Wheelbase | 1230 mm |
| Max speed (km/hr) | --- |
| Type approval | --- |
| Consumption (ECE applicable text cycle) | --- |
| Consumption @km/h - km/l | --- |
| Audible Indicator | yes |
| Full helmet storage | yes |
| Glove box | no |
| Fuel Guage | yes |
| Trip Meter | no |
| Seat release (via remote control) | no |
| Seat release (remote, ignition/switch) | yes |
| Alarm | no |
Comments
(9)


Subscribe to this comment's feed
Last Updated ( Friday, 20 February 2009 11:22 )