Page 1 of 2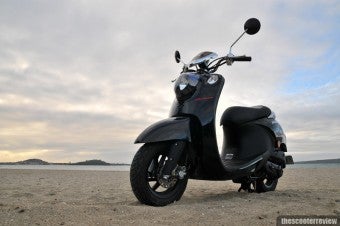 Well I might be out of jokes... you see I promised the Daelim agent that I wouldn't make any of the obvious (to me at least) Banana or Madonna references while reviewing Daelim's two stroke 50cc BONITA. They seem to think I am clever enough to come up with something suitably amusing without resorting to base, easy laughs... I'm not so sure I am that smart so here, instead of another of our reviews that revolve around comedy to keep you our faithful reader entertained, is a straight, informative review... No cheap laughs here... no really!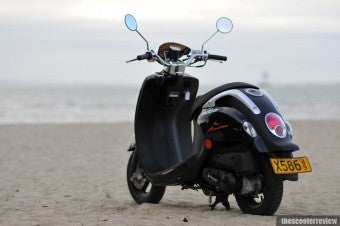 Bonita is a Spanish word that means beautiful and this is where the nametag on this machine originated. You see what happened was this...
Once upon a time there was an exceptionally beautiful Brazilian back packer. She was olive of complexion with dark wavy hair to the middle of her back. The thing that really got you though were her eyes... a deep shimmering pair of sea green orbs that showed a depth that is seldom seen in the back packer's one is likely to cross paths with. Her name was Ce La Vega, La Vega, Consuela, Maria, Guantanamera Jones (Ok so her dad had some British heritage, don't get picky!) A quirk was that she insisted no one shorten this when addressing her. The other thing that set her apart from the more regular tourist was her love of scooters... that's right, the humble scooter was her passion and during her sabbatical from day job as a head of neurorocket science at a large and respected university she had decided that she would indulge this passion for scooters with a 3 month tour of Asia taking in as many scooter factories and museums as possible, along with some general touring and mingling with the scootering populations of the region.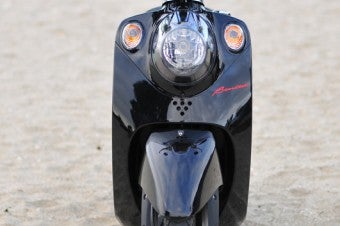 After a fantastic time in Vietnam and Cambodia, our girl decided to go to Taiwan as they were very much the emerging power of scooter manufacture. She landed and made for the hotel, little was she to know that she would never make it to that hotel for instead of renting a scooter at the airport she loaded her bags into a cab and instructed the unpleasantly scented driver where she was heading... unfortunately her grasp of the language was very poor which meant instead of the comfortable hotel in the centre of town that she was supposed to end up at she was dropped outside a place (of the same name by chance) on very much the wrong side of the tracks. By the time she had spoken to the bedraggled, toothless old woman behind what passed as a desk, figured out she was in the wrong place and left, the cab had gone... with her luggage. She turned to walk somewhere to get some transport when everything went dark... Not so much a solar eclipse as a heavy cosh to the back of her head... sometimes an obviously well heeled outsider in the wrong part of town is just too much to resist...
Last Updated ( Saturday, 29 October 2011 09:06 )