Page 2 of 2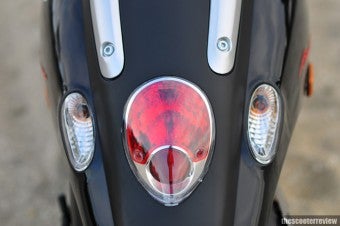 I won't go into detail as to what befell our poor girl but let me pick up the story where she is dragged out of the harbour, alive but with little memory, no identification or funds and not in especially good  health by a small man with a big grin and twinkling, friendly eyes fishing on his day off. He took her home and with his surprisingly sympathetic wife cleaned her up and put her in bed... hoping she would recover. She did in as much as she regained consciousness, motor function and the like... her memory remained somewhat foggy. She did recall her name; unfortunately the kindly couple couldn't pronounce it so the wife called her the only Spanish word they knew... Bonita... Bonita didn't have the heart to tell them that in Brazil (for the purpose of the narrative she also remembered where she was born) Portuguese is the spoken language... not Spanish; after all they had taken her in and to all intents and purposes saved her life. Now Mr Wing the gentleman in question couldn't afford to put her up and feed her forever so he arranged a job for her at the Daelim factory where he worked. Bonita was a bit confused as to why she was so overjoyed to be wiring left hand front indicators into scooters... but she was, and she was good at it... eventually she saved enough money to go home to her native Brazil and with some expensive therapy, paid for by a wealthy gentleman (she didn't get ugly over the course of the story!) she regained most of her memory... and she never forgot her time at Daelim, and they never forgot her. Later on she penned a design for her ultimate scooter, design and specs... the works. Daelim loved the concept, built the machine and named it in her honour... Bonita (Ce La Vega, La Vega, Consuela Maria Guantanamera Jones didn't fit on the side!)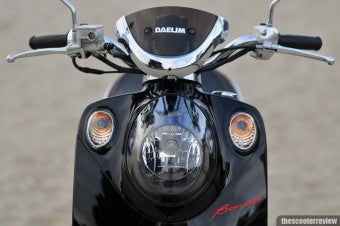 So that is the real story behind the Bonita's name... I told you... no comedy! What? At no point did I promise not to segue 83miles off topic!
I suppose you need to know about the scooter... It is FANTASTIC! Good acceleration, good top speed, excellent fuel economy (83mpg) probably the best suspension on a 50 to date with no bottoming out (even with my lard ass aboard!).  The styling is pretty damn cool too, the standard modern classic that we see a lot of but with lots of cool details.  Ok so there are a few other scooters that are pretty good, what sets the Bonita apart, aside from the excellent performance is the styling, when you first set eyes on it the Little Daelim is pretty attractive but when you get up close (like we do when giving it a pre photo session wash) you start noticing the little details. A lot of thought has clearly gone into the build of the Bonita and it shows.  It give an impression of the total package, well built using good quality materials... it just all works well as a whole, better still it isn't overtly masculine or feminine in its execution, in short a girl will probably enjoy the aesthetic and a man won't feel particularly girly riding it... this is unusual in this style of machine.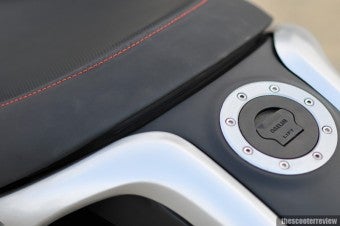 The only real niggles are hardly worth mentioning... but I will just for balance... No full face storage under the seat, although it is pretty spacious and the fuel needle is pretty hard to see at night, and the seat is on a bit much of a downhill slope for my liking... yup that's it... Told you I liked it. It also has many of the features that tend to be left out (and are missed in day to day use) such as an indicator clicker (although it could be a bit louder) and a seat release from the ignition. All in all good bike, good price, good features, good looking, good speed (which it maintains well uphill!) Go ride one!


Â
Price
UK

£

1299, NZ$2495

0-50km/h
12.1 Seconds
50-80km/h
na

Fuel Economy
2.7L/100kms - 84.6MPG
Speedo Accuracy

50kph displayed = 44kph actual

---

Pros:
Styling, economical, fast two-stroke 50cc,
Cons:
Strange seat angle, no full face storage.

---

Handling
Performance
Fuel Consumption
Value for Money

Ease of Use

Styling
Build quality

---

Overall Score

82%
Manufacturer Specifications
| | |
| --- | --- |
| Max power at shaft | |
| Max torque | |
| Engine Type | Air cooled 2-stroke |
| Cylinder Capacity | 49.5 cc |
| Seat height | 745mm |
| Dry weight | 75 kg (165 lb.) |
| Kerb weight | --- |
| Fuel tank capacity | 5.0 L (1.32 gallons) |
| Starting | Electric and Kick |
| Transmission | "Twist and Go" Automatic Transmission |
| Storage volume | |
| Cooling | Air Cooled |
| Bore X stroke | 40 x 39.4 mm |
| Compression ratio | --- |
| Chassis | |
| Front suspension | Telescopic |
| Rear suspension | Swingarm |
| Front brake | Disc |
| Rear brake | Drum |
| Front wheel/tyre | 90/90-10 |
| Rear wheel/tyre | 90/90-10 |
| Length | 1780mm |
| Width | 680mm |
| Wheelbase | 1255 mm (49.4 in) |
| Max speed (km/hr) | 61km/h |
| Type approval | --- |
| Consumption (ECE applicable text cycle) | --- |
| Consumption @km/h - km/l | --- |
| Audible Indicator | yes |
| Full helmet storage | no |
| Glove box | no |
| Fuel Guage | yes |
| Trip Meter | no |
| Seat release (via remote control) | no |
| Seat release (remote, ignition/switch) | yes |
| Alarm | no |
Comments
(0)


Subscribe to this comment's feed
Last Updated ( Saturday, 29 October 2011 09:06 )