Page 3 of 3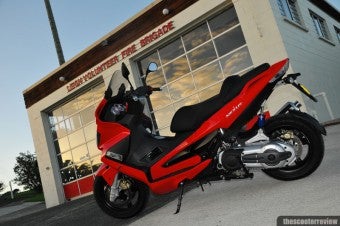 The Nexus 500 is basically 80% perfect, it looks great, it's built amazingly well, it rides well, it stops well…it just needs a different engine and a short diet program. The Nexus 500 weighs in at 213kg which is about 15kg more than the X8 400, it really needs to be the other way around. Imagine this; Gilera simply knock on the door at Aprilia and borrow the motor out of the Aprilia Shiver. This is exactly what has happened with the new Gilera GP800 as it basically uses the engine and transmission from the Aprilia Mana. The Shiver engine makes 95 horsepower. Can you imagine how different things would be with 95 horsepower? First off, you wouldn't be reading this as I would have never returned the bike.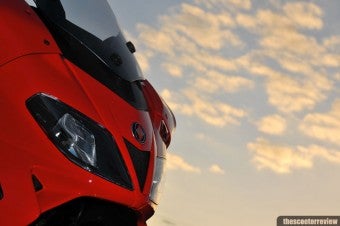 Put simply it works like this, if you are going to price a sports scooter within shouting distance of a 114 horsepower all singing, all dancing, 600cc sports bike then you'd better at least get CLOSE on performance. 40hp is not close; it's not even in the same state. The added ease of helmet storage and a CVT transmission…closer, but really any rider like me who also rides motorcycles is going to take their wallet over to the nearest Kawasaki/Honda/Triumph/Suzuki dealer and walk out with the latest 600cc sports bike. Some of which are only 3K more expensive than the Nexus 500. If it really has to be a scooter then the average buyer is likely to take a Piaggio X8 400 a Suzuki Burgman or the Honda Silver Wing as they all have better storage and are quicker too.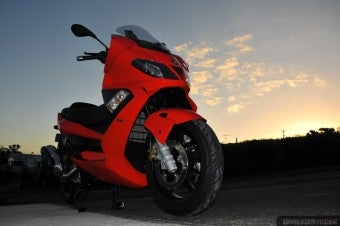 The fact is I and many others want to own a bike exactly like the Nexus 500, if the Nexus made even…70 horsepower and weighed under 190kg…I'd own one in one point three nanoseconds. It's really that simple. Please Gilera change the motor, talk to the lads at Aprilia and steal the engine from the "Shiver". I know the Gilera GP800 is almost that bike and we're very much looking forward to riding it, but again the GP800 weighs 230kg which is about the same as a Harley Davidson. With a different power plant and subtle weight loss program the Gilera Nexus really could be the world's first full fledge performance scooter. Here's hoping...
Price £4749 UK - $9990 AUS - $10,990 NZ
0-50km/h
4.1 Seconds
0-100km/h
9.6 Seconds
50-80km/h
3.6 Seconds
Fuel Economy
4.5L/100kms - 52MPG
Speedo Accuracy

50kph displayed = 42kph actual - 100kph displayed = 92 actual

---

Pros:

Awesome styling, fantastic build quality, great teatures.

Cons:
Needs more power...

---

Handling
Performance
Fuel Consumption
Value for money
Ease of use
Styling
Build quality

---

Overall Score

77%
Manufacturer Specifications
| | |
| --- | --- |
| Max power at shaft | 29.5 Kw (40.12 HP) at 7,500 rpm |
| Max torque | 43 Nm at 5,500 rpm |
| Engine Type | Single-cylinder Liquid cooled Fuel Injected 4-valve 4-stroke |
| Cylinder Capacity | 460 cc |
| Seat height | 780mm |
| Dry weight | 216kg |
| Kerb weight | --- |
| Fuel tank capacity | 15 litres |
| Starting | Electric |
| Transmission | "Twist and Go" Automatic Transmission (CVT) with Automatic Clutch |
| Storage volume | n/a |
| Cooling | Water cooled |
| Bore X stroke | 92 mm x 69 mm |
| Compression ratio | --- |
| Chassis | Steel Tube |
| Front suspension | Ø 41 mm Kayaba telehydraulic fork |
| Rear suspension | Progressive POWER DRIVE, Kayaba gas shock absorber with spring preload |
| Front brake | Front brake Stainless steel double disc, 260 mm, with floating calliper and two Brembo pistons 28 mm front left and two Brembo pistons 26 mm front right |
| Rear brake | Stainless steel disk, 240 mm, fixed calliper, two 34 mm opposed pistons |
| Front wheel/tyre | Front tyre Tubeless, 120/70-15" |
| Rear wheel/tyre | Rear tyre Tubeless, 160/60-14" |
| Length | 2090 mm |
| Width | 765 mm |
| Wheelbase | 1515 mm |
| Max speed (km/hr) | 160kph |
| Type approval | Euro2 |
| Consumption (ECE applicable text cycle) | 18.5 km/litre |
| Consumption @km/h - km/l | --- |
| Audible Indicator | yes |
| Full helmet storage | yes |
| Glove box | yes |
| Fuel Guage | yes |
| Trip Meter | yes |
| Seat release (via remote control) | yes |
| Seat release (remote, ignition/switch) | no |
| Alarm | no |
Comments
(1)


Subscribe to this comment's feed
Last Updated ( Thursday, 27 November 2008 15:35 )