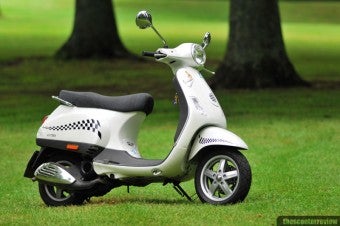 The Vespa LX 50 2T is one of the best selling scooters on earth, partly because it's a Vespa and partly because it's Vespa's entry level model. So why do so many people begin their scootering life on the LX? Well not being particularly loyal to any one brand I was always confused over some people's outright worship of the Vespa brand. I guess it's just how some people are, I've a few friends who are big Apple fans, they simply buy anything made by Apple. Apple could make a car with no roof; square wheels and a pack of hungry gerbils for an engine…my Apple friends would simply buy it. They wouldn't even test drive it, they'd buy it and defend it regardless of how terrible it was. "What? No the square wheels are fine, it's just a bit bumpy…oh the gerbils are cheap to feed...and look it's got a built in holder for my i-pod"
I went into this test thinking the Vespa would be something like the Apple car. All form and no function. Well…I was wrong. One hundred percent wrong. There's a reason people buy Vespa's and the LX is a good example. I'm not normally a 50cc scooter guy; I prefer the bigger and more powerful models. It's funny because I always thought it was because 50cc scooters were just too slow for me…it turns out it was something else. My 50cc experience was limited to the usual cheap or old Japanese models; most with high kms on the clock. I simple hadn't ridden a modern Italian 50cc scooter like the Vespa 50 LX. It's the quality…you feel it as soon as you get on, the bike is solid, the suspension is tight and contrary to what I'd read elsewhere on the web, the brakes are strong. Most entry level 50cc scooters feel like they are about to break the day you ride them out of the store. Not the LX; the demo I rode had nearly four thousand kms on the clock and it still felt brand new.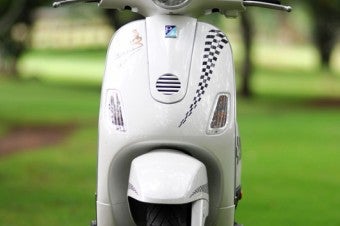 The Vespa has another advantage over a fair portion of its competition too, it doesn't look cheap. It looks well…like a Vespa; clean and timeless styling that appeals to a vast portion of people. Let's say you arrive at a café on your average 50cc scooter to meet a bunch of people you'd never met. If you arrived on the average 50cc scooter people normally assume you ride because you simply can't afford a car. If you arrive on a Vespa the same people assume you ride by choice. I guess it shouldn't matter what other people think but that's the world we live in, like it or not. The best way of describing it is this, the LX 50 looks like an adult's bike; most 50cc bikes don't.
The LX 50 2T is surprisingly fun to throw into corners, it's higher than average weight and strong frame give it a solid feel unlike most 50cc models. The front 200mm disc is reasonably strong with good lever feedback and this combines to make braking better than average for a 50cc machine. The rear brake is still a drum brake like most entry level models and like I always say…why can't manufacturers give us dual discs? Straight line performance is about average and like most 50s its fine on flat ground; keeping up with cars around town quite comfortably; it's just the hills that slow you down. It all depends where you live, I test rode the Vespa in Auckland New Zealand which is rather hilly so naturally 50cc scooters don't work so well here; in other cities 50cc scooters work perfectly.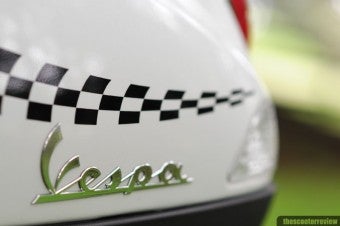 Ease of use was good all round on the LX 50; the under seat storage area easily swallows a full face helmet and the lockable front glove box is handy for…well gloves. At 98kg the Vespa is a bit heavier than some 50cc scooters but is still pretty easy to move around and put onto the centre stand. The seat is wide and comfortable and the seating position is about perfect for riders of average height. Using the same frame and basic components as the LX 150 gives the LX 50 has the added benefit of an 8.6 litre tank; combine that with its rather impressive fuel consumption and you get a tank range of over 230kms…finally a 50cc scooter you won't have to put gas in every two days. All together the Vespa LX 50 would be a very easy bike to live with.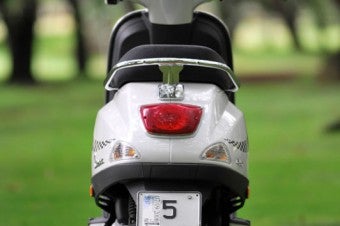 I won't get into the legality issues of moped laws as it varies from country to country but the test bike was a derestricted model and I doubt any smart owner would leave their bike restricted. There wasn't a lot I didn't like about the LX the only things that come to mind are really just niggles. I'd like to see a remote opener for the under seat storage as it's annoying having to take the key out to access this area; in fairness a simple push and twist of the key does open the glove box so smaller items are easily accessed in a hurry. I'm also not a fan of Vespa's take on the indicator switch as it's just not the best solution out there. The only real is issue with the LX is price; depending on where you live the Vespa LX 50 is up to twice the price of some entry level 50cc bikes. Obviously the Vespa is of higher quality than most cheap entry models and the LX will always have better resale value than most of its competitors…but to some people price is everything. If you can afford it, definitely put the Vespa LX 50 2T on your list of bikes to ride. As they say…you get what you pay for.
Price
US $3199, Euro €2200, UK £1899, NZ $4590

0-50km/h

Lap Time

11.7 Seconds

46 Seconds

Top speed

62 kph
Fuel Economy

3.0L/100kms - 79MPG
Speedo Accuracy

50kph displayed = 45kph actual

---

Pros:
Classic styling, overall quality build, solid handling, good suspension, strong front brake, excellent resale value, awesome tank range.
Cons:

Price, high overall weight for a 50cc blunts performance

---

Handling
Performance
Fuel Consumption
Value for money
Ease of use
Styling
Build quality

---

Overall Score

77%
Manufacturer Specifications
| | |
| --- | --- |
| Max power at shaft | 3.1 kW @ 8750 RPM |
| Max torque | 3.5 Nm @ 6000 RPM |
| Engine Type | Single cylinder, four stroke |
| Cylinder Capacity | 49.4ccm |
| Seat height | 775 mm |
| Dry weight | 102.0 kg |
| Kerb weight | --- |
| Fuel tank capacity | 8.6 litres |
| Starting | Electric and Kick start |
| Transmission | CVT "Twist and Go" |
| Storage volume | --- |
| Cooling | Ram Air Cooled |
| Bore X stroke | 39.0 x 41.8 mm |
| Compression ratio | --- |
| Chassis | Load bearing steel chassis with welded structural supports |
| Front Suspension | Single arm with helical spring & dual effect hydraulic single shock absorber |
| Rear Suspension | Coil spring and dual effect single shock absorber |
| Front brake | 200mm steel disc with hydraulic calliper |
| Rear brake | 110mm mechanical drum |
| Front Wheel/Tyre | Tubeless 110/70 - 11" |
| Rear Wheel/Tyre | Tubeless 120/70 - 10" |
| Length | 1755 mm |
| Width | 740 mm |
| Wheelbase | 1280 mm |
| Max speed (km/hr) | Â  |
| Type approval | Â  |
| Consumption (ECE applicable text cycle) | --- |
| Consumption @km/h - km/l | Â  |
| Audible Indicator | no |
| Full helmet storage | yes |
| Glove box | yes |
| Fuel Guage | yes |
| Trip Meter | no |
| Seat release (via remote control) | no |
| Seat release (remote, ignition/switch) | no |
| Alarm | no |
Comments
(0)


Subscribe to this comment's feed
Last Updated ( Wednesday, 18 February 2009 21:37 )