Page 2 of 3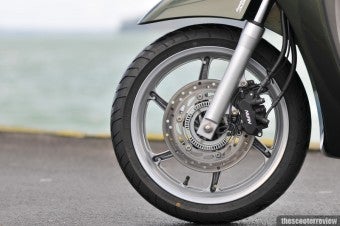 I'm not going to give you a complete technical rundown on the SH, that's just not my style. That's for other people, other websites and other humans sometimes called…NERDS. What I will do is tell you what the SH is like to ride. The SH 300 is the first scooter I have ever ridden that I actually WANT to ride HARD. The improved chassis and tight suspension give the Honda road holding that other scooters could only dream of. Hell, on a really twisty road I'd have a hard time keeping up with an SH300 on a motorcycle. The rear suspension is a little on the hard side, but it suits the bikes sporty nature far better than the usual cushy scooter set-up. The large 16 inch wheels do a superb job of ironing out most road imperfections anyway.
So after falling in love with the SH's superb handling I tried the brakes. Holy cow! I can't stress how much better the Honda's brakes are than a standard scooter. The SH runs Honda's linked braking system which links the front and rear brakes off a single lever. This gives you added stopping power under panic situations when you're only able to get a single hand on the lever. Now combine these linked brakes with a powerful and foolproof ABS (anti lock braking system) and you have well…the best brakes of any scooter I've ridden. Actually the brakes on the SH leave the brakes on most motorcycles for dead. After riding the SH 300 in terrible wet conditions I'd say I'd NEVER purchase a bike without ABS. It's just that good. Welcome to the future. If the scooter you're looking at buying doesn't run ABS, simply don't buy it. In comparison to the SH, it's junk.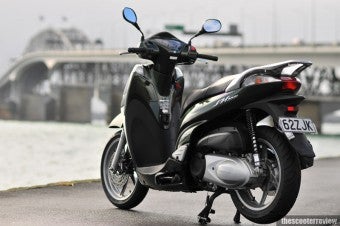 As I said at the beginning of this review the Honda SH 300 is fast; the SH 300 makes 27hp. That isn't a massive number by any stretch of the imagination, but it is a big number in scooter-land. Basically, Honda re-engineered an engine from one of their off road motorcycles and de-tuned it to run a smoother power curve and better fuel economy. What they also did was beat the crap out of the competition. All of the SH's competing bikes make a miserable 21-22hp. The extra 5-6hp means the lightweight Honda simply rides away from all of them in a straight line. In our tests the SH hit 100kph in just 10.9 seconds. That's significantly faster than any other non-maxi scooter we've tested to date.
Last Updated ( Thursday, 07 August 2008 19:10 )