Page 3 of 3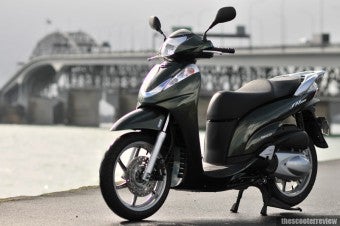 Ease of use wise the SH 300 is a breeze to live with. The bikes small size and weight mean it's easy to move around at low speed and fairly easy to put on the center stand. Combine this with remote seat release off the ignition, a detailed set of gauges and a small glove box and you have a near perfect scooter. I say near perfect because the SH does have one major failing point. The under seat storage area is tiny and won't fit any kind of full face helmet. Obviously Honda wanted to keep the seat height to a minimum and just couldn't fit a larger storage area without raising the seat further. You can fit a top box to store a larger helmet but really, this is a pain. Hopefully Honda can address this poor storage problem in the future. We reviewed the SYM's new Citycom 300i and it simply kills the SH when it comes to storage. Finally, you get Honda's solid build quality and legendary reliability combined with good fuel economy for such a rapid bike of 3.5L/100kms (67MPG).
Summing up the Honda SH 300. Honda have set the benchmark with the SH; it's probably the best scooter in the world. Most other manufacturers are scrambling to offer a competitor, but they seem to be missing the mark; some by a long long way. Vespa answered with the new GTS 300 Super but sadly the new engine is a total joke and only makes 1hp more than their 250cc model. No chance. Piaggio who own Vespa are using the same 300 motor (it's actually only a 278cc engine) across their various brands. So I expect the new Aprilia's, Gilera's and Piaggio's will be no match for the SH 300's dominance until they actually make a 300cc engine that makes decent power.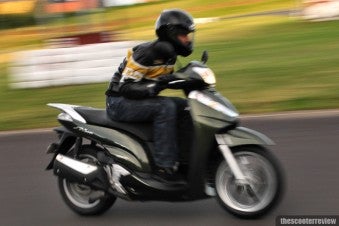 The SH 300 is a lot of money for a scooter but, think of it as the Porsche 911 of current scooters. So value for money, it isn't bad at all. It really deserves to cost more money because it's significantly better than its competitors. If I was buying a large wheeled scooter today there are only two real options. SYM's new Citycom 300i or the Honda SH 300. The Citycom is a fantastic bike at a fantastic price, but the Honda is better again in nearly every department. It just comes down to money; if you can afford it…buy the Honda.
Price
UK £3,499
0-50km/h
3.9 Seconds
0-100km/h
10.9 Seconds
50-89km/h
3.9 Seconds
Lap time
38.47 Seconds (current fastest scooter,15/7/08)
Fuel Economy
3.5L/100kms - 67MPG
Speedo Accuracy

50kph displayed = 48kph actual - 100kph displayed = 96 actual

---

Pros:

Fast, superb handling, amazing beakes, very high build quality

Cons:
Terrible underseat storage, won't fit a full face helmet

---

Handling
Performance
Fuel Consumption
Value for money
Ease of use
Styling
Build quality

---

Overall Score

88%
Manufacturer Specifications
| | |
| --- | --- |
| Max power at shaft | 20 Kw (27 HP) @ 8250 rpm |
| Max torque | 26 Nm at 6,000 rpm |
| Engine Type | Single-cylinder Liquid cooled 4-stroke |
| Cylinder Capacity | 279.1 cc |
| Seat height | 785mm |
| Dry weight | 161kg |
| Kerb weight | --- |
| Fuel tank capacity | 9 litres |
| Starting | Electric |
| Transmission | "Twist and Go" Automatic Transmission (CVT) |
| Storage volume | n/a |
| Cooling | Water cooled |
| Bore X stroke | 72.0 x 68.5 mm |
| Compression ratio | 10.5:1 |
| Chassis | Steel Tube Underbone |
| Front suspension | Ø 35 mm Telescopic fork, 102mm axel travel |
| Rear suspension | Dual-damper unit swingarm, 95mm axle travel. Adjustable pre load. |
| Front brake | 256mm Disc, triple piston caliper ABS |
| Rear brake | 256mm Disc, single piston caliper ABS |
| Front wheel/tyre | 110/70-16 |
| Rear wheel/tyre | 130/70-16 |
| Length | 2100 mm |
| Width | 730 mm |
| Wheelbase | 1420 mm |
| Max speed (km/hr) | 140km/h+ |
| Type approval | Euro3 |
| Consumption (ECE applicable text cycle) | --- |
| Consumption @km/h - km/l | --- |
| Audible Indicator | no |
| Full helmet storage | no |
| Glove box | yes |
| Fuel Guage | yes |
| Trip Meter | yes |
| Seat release (via remote control) | no |
| Seat release (remote, ignition/switch) | yes |
| Alarm | "HISS" Immobiliser |
Comments
(22)


Subscribe to this comment's feed
Last Updated ( Thursday, 07 August 2008 19:10 )