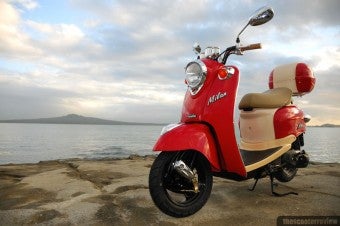 The sun is shining, the weather is clear, I am drinking a latte at my favourite caffeine establishment gazing at my latest steed… an Australian scooter that goes by the name Milan. It is shiny, and incredibly… well… cute not to put too fine a point on it. The obvious inspiration for this bike is Italian. The target market has to be females. As I gazed mindlessly at this pretty filly my cellular phone rang… which was surprising in itself as I had failed to pay the bill that month. It was an emergency…
I had to travel 6.88 kilometres in 7 and a half minutes through serious suburban traffic… it was 3.05pm. My foe would be Soccer moms, in urban tractors picking the kids up from school… and time, but I calculated that SUV's would be my biggest threat, no problem I have scooter power, I can duck, I can dodge, I can fly like a butterfly and sting like… well you get the idea…then I looked across the street… to the Milan. Time was going to be a bigger problem than I had thought… this little machine wasn't designed with speed in mind… but there was no other option. I had to make it… or the world would end!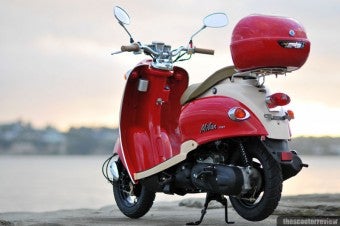 So I ran for the Milan, depression setting in. There just wasn't enough time, everyone I loved, and more than a few I found mildly distasteful… were going to perish. I leapt onto the Milan and fired up the two stroke… It sounded good, almost powerful, an illusion I thought to myself, marketing designed simply to fool men. Then I was off, I ducked, I dodged, I flew… around, over and through the back seatss of "Sport" Utility vehicles, sideways around small children in Blazers, ties and decidedly foolish caps. It was unbelievable, the Milan was a weapon, it had "scooter power"! I reached my destination just in the nick of time… I had saved the planet from a fate worse than death… well the same as death really I guess… Thanks to the Milan... And scooter power... and pizza.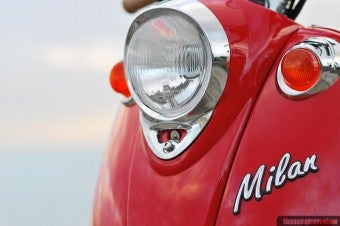 The Milan is the brain Child of Australian Company Vmoto, they spent long hours and many, many thousands of dollars developing a modern scooter with the soul and style of an Italian bike but the reliability and performance of something from the land of the rising sun. They succeeded with this, their very first production ready model. It has been in the market place for several years now and sales show no sign of letting up.
Several years on, how has the Milan fared? Very well indeed is the simple answer. The styling is the first thing you will notice, it has that very traditional Italian scooter styling that many have imitated, and Vmoto don't deny that this is what they wanted… They have achieved it remarkably well. Despite the obvious substitution of plastic panels where one would traditionally find steel the Milan manages to retain a classy persona. It doesn't look "cheap" like many Vespa clones can. Fit and finish and overall component quality tends toward the "good" side of the spectrum. It is not the best-built bike in the world, it is also far from the worst. The proof of the general quality would appear to be what sorts of warranty claims arise and how many replacement parts are sold. The local distributor ended up throwing parts away because they had been gathering dust for years… I take that as a pretty good gauge on the reliability factor.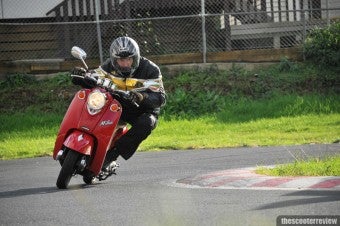 So it looks good, it is put together well and the component quality is pretty good. How does it ride? This is where the real surprise came… you see, generally when you see a "cute" little scooter, especially when a bike is available in shades of metallic pink and powder blue (along with more generic options) you do not expect it to tear up a racetrack. The Milan did exactly that… on our test track this cute wee bike became something of an animal… well as much so as you can expect from a 50. A wolf in fluffy kitten's clothing if you will, the Milan immediately inspired confidence, the low weight allowing good, quick direction changes and the small wheels meant "chuckability" was high. This bike managed to turn a mild mannered reporter… in this case "Hollywood" into a speed demon… so much so that he came close to high-siding the little Milan... that's right he nearly high-sided a 50cc scooter. This just shows the level of commitment the Milan allows.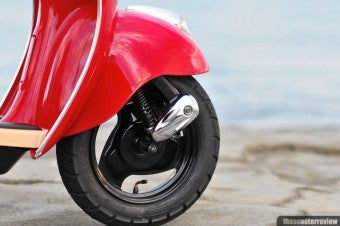 This handling prowess converts well to road use, combined with a perky two stroke engine and well sorted CVT it makes for a very good all round urban commuter. The only thing that really lets this bike down is the braking, the front and rear drums prove to be quite weak and introduce the problems we have mentioned many times in the past with both fade issues and the increased need for regular adjustment. This is a shame as it would be easy to fit the Milan with a front disc, this would make it very difficult to find any fault with the performance.
The Vmoto Milan has many other positive features; it is very easy to live with… swallowing a full-face helmet with no problem at, it has a matching, colour co-ordinated top box as an option if you need some more space. Instrumentation is good, if fairly basic. It even has a fuel gauge. The only things really missing are pillion foot pegs and a glove box. Other than that the bike is easy to move around, not too bad to put on the centre stand once you have the technique sorted (it isn't the easiest if you use the traditional "facing forward" style) and it even has a side stand.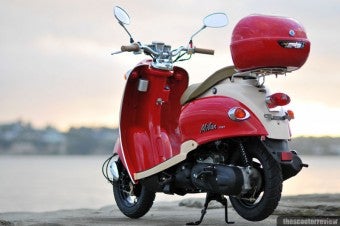 So what we have is a very good all around machine that is easy and fun to ride, handles well with a good, peppy engine and smooth transmission. It is let down somewhat by the poor braking, and not much else. Pricing is similar, if a little higher than other bikes in its class and fuel consumption is relatively frugal at around 85mpg. Dealer backing is very good with a plethora of parts always kept in stock, from replacement panels right down to new steering columns etc for any unfortunate Milan versus wall/car/phone booth incidents. It took Vmoto a lot of mucking about to produce this bike, but it was worth the effort… this is one of the top 50cc scooters currently available and probabably the best for a female rider when taking into account the light weight and impeccable styling. This is definately worth testing if you are in the market for a lightweight, comfortable, nimble urban commuting machine.
Price
AUD$1990, NZ$2590 $USA TBA

0-50km/h
10.9 Seconds

Top Speed

Lap Time

67Kph

43.8 seconds

Fuel Economy

2.8L/100kms - 85MPG

Speedo Accuracy

50kph displayed = 48kph actual

---

Pros:

Fast, good detail, good storage, capable and useful

Cons:
Bumpy suspension, weak brakes


---

Handling
Performance
Fuel Consumption
Value for money
Ease of use
Styling
Build quality

---

Overall Score

79%
Manufacturer Specifications
| | |
| --- | --- |
| Max power at shaft | 2.57Kw (3.45Hp)@7000rpm |
| Max torque | 3.92Nm (2.89lbs)@7000rpm |
| Engine Type | Single-cylinder 2 stroke |
| Cylinder Capacity | 49.26cc |
| Seat height | --- |
| Dry weight | --- |
| Kerb weight | 70kg (154lbs) |
| Fuel tank capacity | 5.0 liters (1.3 gal) |
| Starting | Electric & Kickstart |
| Transmission | CVT "Twist and Go" |
| Storage volume | --- |
| Cooling | Air Cooled |
| Bore X stroke | 40.0x39.2mm (1.57x1.54in) |
| Compression ratio | 6.9:1 |
| Chassis | --- |
| Front suspension | --- |
| Rear suspension | --- |
| Front brake | Drum |
| Rear brake | Drum |
| Front wheel/tyre | 10" x 3" |
| Rear wheel/tyre | 10" x 3" |
| Length | 1605mm (63.19in) |
| Width | 620mm (24.4in) |
| Wheelbase | 1220mm (48in) |
| Max speed (km/hr) | --- |
| Type approval | --- |
| Consumption (ECE applicable text cycle) | --- |
| Consumption @km/h - km/l | --- |
| Audible Indicator | yes |
| Full helmet storage | yes |
| Glove box | no |
| Fuel Guage | yes |
| Trip Meter | no |
| Seat release (via remote control) | no |
| Seat release (remote, ignition/switch) | no |
| Alarm | no |
Comments
(3)


Subscribe to this comment's feed
Last Updated ( Friday, 08 August 2008 07:54 )