Page 2 of 3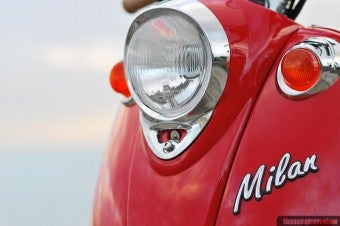 The Milan is the brain Child of Australian Company Vmoto, they spent long hours and many, many thousands of dollars developing a modern scooter with the soul and style of an Italian bike but the reliability and performance of something from the land of the rising sun. They succeeded with this, their very first production ready model. It has been in the market place for several years now and sales show no sign of letting up.
Several years on, how has the Milan fared? Very well indeed is the simple answer. The styling is the first thing you will notice, it has that very traditional Italian scooter styling that many have imitated, and Vmoto don't deny that this is what they wanted… They have achieved it remarkably well. Despite the obvious substitution of plastic panels where one would traditionally find steel the Milan manages to retain a classy persona. It doesn't look "cheap" like many Vespa clones can. Fit and finish and overall component quality tends toward the "good" side of the spectrum. It is not the best-built bike in the world, it is also far from the worst. The proof of the general quality would appear to be what sorts of warranty claims arise and how many replacement parts are sold. The local distributor ended up throwing parts away because they had been gathering dust for years… I take that as a pretty good gauge on the reliability factor.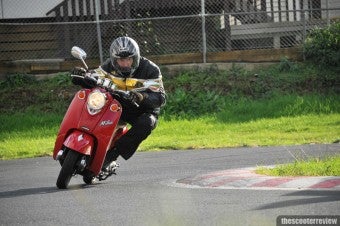 So it looks good, it is put together well and the component quality is pretty good. How does it ride? This is where the real surprise came… you see, generally when you see a "cute" little scooter, especially when a bike is available in shades of metallic pink and powder blue (along with more generic options) you do not expect it to tear up a racetrack. The Milan did exactly that… on our test track this cute wee bike became something of an animal… well as much so as you can expect from a 50. A wolf in fluffy kitten's clothing if you will, the Milan immediately inspired confidence, the low weight allowing good, quick direction changes and the small wheels meant "chuckability" was high. This bike managed to turn a mild mannered reporter… in this case "Hollywood" into a speed demon… so much so that he came close to high-siding the little Milan... that's right he nearly high-sided a 50cc scooter. This just shows the level of commitment the Milan allows.
Last Updated ( Friday, 08 August 2008 07:54 )